Omotala Celebrates 25th Wedding Anniversary Despite Being Told, "I Wasn't The Marrying Type"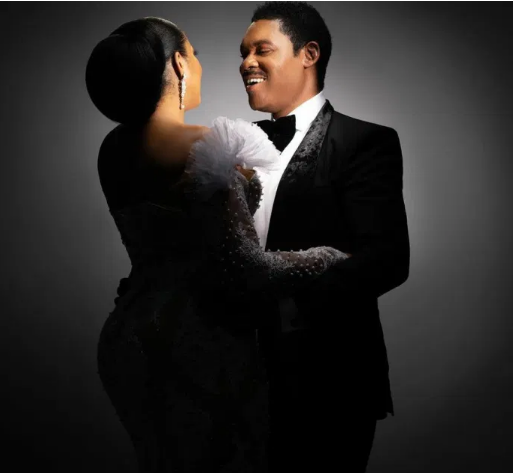 For the family of veteran Nigerian actress, Omotola Jalade -Ekeinde, March 23, of every year is a special day of double celebration.
First, it was the birthday of the husband of the actress, Captain Matthew Ekeinde, who is a pilot. Interestingly, the same day is the wedding anniversary of the power couple.
For this year's celebration, the couple marked their 25th wedding anniversary and in their own way, they decided to share initial fears of all concern about their marriage.
In the first post, Omotola popularly known as Omosexy, shared how she was told she was not the marrying type.
The same storyline was told to her mother, likewise her husband when he made up his mind to settle down with her. The mum-of-four captioned their union: "Your Real Life Bonny & Clyde"
In another post, she wrote:
"Fun fact: I was told severally … He was told by my mum … I truly also believed … I wasn't the marrying type. #whatwillbe #Godfirst #25yearsmarried."
SEE ALSO: Omotola Jalade-Ekeinde Bares All About Her Early Marriage, Career & Future Projects
In yet another post in celebrating her 25th wedding anniversary, Omotola noted that her story changed the moment she met her husband who promised her the journey will be worth it if she goes on it with him.
She said that her husband promised not to change her. The actress added that even at that many queried if her husband will be able to handle her but here they are after 25 years on the beautiful journey together.
"But when I met this young pilot… He convinced me it would be worth it … No pressure… I'm not trying to change you, he said… Can you handle her , they all said… What do you think ? He's doing a good job? #AlphaFemale #AlphaMale #Alphalife #Powercouple #25yearsNoMajorstress."
Matthew proposed to Omotola when she was 18. He was twelve years older than her.
The couple had not one, but two wedding ceremonies, with the second being quite unusual, as it was conducted in the air, on a plane flying to Benin from Lagos.
READ ALSO: Omotola's Husband, Matthew Ekeinde, Bares All on How They Met, Fell in Love & Got Married When She Was Just 18