'Anytime I'm not in love with my husband, I …' -Omotola Jalade-Ekeinde Tells It All On The Survival Secrets Of Her 25 Years Marriage In This Interview #WithChude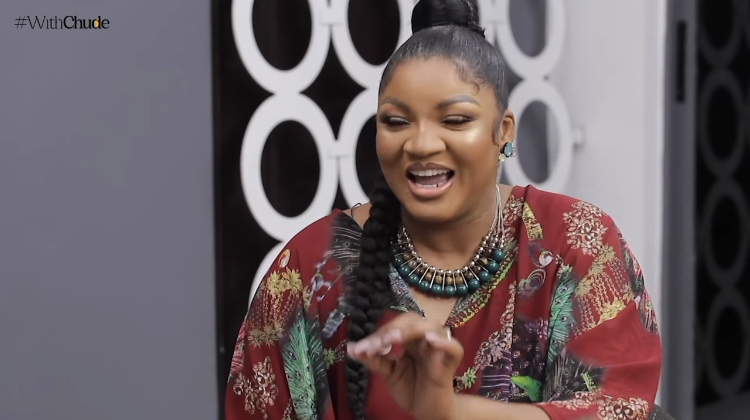 Veteran Nollywood actress Omotola Jalade -Ekeinde has revealed the survival secrets of her 25-year-old marriage to Captain Mattew Ekehinde.
This episode of #WithChude is a tell-all interview between Chude Jideonwo and the fabulous mom-of-four.
The multifaceted actress who recently celebrated her 25th wedding anniversary with her husband talks about marriage, people's perception of her and much more.
According to Mrs Ekeinde, she and her husband are partners, and they both have a journey that they would make with or without the other.
She added that their marriage is not treated like a sacred thing untouched because they both respect each other's space and choice.
Revealing another secret to the
survival of her marriage
, the award-winning star revealed that anytime she is not in love with her husband, she reports him to God.
In excerpts of the conversation, the 43-year-old mama says about making her marriage work:
"It's easy for us to relate because he knows who I am and what I stand for and vice versa. And we are very open to each other. We talk to each other. You know, we understand that we're human beings and wherever we're fallible, or where we have issues, we discuss it.

We're partners in life. See we don't carry this husband and wife thing on the head as if it's some sacred thing that you don't touch. That you don't enter. That you don't understand. It's not that serious. We're partners.

I have a journey, you chose to make that journey with me. You have your journey, I chose to be on that journey with you. With or without you, I will make my journey. With or without me, he will make his journey. So we both understand that I'm with you, it's not because I have to be with you. I'm with you because I choose to be with you.

He's with me because he chooses to be with me. So we respect each other's choices, each other's space and each other's wholesomeness. And having done that, luckily we both have the same value system. So It just makes it easy."
SEE ALSO: Omotola Jalade-Ekeinde Bares All About Her Early Marriage, Career & Future Projects
On how people perceive her, she says,
"If you don't know me you will think I am extremely arrogant, and that's okay. I'm not even trying to change that. That's the thing because I have to protect myself. People who are close to me know that I'm the most useless person. I talk a lot. I'm very playful. I'm very careless around people I love. I'm not guarded. So the only times when I can guard myself is when I don't know you."
Omotola married Captain Matthew Ekeinde in 1996 and together they have 4 children: Princess, M.J, Meraiah, and Michael.
Speaking further, she revealed how losing her father at 12 broke her in ways that still affect her. She spoke on her relationship with her father up till his last moments, revealing a period that changed the nature of their father-daughter relationship and caused a strain on their bond. She said,
"When I was about nine years old, I was shipped to Command Secondary School in Kaduna. By that time, they had just given birth to my younger brother.

I was a child and I did not take it well at all. I even remember when he was leaving and we both were crying. It really affected me. I thought the reason was that he now had other kids, and I was no longer important to him."
While in school in Kaduna, her world was shattered by the news of her father's death. That was at a time when she was beginning to anticipate returning home to spend more time with him. She shared:
"I think everything I have been, positively or negatively, is because of my father's death. It affected me so much; I did not even know how much at the time. I did not even mourn my dad. At the age of 12, I was becoming a little lady, and I was excited to spend time with my father.

"That was when I got called out of school because I needed to be home. I knew someone had died because of how everyone in school was tiptoeing around me. The only thing I kept saying at the airport was, 'I just hope it is not my dad'."
Omot
"For some callous reason, I was okay with it being anyone but him. When I got home, I was greeted by a crowd. As I walked into the house, I was thinking about which of my family members had died.