UPDATE: Actress, Akuapem Poloo Lands In More Serious Trouble Over Her Nude Birthday Photo With Her 7-Year-Old Son
Ghanaian actress, Rosemond Brown, better known as Akuapem Poloo, has landed in a more serious trouble over her nude photo with her son.
Poloo was sentenced to three months in prison by an Accra Circuit Court over the publication of obscene material and domestic violence.
The actress was sentenced for her Instagram post where she went naked while posing with her seven-year-old son last year. On Tuesday, June 30, 2020, the actress went completely nude in a photoshoot with her son to celebrate him on his 7th birthday.
According to Poloo at that time, she decided to go naked in front of her son who was only in his underwear because she gave birth to him naked, adding that every post she makes on her social media page is to send a message since she is an artiste and they are also expressions of her artistic personality.
Therefore, she said the picture that quickly went viral with her son, was an artistic expression of motherhood and a message to those who do not respect women and their mothers.
READ ALSO: Actress, Akuapem Poloo In Trouble With Ghanaian Police Over Birthday Photo With Her Son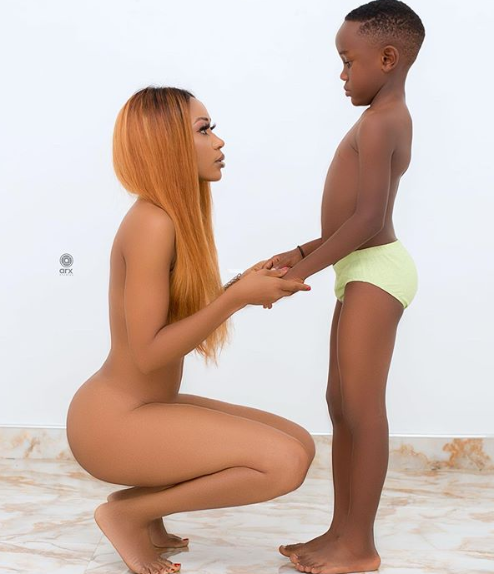 As the court sentenced her to 90 days in jail, the actress pleaded for mercy, to no avail
"Mummy please, Mummy, I beg you, Mummy please," she reportedly said to the judge.
READ ALSO: Actress, Akuapem Poloo Explains The Inspiration Behind The Nude Shoot With Her Son After Social Media Backlash
Akuapem's lawyer, Mr Andy Vortia, prayed for a more lenient sentence but the court held that a harsh sentence must be passed to serve as a deterrent to others.
The actress was convicted on her own plea, after she had pleaded guilty to three counts of publication of obscene materials, engaging in domestic violence namely a conduct that in any way undermined another person's privacy or integrity, and engaging in domestic violence namely conduct that in any way detracted or was likely to detract from another person's dignity and worth as a human being.