Nigerian Businesswoman, Tinuade Soile Narrates All She Overcame To Welcome Her Son After 9 Desperate Years Of Trying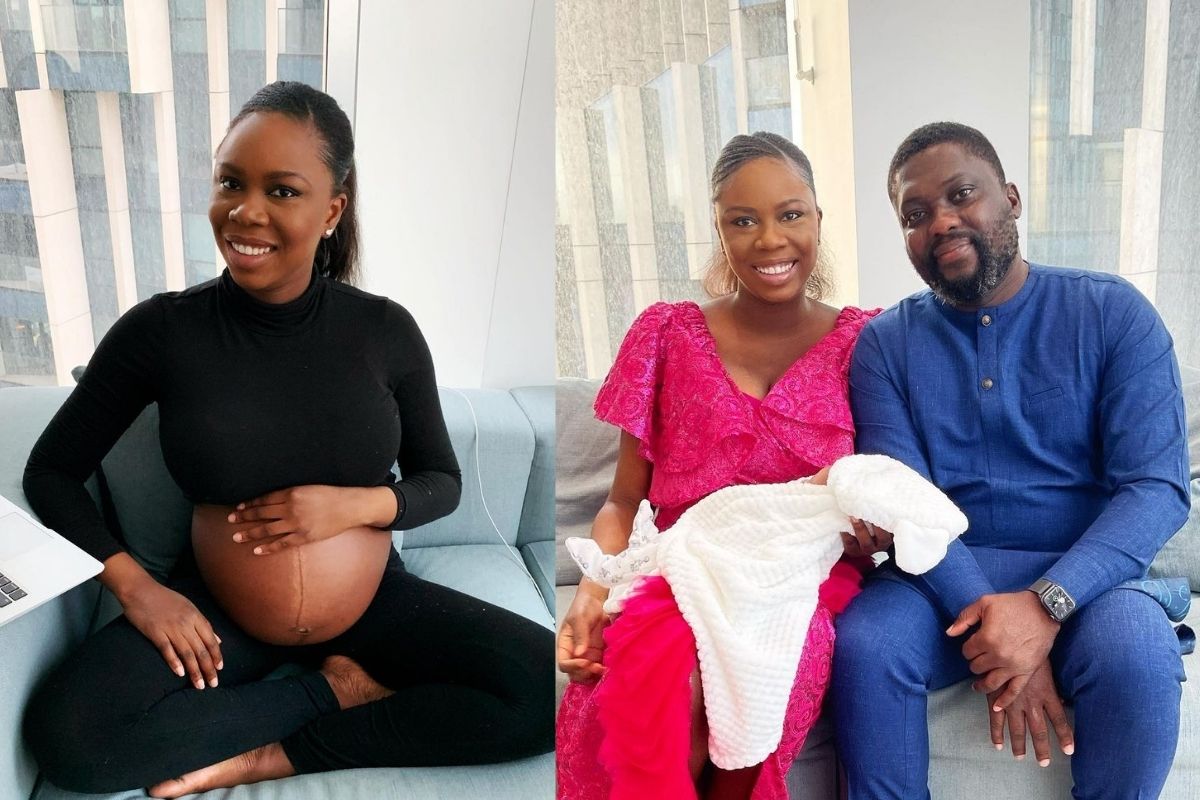 That indescribable joy you have when the much anticipated for, happens finally. 13th of May 2021 will go down in history as a day of joy for Nigerian fashion designer, Tinuade Soile who became a mother after nine years of waiting.
In her celebratory mood, the first time mom took to her social media page to has narrated all she overcame to welcome her son, whom they already named Asher Modadeola Oluwaseun Soile.
The new mum said she had to undergo 9 IVFs and suffered 3 miscarriages while trying to become a mum. She also had a fibroid surgery.
While pregnant with her son, she had to undergo a cervical stitch, which is a treatment for cervical weakness, when the cervix starts to shorten and open too early during a pregnancy causing either a late miscarriage or preterm birth.
Captioning a photo which was taken just two days before she conceived her baby, she wrote;
"This picture was taken 2 days before I had my prince ?.

The cervical stitch was taken out the week before and I could finally get off 'Bed Rest' and enjoy what was left of my pregnancy. I could see the finish line…"
READ ALSO: After Experiencing 9 Miscarriages and Undergoing 4 IVF Treatments a Miracle Happened  | Read Kaojo's Testimony
Narrating further, the yummy mummy said she was placed on 5 months of bed rest until the stitch was removed a week to the birth of her son.
Sharing a beautiful photo with her newborn, she wrote;
"And on 13th of May 2021 The Lord Remembered Tinuade Soile.

Yesterday my Husband and I named our first child after 9 years of hoping and praying…
9 IVFs
3 Miscarriages
1 Fibroid Surgery
Multiple other procedures
5 Months of Bed Rest

My God is Indeed Faithful.

If He has said it He will do it.
His word says I am a fruitful vine and it has come to pass.
Hallelujah!!!!!

I'd like to introduce to you Asher, Modadeola, Oluwaseun Soile.
He is going to be a force in his generation and beyond, so look out."
READ ALSO: Abuja Based Businesswoman, Samaila Nankling, Shares On Becoming A Mom Of Triplets After 6 Desperate Years Of Infertility