Friend Of Mbong Responds To Jeta Amata's Claim That His Ex-wife Is Missing + Explains Ongoing Drama Between The Duo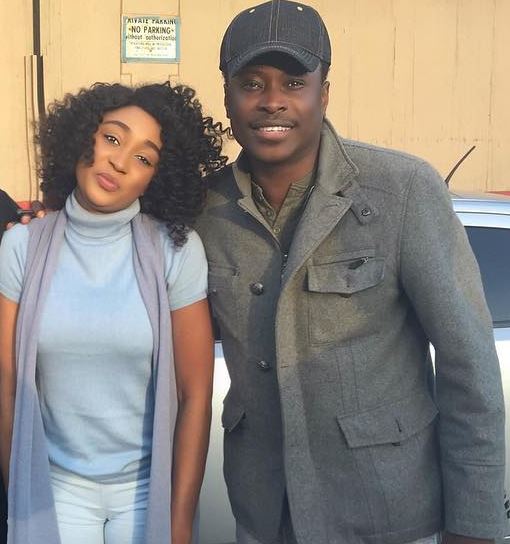 One of Mbong Amata's friends has asked Nigerians to ignore Jeta Amata's claim that his ex-wife's whereabouts is not known and their daughter is worried.
The friend said Jeta is simply a scriptwriter who wrote a script and is using his daughter as bait. The friend asked Nigerians to ignore him and that Mbong is well and fine.
You would recall that two days ago, Nigerian filmmaker, Jeta took to Instagram to claim that Mbong, who he shares a daughter with, has been unreachable and has also been away from social media for most of this year. He added that their daughter is worried.
Amata wrote on his private Instagram account,
"Can somebody please just ask why Mbong has gone missing from social media all year? No one seems to know anything and it's affecting my daughter, that no one would tell us.

She wants to see her mother. If she is not well, Veno wants to go and be by her side and we need to know to stop worrying."
Responding to his post, Oreva Amata, who is the son of Jeta Amata's older brother, Fred Amata, advised him to remove the post and stop making family matters public. But Jeta hit back, asking why he isn't worried that they haven't heard from Mbong.
Jeta then released a video of their 12-year-old daughter, Veno, asking for her mother. In the video he posted, Veno said she hasn't heard or seen her mum since New Year's day and that efforts to get in touch with her have proved abortive.
READ ALSO: Filmmaker, Jeta Amata Raises Alarm Over His Ex-wife's Whereabouts: 'Veno Wants To See Her Mum'
She updated her mom that she has been doing well in school and appealed to the public or anyone who has useful information about her to please reach out to them.
Friends have now taken to social media to state that Mbong is fine and she is actually in contact with her daughter.
"For those worrying about her, she is fine," a friend wrote on Instagram alongside a photo of Mbong.
"We that know her know but we will leave social drama for actors," the friend added.
READ ALSO: 'Mum If You Watch This, I …' – Jeta Amata's Daughter Makes Emotional Appeal To Her Mom, Mbong Amata In New Video
Other friends also left comments, indicating that Mbong isn't missing.
Asked why Mbong wouldn't reach out to her daughter, the friend, who goes by Stingybaron on Instagram, said Mbong is in contact with her child and asked people to stop allowing themselves to be "manipulated".
The friend wrote:
"You can't deprive a mother the joy of motherhood then choose which day you want her to play a mother because you are what God?. Ya'all continue allowing yourselves to be manipulated."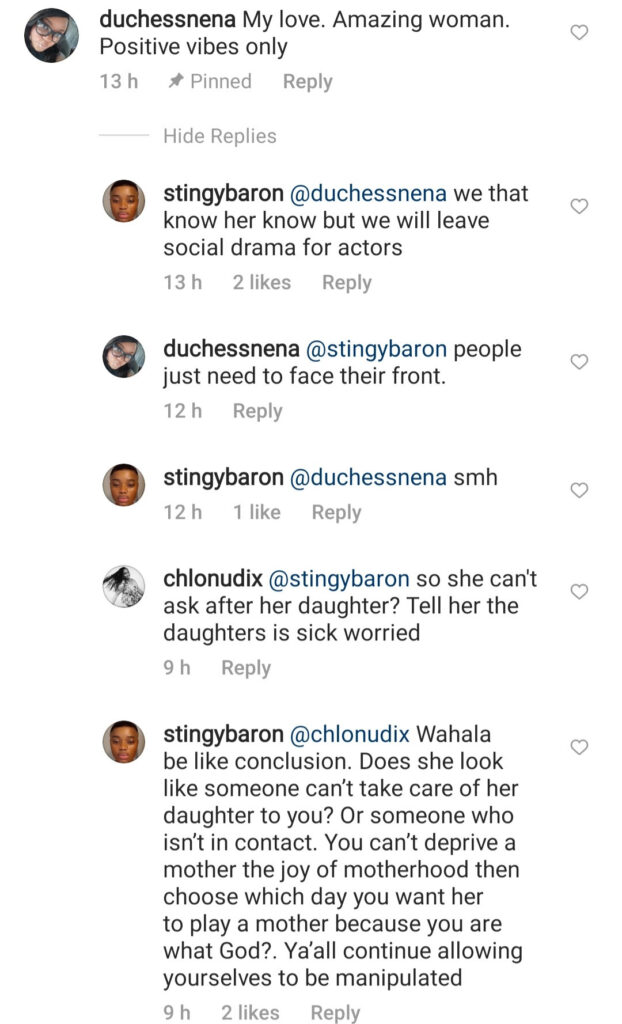 Mbong and Jeta Amata met in 2001 at an audition in Calabar. Two years later when she was 18 they began dating. They married in 2008 and their daughter Veno was born later that year. In 2013 they separated and in 2014 they divorced.
Mbong Amata cited being married too young as the reason for their divorce. She said
"I had dreams and aspirations as a young girl and I had my career ahead of me though I got into marriage at a very young age. At some point one had to give way for the other."
Jeta Amata corroborated this, adding that their 11-year age gap and his experience in the industry made him controlling. He said,
"Mbong got tired because I didn't give her as much room as I should have. She is an actress, I'm a director and I insisted on the kind of job she should take."