'Don't Turn Marriage Into Business' -Reality TV Star, Princess Slams Fashion Blogger, Laura Ikeji Over Her Advice To Married Women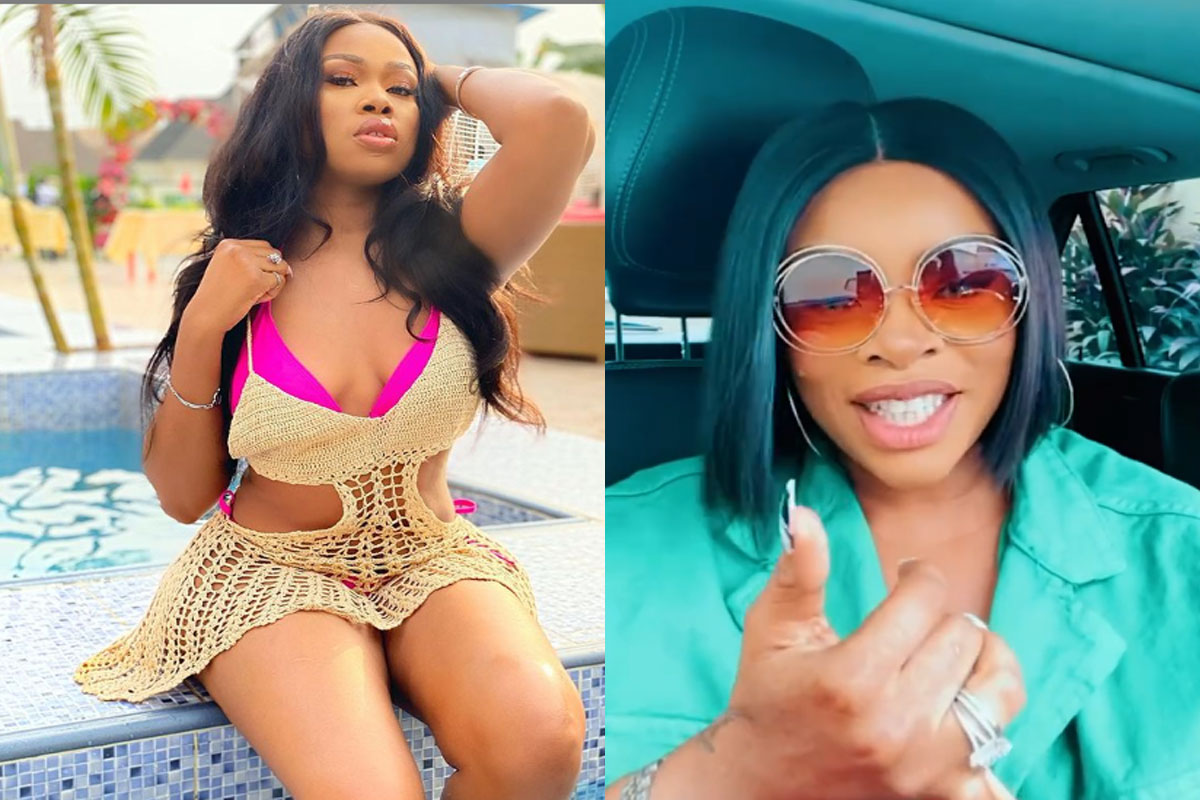 Reality TV star and media personality, Princess Onyejekwe has reacted to the video of fashion blogger and mother of two, Laura Ikeji Kanu advising married women to save money whilst in their marriage as she pointed out an observation she made about side chicks.
Laura who is married to ex-Super Eagles player, Kanu Nwakwo's brother had earlier taken to the streets off Instagram to share an observation she made about women who are married to wealthy men in Nigeria.
Laura indicated that she has realized that side chicks are getting richer than the real wives and it is something that worries her because wives rather deserve better.
According to the businesswoman, some side chicks are buying houses, driving in Range Rovers, G-Wagons, flying first class and living lavish lifestyles whereas the wives are not living the same lifestyle and she advised wives of billionaires to save and buy properties.
Reacting to the advice, Princess warned Laura not to turn marriage into a business so women especially go into marriage thinking of the money they are going to make off their husbands and she described Laura Ikeji's advice as inappropriate.
She told Laura to allow side chicks to be what they are and if she is bothered by it she can also become a side wife.
READ ALSO: Laura Ikeji Waves The White Flag At Sister-In Law, Amara Kanu, As She Opens Up On Her Last Outburst
In Princess' words:
"Please don't turn marriage into a business….this advice is inappropriate. Let side chicks be side chicks…. if you are that bothered, you can be a side wife."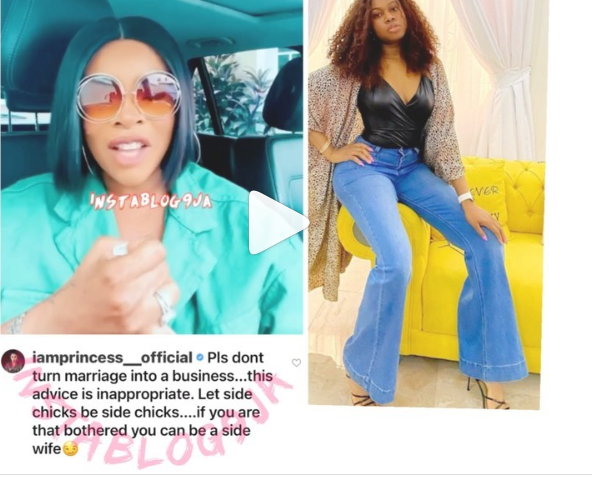 READ ALSO: Mom-Of-2, Laura Ikeji Sends Words Of Caution To Women In Toxic Relationships
See comments Princess post has generated below;
@long_ass_day wrote;
Where did she even conduct survey to know that side chics are getting wealthier than the wives. Side chics flaunt on social media, wives are busy doing other things
@treasuredaniel_ wrote;
Princess is pained because she's a side chick!! Leave Laura alone,out of all languages she choose to speak facts!!
@joewhite4u wrote;
You just want to trend Princess. Laura made a valid point. Don't be unfortunate
@pwettypearl wrote;
No disrespect found, this is a legit important message, a wife should at least get times 3 of whatever the side  gets
@nancytimis wrote;
Too much point u just made sis, lots of wives can't boost of shi shi in their account n dats why when d marriage becomes very abusive n hell, lots of wives can't leave d marriage bcos they don't ve anything to fall back on when they leave n while d side chicks have millions to boost of. Wives should try n sit up in d marriage.