Royal Expert Reveals Queen Elizabeth's 'Secret Pact' With Prince Philip Should One Of Them Dies Before The Other
Queen of the United Kingdom and 15 other Commonwealth realms, Elizabeth II and her late husband, Prince Philip made a secret pact with each other on how to cope should one of them dies before the other and the Queen has been quietly fulfilling this pact, a royal expert has revealed.
During their 73-year marriage, the monarch and Prince Philip were always by each other's sides, whether it be in the tea rooms of Buckingham Palace or on far-flung visits to the Commonwealth.
When the Duke of Edinburgh died in April at the age of 99, hearts across the nation were left broken by the sight of Her Majesty sitting alone and forlorn at his funeral at Windsor Palace.
Yet after a period of mourning, the Queen has incredibly bounced back, cracking wry jokes and flashing beaming grins as she welcomed world leaders during last month's G7 summit.
According to the Daily Mail, the brave turnaround is down to a secret agreement the couple struck should one of them pass on – that "whoever was left should mourn, but not for too long, then enjoy what remained of their life".
Princess Diana's friend, Richard Kay said they had "often discussed" how they live on without each other.
Commenting on her majesty's "remarkable" good spirits at the G7 summit, just three months after the Duke of Edinburgh passed away , Richard Kay said:
"The two had often discussed how each would cope without the other at their side, and it boiled down to this: whoever was left should mourn, but not for too long, then enjoy what remained of their life."
Kay noted how only 11 weeks have passed since Queen Elizabeth was pictured looking vulnerable sitting alone in her pew for her husband's funeral at St George's Chapel.
Dressed in mourning black, the monarch was separated from her family under social distancing guidelines – the seat next to her, which would have ordinarily been filled by Philip, was empty.
READ ALSO: A Look Back At Queen Elizabeth And Late Husband, Prince Philip's Love Story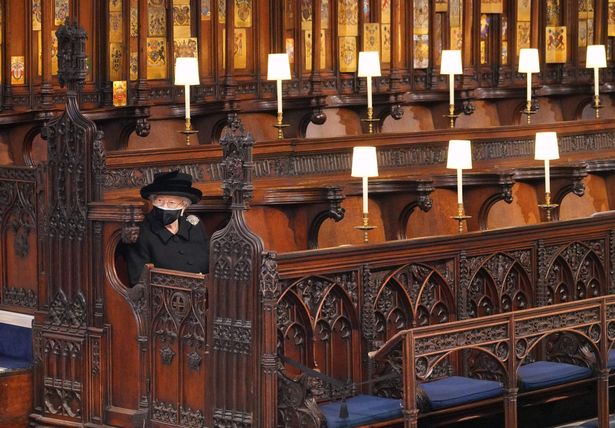 The day after the funeral, the Queen reportedly cut a solemn figure, taking time to herself to reflect on her loss.
She drove herself alone from Windsor Castle to her nearby Frogmore estate, taking in the cherry trees in blood and the flowers lining the banks of the lakes.
Yet her appearance at the G7 summit was "remarkable" as she smiled and asked world leaders during a photoshoot: "Are you supposed to be enjoying yourselves?", the columnist wrote.
Richard Kay, who also praised how she shared "banter" with Boris Johnson about then Health Secretary Matt Hancock, said:
READ ALSO: Prince Philip Death: Queen Elizabeth Embarks On 8 Days Of Mourning + Details Of Prince Philips Surprising Last Wishes And Funeral
"The subtext was clear: even if they weren't, she certainly was. And her observation went a long way to show that she had emerged from her period of mourning and was ready to participate fully in the affairs of the kingdom.

"The smiles we saw in Cornwall have been replicated on every public appearance since. From that intimate, scaled-down Trooping the Colour ceremony at Windsor Castle to finally making it on to the racetrack for the last day of Royal Ascot."
She is said to miss Prince Philip "dreadfully" but she was prepared for his passing.