Tonto Dikeh Speaks On Her Journey As A Mom And How She's Intentional In Raising A Son That 'Your Daughters Will Be Safe With'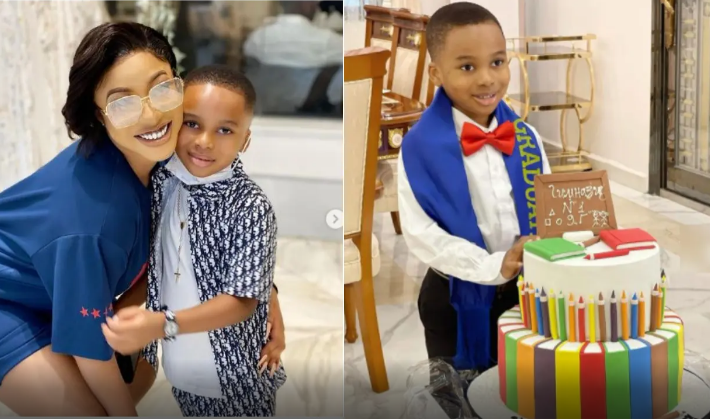 Actress and super mom, Tonto Dikeh took to her Instagram page to talk about her journey as a mother and how she is raising her son.
The yummy mum-of-one who constantly brags about her parenting skills on social media, said motherhood is an aspect she can never fail.
She added that she's intentional and doing all her best to imbibe good morals and values in her son to make him grow into a perfect man. According to the 36-year-old mom, she's raising a son that your daughters will be safe with.
She also shared few parenting tips with her followers to help them raise morally upright children. The Nollywood star advised young mothers to be patient, loving, not toxic and partner with God during their journey of being a good mum.
Below is her full post…
"I am raising a son that your daughter will be safe with… I promise…

Motherhood is one Area I can't fail.. I Will never fail. I am intentional about it. Just like so many of you strong warriors, I learned on the Job…

There is no Manual to being the best MUM… JUST BE Present, Patient, Loving, Not Toxic, intentional, and most especially knowing that THIS "MOTHERHOOD " is a PARTNERSHIP between you and GOD.. Collaborate with GOD.

I want the world to be a much better and safer place for women and Men too.."
READ ALSO: How To Be Intentional In Your Parenting
Three days ago, Tonto bragged about working like a man as she advises her fans and colleagues to save their children the work of breaking generational curses.
In a post shared on her Instagram page, Tonto said she's loyal like a fool but robust as a thousand men put together.
Giving reasons for her hard work, Tonto said she's doing it for the sake of her seeds as she never wants her children to go through half of what she went through.
Tonto said she would break all generational curses, so her children do not have to worry. She added it's not easy, but she will achieve her dreams with each bit of step.
In her words:
"Do the work so our children don't have to worry about breaking generational curses. I work like a MAN.. I'm Loyal like a FOOL.. I'm as strong as 1,000 men put together.. I don't do this for me, I do it all for my Seeds..

I never want my Child to go through half what I went thru.. So today I put in all the work.. This is not easy. I repeat this isn't easy but with each little step I achieve my dreams.. YOU CAN TOO..

Been strong has its own Curse but most importantly you gat it.. I WILL BREAK ALL GENERATIONAL CURSE SO MY KIDS DONT HAVE TO @kingandre_dikeh I'll make you PROUD…"
SEE ALSO: Tonto Dikeh Talks About Protecting Her Child's Space While Dating On Instalive Chat With Laurie Idahosa