Celebrity Mom, Amy Schumer Alerts Other Women As She Gets Her Uterus And Appendix Removed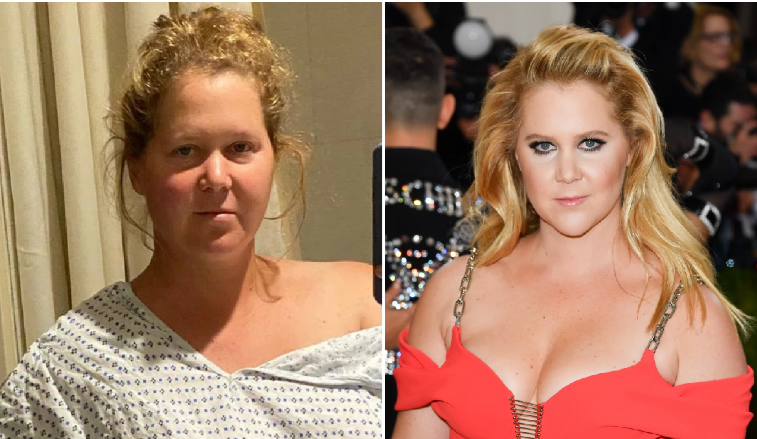 Hollywood star, Amy Schumer has revealed she is recovering from surgery after having her appendix and uterus removed due to complications related to endometriosis.
The 40-year-old American stand-up comedian and actress who underwent IVF last year in a bid to conceive her second child, detailed the removal of her uterus and appendix on Instagram in a video taken by husband, Chris Fischer as she recovered in the hospital on Saturday.
Schumer said;
"So it's the morning after my surgery for endometriosis and my uterus is out. The doctor found 30 spots of endometriosis that he removed. He removed my appendix because the endometriosis had attacked it.

There was a lot of blood in my uterus and I'm sore and I have some like, gas pains."
She also wrote to women in the caption,
"If you have really painful periods you may have #endometriosis."
This isn't the first time the Snatched star — who was also diagnosed with adenomyosis — has gotten candid about endometriosis pain and her fertility.
"We did IVF, and IVF was really tough on me," Schumer said at the time. "I don't think I could ever do IVF again."
"I decided that I can't be pregnant ever again," she added. "We thought about a surrogate, but I think we're going to hold off for right now."
"We got these embryos, so I don't know. But right now, we were gonna try to make a move, but then COVID happened and I'm just kinda, like, walking back like, 'Okay, maybe we'll revisit that in a minute,'
" she said at the time.
Schumer thanked her followers for sharing their personal IVF stories in her February 2020 update, writing on Instagram that she wanted to "send love and strength" to all "warrior women" who go through the path to parenthood.
"I have so appreciated everyone sharing their IVF stories with me. They made me feel empowered and supported. So I wanted to tell you how mine went down,"
Schumer wrote at the time.
"So many women go through many rounds of IVF which is painful and mentally grueling. I heard from hundreds of women about their miscarriages and struggles and also many hopeful stories about how after rounds and rounds of IVF it worked!! It has been really encouraging. Thank you."
SEE ALSO: The Agony Of A Mom-Of-1, Emily Mulet Who Is Battling With Endometriosis Will Make You Look Inwards
She continued,
"Anyway I am so grateful for our son and that we have the resources to get help in this way. I just wanted to share and send love and strength to all of the warrior women who go through this process."