2Face's Baby Mama, Pero Adeniyi Sues His Wife, Annie Idibia, Demands N500m As Damages | See Details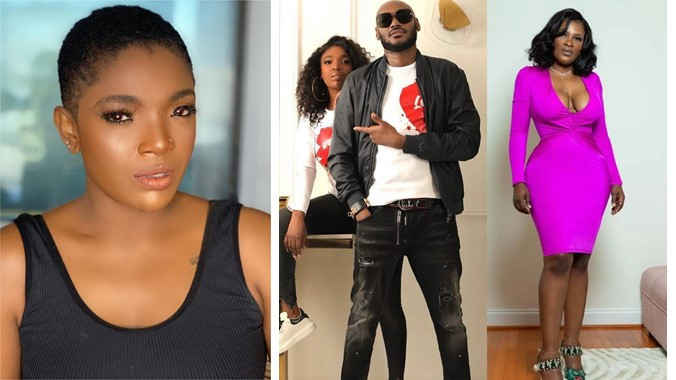 Nigerian music mogul, 2Face Idibia's baby mama, Pero Adeniyi has served his wife Annie Idibia a lawsuit notice, in which she demanded an apology, a retraction and N500m as compensation for damages.
In the lawsuit notice dated November 10, Pero's lawyers referenced Annie's recent Instagram outburst and the audio tape which went viral weeks ago in which she alleged that her husband, 2Face "packed his bags and came to America to see her (Pero) and his other kids".
Also, Pero's lawyers stated that these allegations are "blatantly false, misrepresents facts and portrayed Pero as an individual with loose morals".
Annie was further accused of engaging in "malicious and libelous online publication" which subjected Pero and her kids to online harassment and bullying.
Pero is now demanding for a retraction, an apology and N500m as damages. Pero, who has three kids for the music star, served the lawsuit notice on Annie's birthday.
Annie and Pero's rift can be traced back to 2015 and 2016 when they both called each other out on social media.
Their relationship took a different turn when photos of 2Face reportedly kissing Pero at his nightclub back in 2015 broke the Internet.
Recall that in September, Annie took to her Instastory to call out her husband, his family and Pero, as she accused him of sharing the same house with his former lover and baby mama, Pero during vacation.
The actress wrote to Tuface in the now deleted post, "Your baby mamas constantly use your children as an excuse for all sort of rubbish."
She added that she has been patient and she has made so many sacrifices for Tuface and his kids, but she's no fool. Annie went on to say that Tuface's family never liked her from the get go, no matter how hard she tried.
She then called Tuface out for sleeping under the same roof with his children's mother, Pero, when he's visiting the kids they share.
She also called out Tuface's brother, Hyacinth Idibia, for housing the singer, his kids and Pero under the same roof.
The actress concluded by naming Tuface's manager, Efe, Frankie and the singer's relatives telling them that their action is "unacceptable".
READ ALSO: 'I Dare Annie To Bring Out Any Evidence…' -Tuface's Baby Mama, Pero Finally Breaks Silence In Explosive Interview
Her post reads;
"I am a patient woman !! I am not a fool innocent Your family never loved from the beginning! No matter how hard I tried I was never worthy to them!!! I have made so many sacrifices for you and all your children. God knows I have tired.

Your baby mamas constantly use your children as an excuse for all sort of rubbish! I try to stay gracious!! You are not the first man on the planet to have kids by different women !!! You can do better ! Everything I do is to show the good human that u r!!! But today ! This move done by you, Efe , Frankie n your family is unacceptable!!

@official2baba !! What kind of man takes his kids to Disney n spend nights in the same apartment with his kids n their mother! ? How many times have u gone to see ur kids with pero ! N she stay with u n the kids under the same roof for nights ! Or is it when your brother @hi.idibia house u, your kids n pero under the roof ?? ! I can go on n on !"
Annie marked her 37th birthday yesterday, November 13, and according to her, all she wants is peace.
In a post shared on her Instagram page, Annie used the occasion of her birthday to tender an unreserved apology to her husband, her mum, her mother-in-law, family members, and all who might have been let down following her outburst on social media.
In her birthday post, Annie said it was so unwise for her to throw her husband out like that and apologized for the mental stress the whole incident put him through. She mentioned that she allowed her emotions make her act on something that wasn't true because she was kept in the dark.
SEE ALSO: Idibias Family Feud: Video Of Pero Adeniyi's Dad Claiming Tuface Idibia Married Her Resurfaces Online
Her post reads;
"It's A Brand New Chapter For Me …
And Would really Love To Start It On A Clean Slate .
This Year Has Been A lot …
Soooo Much Blessings And Pain.

My Hands Are Shaking As I Type This ….I Let A lot Of pple down ..Especially The Pple Close To Me… The Last 10Weeks Have Been The Worst Of My ENTIRE Life , Yes The Worst Since I Was Born … I have Gone From Being So Angry To being So Broken And Back To Anger .. And Then Sadly ,Which I Am Ashamed To Admit – Suicidal! I Have Acted So Badly In A Way I Am Not Proud Of , I Allowed My Emotions Cloud Me. , I Allowed My Emotions To Lead Me Into Making Bad decisions , Allowed My Anger n Emotions ,To Make Me Act On Something That's Wasn't True Cos I Was Kept In Dark !

Instead Of Remaining Calm .. Before Acting …
I Want to Apologize To My Husband , Inno .. I Am So Sorry I Threw You Out There Like I Did , (so unwise ) That Isn't The Kind Of Woman You Married, Totally Sorry For all the Mental Stress And Heart Break It Caused You , So Sorry I Put Both Our Families Out There I, The Way I Did I still Bi Your Smallie oo*

To My Beautiful Mothers .. My Amazing Mother And My Beautiful Mother In- Law .. I am Sooo Sorry I Let Both Of You down .. No Mother Should Go Through The Kind Of Pain That You Both Felt .. I Am Really Sorry (I am still your baby) I am Far From Perfect, But I Have Decide To Choose Peace . And I Wanna Do Better , Given The Chance .

To Both My Families- The Macaulays And The Idibias , I Am Sorry For All The Pain And Disrespect Towards Both Familes… Pls Forgive Me .Una No Fit Throw Way Una Pikin ooo

To all my 7.1 Plus Family out here .. Thank you for still standing n supporting me and my brand

To All the brands That are working with us – thank you for still sticking with your NKOYO ooo.. To The ones We Are In Talks With , I appreciate
To My Big Brother And Friend @efeomorogbe I Am So Sorry
To My Manager- @phadekemi Thank you for your patience n for sticking by

To My "Online Inlaws "Wey I carry my Mata come give – thanks for all D love, D bashing n rebuking I have learnt ooo.. I No go do am again o
All I wan 4 my bday is PEACE

Annie Macaulay Idibia."
See the lawsuit notice below…