Davido Spills On How His Dad Fought So Hard To Get Him Back To School After Dumping School For Music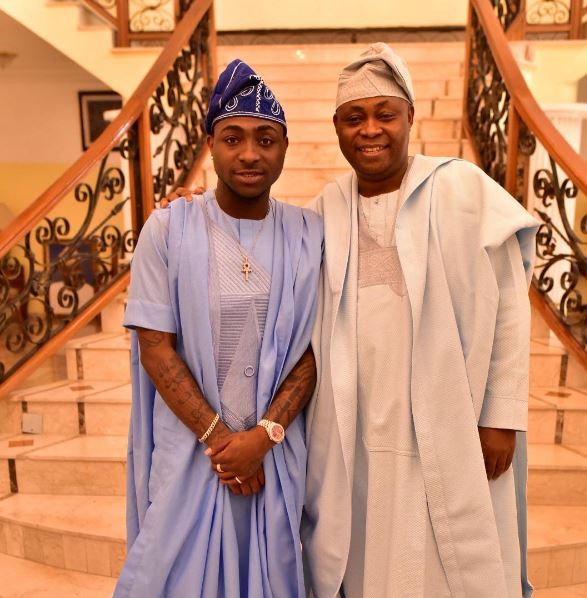 Award-winning Nigerian singer, Davido, has opened up on how his father reacted after he dumped school to pursue a music career.
According to the singer, his dad, Adedeji Adeleke went as far as sending police after him to drag him back to school. He added that he also attempted to shut down shows where he knows he'll be performing.
Davido explained that his dad wasn't totally against the idea of music or singing but wanted him to get a degree before venturing into music if he still so wishes but because he left school to pursue a career in music, his dad went all out to drag him back to school.
The singer made this revelation during an interview with an American-based podcast, Earn Your Leisure, which was published on Wednesday.
Davido stated that while his dad thought he was at school, he was actually doing music. He said:
"I wasn't in school. I was facing music full time and over the years, he found out that I wasn't in school and there was a whole lot of drama.

"I moved back to Nigeria and then, he wanted me to go back to school. Because he was like, 'after school, you can go back to do the music and bla blah blah. Just get your degree first' — which I've gotten. Thanks to God."
The single dad of three further stated that overtime, his music career started getting bigger and after he was informed that people went crazy after his song was played at a club, he finally left school to pursue music. He said:
 "I left school. I went back to the city and then my dad was chasing me with the police.
"They were coming after me to go back to school. Any show he (my dad) saw me on, on a flier or whatever, he was shutting the show down."
The singer stated that his biggest breakthrough came when he released the song 'Dami Duro.' He continued:
"Then I dropped this one song called Dami Duro and the song became so big that even the president was singing it. Even people my dad couldn't even get to, was singing it."
READ ALSO: Nigerian Music Star, Davido Opens Up About Life With His Parents While Growing Up 
According to Davido, this was a turning point between him and his dad as the duo made a deal which allowed the singer to attend shows when he wasn't having classes.
"After two-three years, I got a degree in business management and music," Davido said.
He also revealed that he wasn't close to his father when he was a child. Davido stated that he wasn't close to his dad because the older man was a workaholic. He said,
"From my younger days till I was about 11, I wasn't really close to my daddy because he was all about work and work. I remember him coming home late every day. I didn't know what he was doing. I didn't even know he was rich."
The award-winning singer stated that he didn't know his dad was rich till he was 13 years old. According to him, he only realized the magnitude of his father's wealth when they relocated to a new house because as a billionaire, his father drove a Honda. He said,
SEE ALSO: Davido Shares On How He Balances His Family & Why His Wedding Plans With Chioma Rowland Is On Hold
"From the new house, that was when I started trying to know what my dad did and I got to know that he was into business.
"I come from a family where there's no entertainment. It's straight-up; you go to school and get a degree, and it's either two options. It's either my dad gets you a job from his rich friends or you work for him. I was the first one to really branch out and do entertainment."