Uche Ogbodo Opens Up More On The Deadly Illness She Battled In 2020: 'People Said I Had HIV'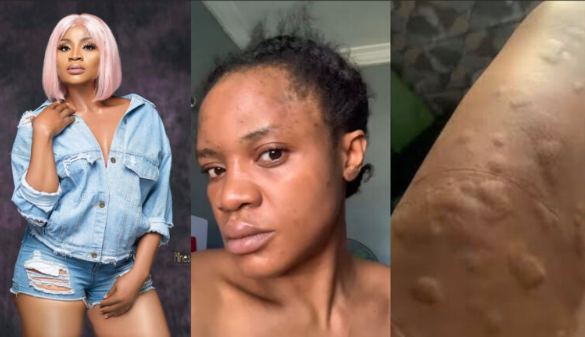 Nigerian film actress and producer, Uche Ogbodo has disclosed more about the illness she battled in 2020 in a new Instagram Live session with fans and followers on social media.
We had earlier reported that the Nollywood star on New year's day narrated how she was diagnosed with acute Agiodema and Urticaria in the second half of 2020 and she was already given a death sentence.
According to the 42-year-old mother of two, the better half of year 2020 was the worst time of her life. She said her doctors told her she was going to drop dead as her heart could stop beating at anytime.
She said she was also advised to relocate abroad because she can't survive the condition here in Nigeria, adding that she already changed her next of kin to her sister preparing for the worst and also ensuring her daughter will be taken care of when she's no more.
Uche said through it all, she never gave up on her God. She said she prayed, fasted, hoped, sowed seeds and wailed in Agony most nights because she couldn't sleep due to attacks.
READ ALSO: Uche Ogbodo On How Pregnancy Saved Her From Sudden Death
In a new Instagram session with Legacy TV on Thursday, the single mom shared that people died from the illness and she is incredibly grateful to God to still be here working.
She said that she was called names, many people judged her on social media without knowing what she was passing through.
Uche added that because of the ailment, she wasn't bathing during the COVID-19 period in 2020 and it took her a long time to be able to open up about her ordeal.
Recounting her ordeal, Uche said,
"To think that people died from this thing that happened to me and I am still here. I am still working, I am still fine. I told my sister that if anything happens to me, she should take care of my daughter like I am here.

People judge people so much. On social media, people judge people so much. You don't know what that person goes through. I was going through hell, I was called names.

People said I had HIV, that I was too dry. I was too skinny, I wasn't looking fresh. I was called different names all through that time.
SEE ALSO: 'I Wrote M Will, Sold My Properties, Booked Burial Space' -Actress And Mum, Kemi Afolabi Recounts Battling Incurable Disease In 2021 
All the COVID-19 period, I wasn't bathing. I wasn't bathing during the 3 months lockdown. I couldn't take care of myself but my man was there every day with me.

My family were there, my sisters, my daughter Mildred, they were with me. It was a terrible experience for me. I couldn't even share it for a long time. I just kept thanking God".