Do You Think Will Smith Went Overboard By Slapping Colleague, Chris Rock At The Oscars For Making Joke About His Wife, Jada Pinkett?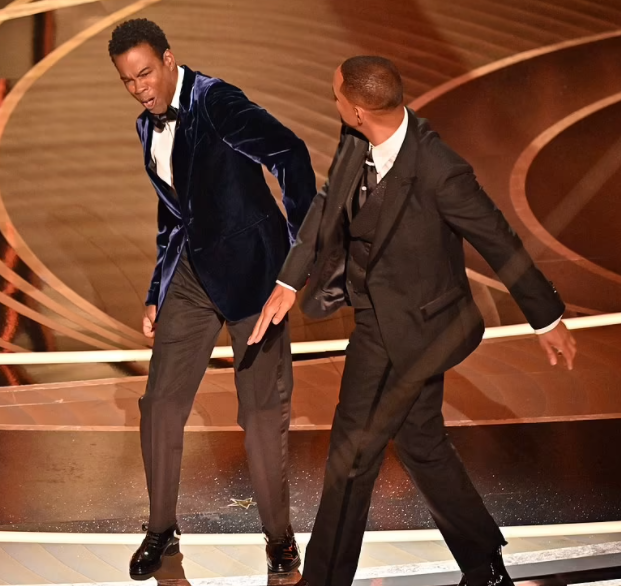 Hollywood superstar, Will Smith stormed the Oscars stage to hit popular comedian, Chris Rock after the presenter made a joke about his wife, Jada Pinkett Smith's haircut.
The altercation, which played out on live television in front a gobsmacked audience of fellow actors at the 94th Academy Awards on Sunday night, came after Rock joked about Jada's shaved head, likening her to a movie character, GI Jane, who has a shaved head.
Jada, who has been married to Will Smith 1997, suffers from alopecia, an autoimmune condition that results in hair loss, and her decision to shave her head.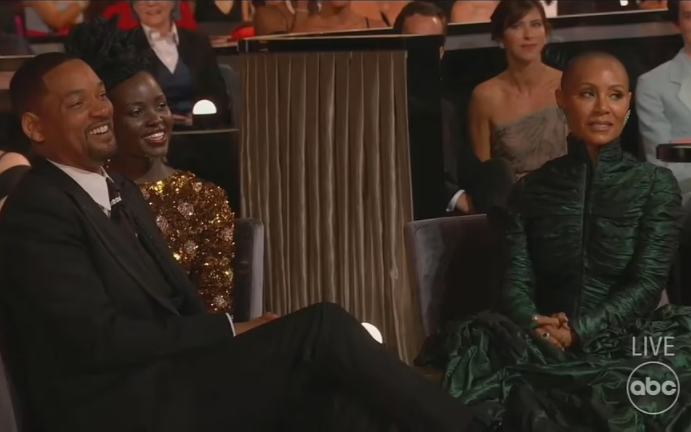 The mother of two has been grappling with hair loss for long revealing her alopecia diagnosis in 2018.
This isn't also the first time Chris Rock has made fun of Jada. He also did so in 2016.
However, this time, Will Smith stormed the stage and slapped him.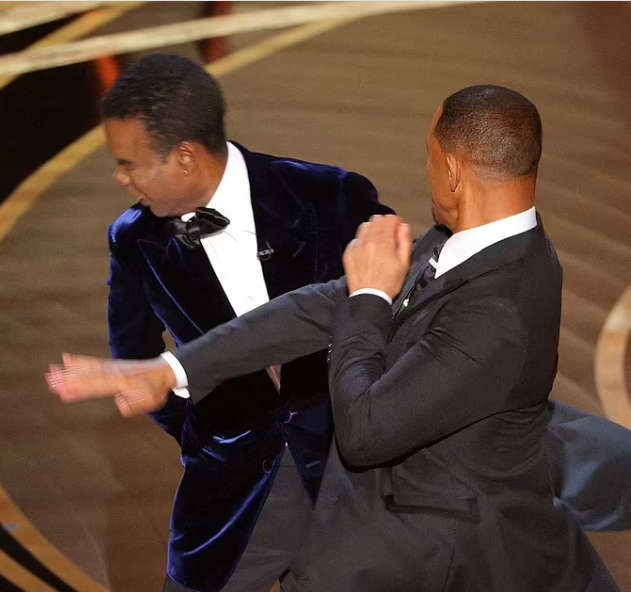 Shocked, Rock who took a moment to collect himself before resuming presenting the nominees for best documentary feature, said: "Wow, Will Smith just smacked the s**t out of me."
After the attack, Smith, who went on to win the best actor award for his performance in King Richard, in which he played the father of tennis stars Venus and Serena Williams, returned to his seat, yelling at Rock, "Take my wife's name out of your f****** mouth."
"That was the greatest night in the history of television," Rock said.
During his acceptance speech, Smith apologised to the Academy and his 'fellow nominees', but did not reference Rock directly. Instead, he likened himself to the character he portrayed in the film.
SEE ALSO: Jada Pinkett Embraces Baldness As She Gets Candid About Her Struggles With Alopecia
International celebrities, Nigerian celebrities and others have reacted with shock, condemnation, and in some cases, praise, following Will's action.
Reacting, single dad, Ubi Franklin took to Instagram to warn people who mock him and bring his kids into it.
The talent manager shared a video of Will slapping Chris Rock. He then warned that anyone who insults him from now on will get the same treatment.
He went on to call out comedian Bovi. He said Bovi did the same thing to him at the last Headies awards. He said he was struggling at the time and trying to put his life together and Bovi made a hurtful joke about him and his kids.
He then warned Bovi not to try it again.
See his comment below…
"This is the way now, you yab me we get on it straight. Or you yab me and I yab you with receipts of the things the world don't know right on my page here and we will go anywhere you want from there.

Comedy should not be used as a decoy to disrespect people on National TV.

BOVI, you did this at last year's "Headies" and I sent your friends and close alleys to warn you, Do not try it again.

I am struggling with stuff and trying to put myself together and you go on live TV to talk about my kids? BOVI? Until next time.
Thank you."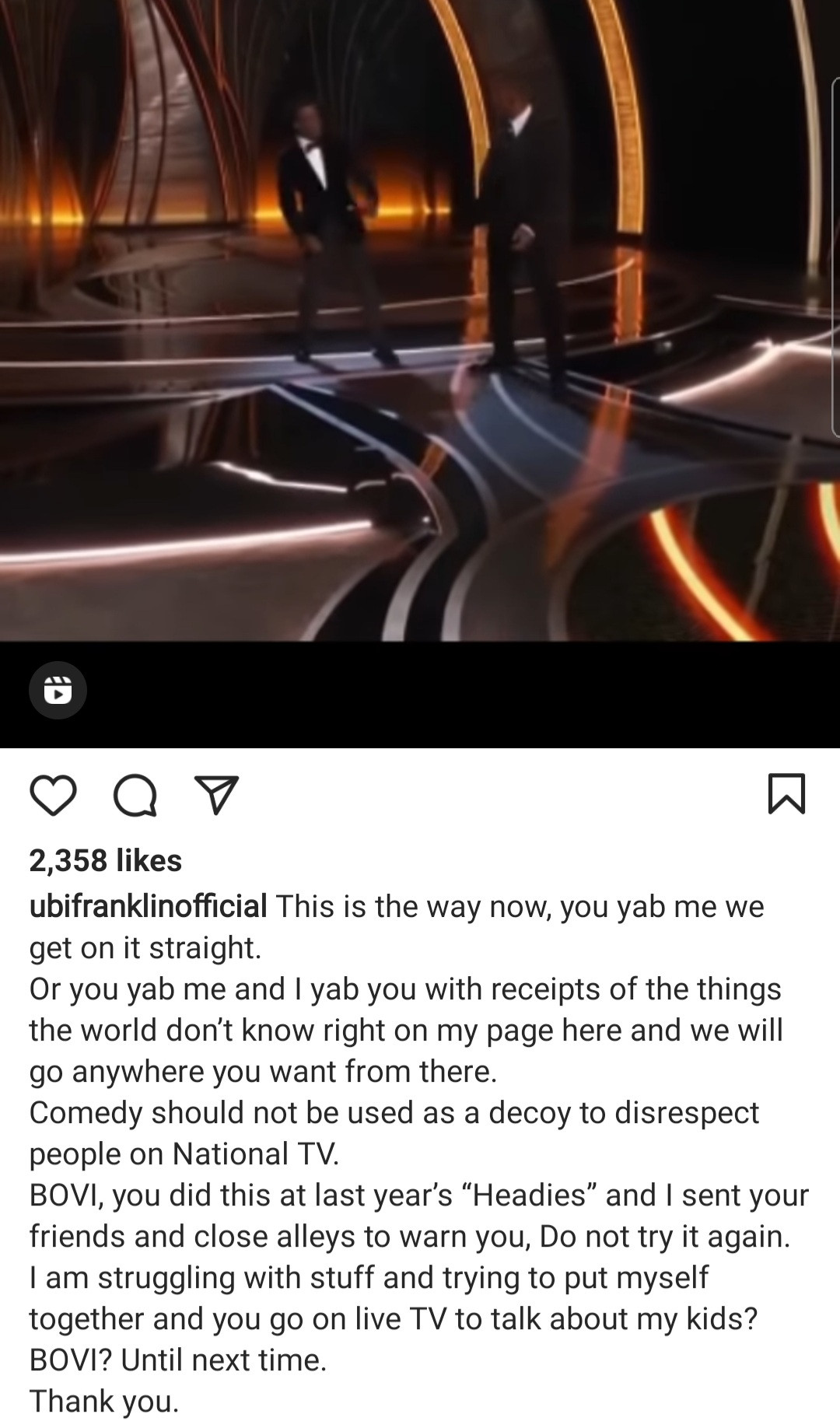 READ ALSO: Single Dad-Of-4, Ubi Franklin On How Fatherhood Helps Him Fight Against Depression
Also reacting, married mother of one, Ruth Kadiri-Ezerika said that any man who cannot defend his wife like Will Smith did should not get married. The actress shared a photo of Will Smith slapping Chris Rock at the Oscars and wrote:
"Any man that cannot defend his wife like this should not marry her."
Uti Nwachukwu also reacted to Will Smith's outburst against Chris Rock. Will's outburst came as a surprise as it happened right in the middle of an award ceremony.
Uti in a post shared on his Instagram page, said he first thought the incident was staged when he saw the clips. He added that if it wasn't staged, then Will's love for Jada can be his end.
In his opinion, loving someone who puts you in a bad light, humiliation and shame, will lead one to a dead end.
His post reads:
"My friends and I have been talking about Will Smith Slapping Chris Rock.
First Of all I think it STAGED! lol
••
But if it wasn't staged. Then my tweet is my conclusion because whattttt!?!!!! On INTERNATIONAL TV?!!?
•••

My take is that GI Jane is associated with strength and resilience in women. It's even a symbol of pride sef.
If it was derogatory I for say emm okay.
••
Let's not forget that Him and Jada have consistently made them both look bad !! Whether it's by hurting him with public admission of entanglement or him talking about their sex life (Abi was it her again sef)lol. Now na fight he wan de fight ??

How many people he wan de slap ??
Watch what would happen and how people are going to milk this.

HE IS ALSO A COMEDIAN NA! HE CANT BE OVERREACTING NAAAA

If it were 50CENT e for slap am?  OR EVEN DAVE CHAPELLE??!!!
••
His wife has made him a joke since the august thing !

All this one na suppression cause am ! Transferred aggression!!

He probably wishes he could slap The culprit but he can't because Gentlemen DONT! IT IS WRONG!!
••
What's paining me is that This has over shadowed his life long dream of winning an Oscar.

Sad sad saaaaad!

He should have exercised more restraint! He's not a 25 35 or even a 45 year old.

Again if this wasnt staged then he needs SERIOUS THERAPY.
He went thru so many emotions under an hour. E laugh. E vex. E cry
••
THE PEN WOULD HAVE BEEN MIGHTIER THAN THE SLAP IN THIS CASE.

JADA FOR COMPOSE AND RELEASE A HEARTFELT STATEMENT TO FINISH CHRIS! This is 2022 Na!!
••
RIGHT NOW CHRIS IS GOING TO BE THE HERO!! HE TOOK IT LIKE A CHAMP

But what do I know. Who I hep sef LMAO."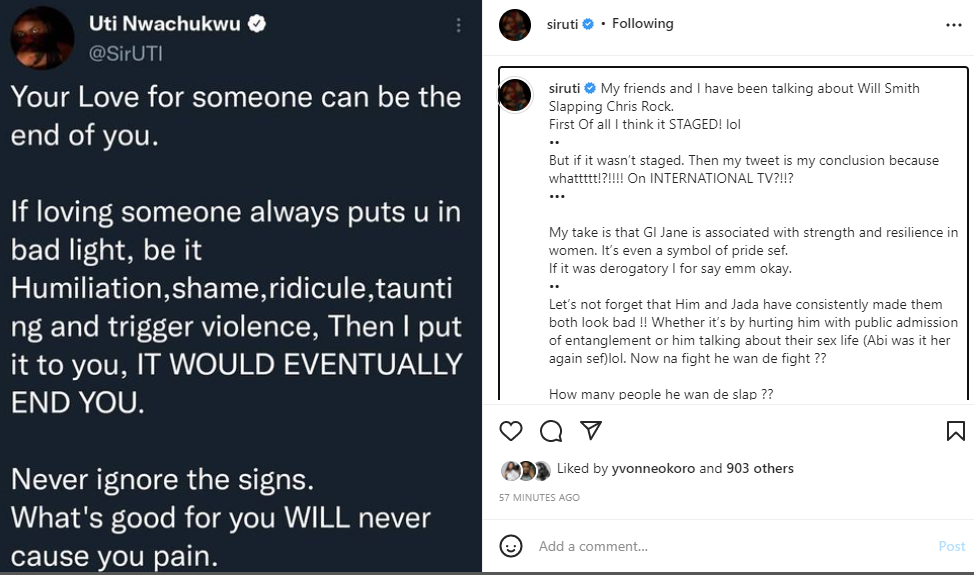 International celebrity, Nicki Minaj took to Twitter to also react to Will Smith's outburst.
The Queen rapper and married mom-of-one issued a series of tweets regarding the incident, noting that this is what happens when a man sees the pain in his wife's eyes.
"I love Chris Rock. I don't think he would've made that joke had he known what Jada recently shared,"
she wrote, referencing Jada discussing her hair loss struggles.
ALSO SEE: Celebrity Mum, Jada Pinkett-Smith Says Being In Lockdown With Her Husband, Will, Has Revealed To Her She Doesn't Know Him At All
See her full tweet below…
"I love Chris Rock. I don't think he would've made that joke had he known what Jada recently shared- but between him & the whole team @ the #Oscars you mean to tell me not ONE of y'all heard this woman just share this heartbreaking story?#ComeOnSon

The husband gets a front row seat to his wife's pain… he's the 1 consoling her… drying her tears behind closed doors when those cameras go off. Social media has made ppl feel that these "husbands" won't ever run into them in real life.

You just got to witness in real time what happens in a man's soul when he looks over to the woman he loves & sees her holding back tears from a "little joke" at her expense. This is what any & every real man feels in that instant. while y'all seeing the joke he's seeing her pain

Imagine what it must feel like to be losing your hair to the point where you have to shave it bald. You think that's easy to deal with for anyone? You don't think she's cried about that many times? 2022 y'all gon have to see these men about those jokes you made about their wives."