Entrepreneur, Aronke Feyi-Emmanuel Narrates Her Devastating Experience With Postnatal Depression That Lasted For Months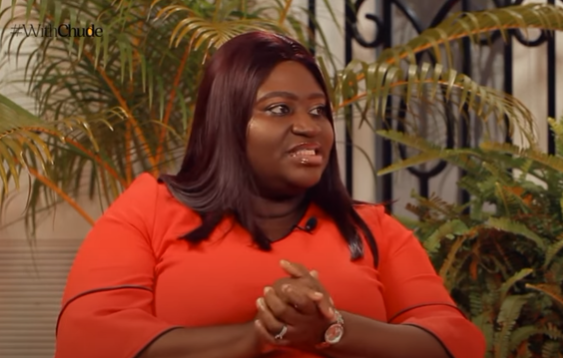 Most women grow up dreaming of becoming a mother, but what they don't expect is the shattering postnatal or postpartum depression they might suffer after childbirth.
Society tells us, by tradition, by literature, by media, by report, that parents, fathers and mothers should be full only of the most resplendent joy after the birth of a child.
But this is an illness. And so many women face it. And we must talk about it.
Nigerian entrepreneur, Aronke Feyi-Emmanuel, shared her personal experience with postnatal depression after birthing her child and it's really devastating.
She shared her story in a recent Chat with popular media personality, Chude Jideonwo.
Aronke who is the founder and chief executive officer (CEO) of ChildAfrique Limited, an online marketplace for made-in-Africa children and maternity care products, said she once contemplated killing her baby while battling postnatal depression.
According to the mumpreneur, she gave birth to her child abroad and did not have people around to help her with chores as seen in many Nigerian homes after childbirth.
The entrepreneur went on to reveal that while she was happy to have a child, she became overwhelmed with the demands of motherhood that "I wanted my life, sanity, and wellness back".
READ ALSO: TV & Film Producer, Cynthia Okpala Shares Her Experience Dealing With Postpartum Depression Twice
She narrated:
"I had my baby abroad so I didn't have the experience of a mum just forcing over you, putting hot water or something on your belly, bathing you and helping you generally. I did not have that.

There was no one to take care of me. I took care of everyone and everything but nobody cared for me. At least, not in the way that I should have been taken care of.

This was the beginning of this period in my life. I was joyful to have a baby but I found myself alone at night, every day. I was sleeping and waking up around my baby.

I don't remember any night that my baby didn't sleep beside me or have someone take the baby away from me so that I could rest. This was ongoing for the first four months — every night.

Then, when I'm alone with the baby at night, several thoughts would come up. Thoughts like, how did I get here?  I would then say to myself: maybe I should just carry the baby and hit him on the wall and let everything just end.

You, know, I just wanted my life back, I wanted my sanity and wellness back and it seemed I wouldn't get it."
ALSO READ: How Mom, Hannah Wilkinson Discovered & Got Her Postpartum Mental Health Under Control Is A Must Read!
Postpartum depression is a topic that is yet to gain proper attention in Nigeria; thankfully, so many women and medical experts are beginning to create more awareness to prepare new mothers and fathers and also how to deal with it.
Even with the awareness, still, it seems disturbing to see or read about nursing moms, having successfully gone through the stress of pregnancy for nine months, sliding into depression.
In some cases, some hurt themselves, some harm the baby and in some extreme cases, some even kill the baby. This phenomenon is called post-partum depression.
According to WebMD, a site that provides valuable health information and tools for managing the health, PPD is simply described as the emotional and behavioural changes a woman experiences after being delivered of a baby. It is said to start manifesting, oftentimes, from a few days, weeks or months after delivery.
Its symptoms include frequent mood changes, loss of pleasure, feelings of worthlessness, hopelessness and helplessness, excessive fatigue, anxiety, restlessness, decreased libido, difficulty sleeping and thoughts of death or suicide.