Psychologist, Dr. Umeh On Why Women Stay In Abusive Marriages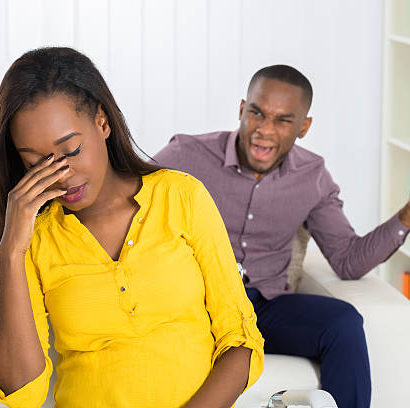 A Consultant Clinical Psychologist, at the Lagos University Teaching Hospital, Idi-Araba, Dr. Charles Umeh has  revealed why some women endure abusive relationships and domestic violence in marriage.
The psychologists pointed out that emotional attachment is one main reason while highlighting reasons women stay in abusive unions even at the detriment of their lives and the long-term psychological effects it could have on the children.
Dr. Umeh further said that culture, religion and financial dependence are strong factors why women find it difficult to leave abusive relationships and marriages.
Lack of support and blame from family members and religious bodies, he stressed, make women more helpless in deciding to leave.
According to the World Health Organisation, violence against women – particularly intimate partner violence and sexual violence – is a major public health problem and a violation of women's human rights.
Estimates published by the WHO indicate that globally, about one in three (30 per cent) of women worldwide have been subjected to physical or sexual intimate partner violence or non-intimate partner violence in their lifetime.
WHO stated:
"Most of this is intimate partner violence. Worldwide, almost one-third (27 per cent) of women aged 15-49 years, who have been in a relationship report that they have been subjected to some form of physical and/or sexual violence by their intimate partner.

Violence can negatively affect women's physical, mental, sexual, and reproductive health, and may increase the risk of acquiring HIV in some settings.

Violence against women is preventable. The health sector has an important role to play to provide comprehensive health care to women subjected to violence, and as an entry point for referring women to other support services, they may need."
Speaking in an interview with PUNCH HealthWise, Dr. Umeh said inculcating good cultural and moral values in children can help to limit domestic violence. He further stated:
"Let's take it from the cultural perspective, in most cultures, divorce is a no-no, especially in Igbo land. They will not want to hear anything about divorce.

Even if you are dying, your mother will encourage you to stay there, while your father will encourage you to stay because nobody in the family has left their marriage and that marriages are made up of ups and downs. So, you have to go and fix it.

They will not want to understand the level of abuse involved and they will look at it as if it (abuse) is normal in marriages, so the woman has no choice but to stay.

To worsen it all, religion, especially Christianity (the bible), tells you that the only reason you should divorce your wife or husband is on the ground of infidelity. But how many people can you catch in bed? Rather, they will tell you to go and pray."
SEE ALSO: After Fleeing From Her Abusive Marriage, This Is What Dreamcatchers Founder, Seyi Oluyole Says Keeps Many Women In Abusive Marriages
Dr. Umeh, who is also a senior lecturer at the Department of Psychiatry, College of Medicine, University of Lagos, added that some women find it difficult to end an abusive relationship because they are financially dependent on men. He said financial dependence enslaves a woman to her male partner.
He said:
"This kind of woman will do nothing if the man does not give them money, so the man will ultimately be her god.

There is another intriguing one, I have encountered some women that know they are in abusive relationships, but believe the man is in charge and that it is normal for them (women) to be beaten. They feel it is the duty of a husband to beat the wife."
The expert said the above reasons are why women who report abuse find it difficult to leave their marriages.
Continuing, the consultant psychiatrist said,
"They feel there is nothing that their partner is doing wrong. A rational mind would say I can't live with this person, but there is that attachment to one particular thing and which is more common in women.

They will tell you they don't think any other man can make love to them the way their husbands do so they can't leave."
On why men beat their wives, the psychologist said any child raised in an abusive family will have no moral justification not to resort to spousal abuse or domestic violence in adulthood.
ALSO SEE: 'An Abusive Marriage Is Absolutely A Curse' -'The Johnsons' Star, Seun Osigbesan Writes In Candid Post
According to the psychiatrist:
"Such child, especially male, will not see any reason to not beat his wife when he grows up. He will do the same to his wife; the father was beating his mother and he sees it as normal. So when he grows up, he wants to do the same because he has no moral justification not to do so.

Then, some other men have low self-esteem and in order to have power over their wives, they beat them to show their masculine ability.

Some other men could have anger issues and impulsive behaviour, which means inability to control anger, whether it involves a man or a woman.

There could also be the issue of psychiatric substance use. People who abuse substances lose control, so they are susceptible to aggression.

Another one that is common is poverty. When some men are in financial distress, they take it out on their significant others."
Dr. Umeh emphasised on the importance of upbringing and the need for parents to teach their children moral values.
He added,
"If you are brought up in a family where you are taught to respect women and you grow up with that, I don't think you would have any reason to beat up your wife.

Another one is developing high self-esteem. If you have confidence in yourself and feel good about yourself, you can hardly get frustrated with what someone tells you because you know who you are. That being said, you can have some control over your emotional reaction.

In some other cases, some people go for therapy when they know that they cannot control their anger, so they consciously make efforts to go for anger management."