'My First Wife Lied'– Mercy Aigbe's Husband Kazim Adeoti Finally Speaks Up As He Sets The Record Straight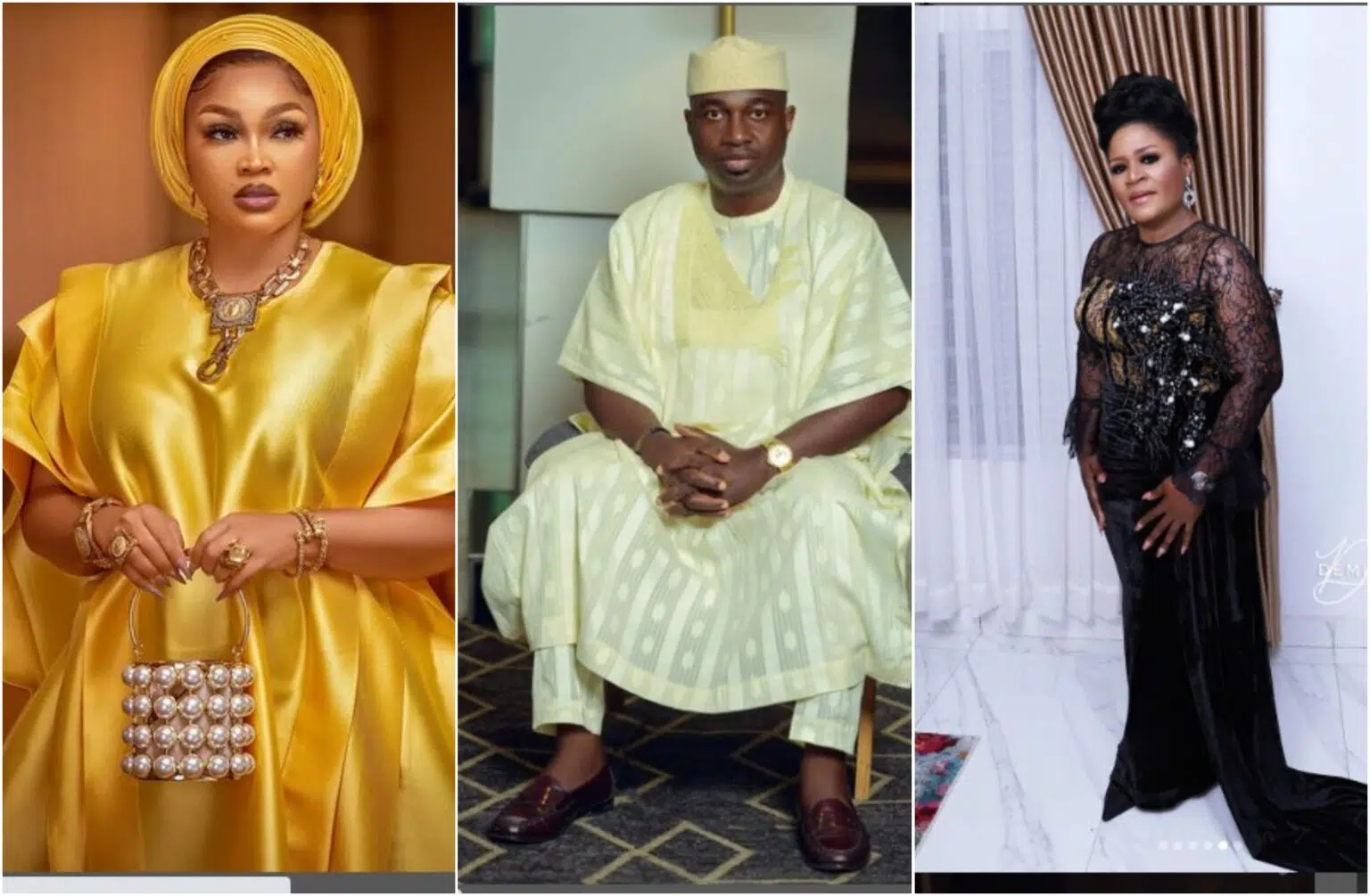 Actress, Mercy Aigbe's new husband, Kazim 'Adekaz' Adeoti has finally reacted to the several call outs from his first wife, Funsho Adeoti.
Earlier today, Funsho, publicly called out her husband and Mercy Aigbe. The mum of four issued them an ultimatum to take down all their photos in the house because the house partly belongs to her.
Funsho also said that she regrets marrying him and wouldn't hold back from telling the truth to the world.
She wrote:
"Kazim you underestimate me right, it's ok cause I was your fool for 20 yrs abi humm, you kept pushing me, I told you if it continues I will post this message..bobo, mi kin se omo ale..hope you got that.. Mercy it's the Odacity for me, like seriously, like I told you, you can have him, keep him for whatever the hell you want with him, but one thing I will not let go of is my sweat, what I worked hard for.

Little girl you've got some nerve how dear u think it's okay showing off what I worked hard for on a daily basis and think I would be ok with it..Kazim tame your dog.

I warned you, way too many times. Kazim am como to get what is mine this I promise you. Note to you all : marrying a second wife was never brought to my attention by Kazim, found out online just like everyone.

Yes I admit I suspected he was sleeping with her, hence I called and cursed her out several times, and each time I confronted him, he gave me a long line of men she sleeps with a mf says "lailai she's a white and she is nothing" so I look the other way ( men in the industry thinking) now he's favorite whore is now a wife to him.

I'm no bastard, I post this on social media to show you all cause apparently, social media happens to be there God they live, breath, eat and sleep social media… I warned him not to test me but they both keep on pushing me… I am not a push over, am not one to be bullied by both of you to silence, No way. You are great together, but honey I repeat not on my money or sweat… thanks."
SEE ALSO: First Wife Of Mercy Aigbe's Husband, Funsho Adeoti Blows Hot, Issues Stern Warning To The Actress And Their Husband In Latest Post
Moments after she shared these posts, the man in the middle of it all, Kazim Adeoti, finally opened up, saying that it is time to put the records straight.
The dad-of-4 started by stating that everything his first wife had been posting about him, are all lies. He went on to say that he legally has two wives and he is adequately taking care of both of them as a responsible Muslim.
Speaking about the house, he declared emphatically that he built the house by himself without a dine from her and Funsho's only input was the furnishing she did in the house and according to him, he has returned her money to her.
He also added that Mercy Aigbe also furnished the house. He further disclosed how Funsho made him take a second wife….
Kazim wrote:
"I have read many things that have been written about me and my family. Many of which are fabricated lies and some directly from my first wife (which understandably is angry I married a second wife).

At this point it is necessary I put record straight. I have two wives. One lives in the US while the other lives with me in Nigeria.

As a matter of fact, I just got back from America 3 days ago where I spent quality time with my family and tried to mend fences with my first wife who is obviously still angry I married a second wife (A move my religion permits as a Muslim ).

And talking about being a Muslim and a responsible man, I make sure none of my family in US or Nigeria is suffering. It is laughable that some people said I have abandoned my US family.

For the record, I ensure my US family gets 1500 dollars since 2016 monthly until recently when I reviewed it to 1000 dollars cos our daughter is now in the private university and I have been solely responsible for her school fees and upkeep.
In as much as there is nothing bad in husband and wife building house together, in my case, we did not. I built the house by myself.

When I was furnishing the house, she bought some furnishing materials and part of the money I have refunded. My second wife had added some furnishing to the house as well.

It is not in my character to speak ill of people who were once friends not to talk of my first wife (who is still my wife as we speak). I will not speak ill of her for the sake of good and bad times we shared and the good kids that God gave us.

It is understandable that my first wife is unhappy about getting a second wife but she left me no choice when she relocated permanently to the US. I am a Muslim and Islam permits me to marry more than one wife as long as I take care of them and I don't maltreat them.

I can stand before God and man that as a man, I have done my best not to maltreat them. And I will not paint my first wife bad no matter what or use foul language on her and her family (who have been with us all through this journey).

When she came to Nigeria recently, we , she, myself, her family and mine had zoom meeting (we didn't see physically). And our meeting was opened, honest and respectful.

Many of them are surprised at the turn of event and the dragging of family name in the mud but as it is, we have to leave everything in the hands of God and let God continue guide us and reward us all."
ALSO SEE: 'You've Been Sleeping With My Husband Since Your Son Was Only 5 Months' -Kazim Adeoti's First Wife Calls Out Newly Married Actress, Mercy Aigbe In Bitter Rant
Last month, there were reports that Mercy Aigbe packed out of her husband's house as Funsho visited Nigeria.
The actress did not only pack out of the house but was exposed for lying about a Range Rover car gift she received from a brand in 2021 during her birthday.
Instagram blogger, Gistlovers alleged that Adekaz and his first wife had built the house together, and despite staying abroad, she often visits Nigeria.
According to Gistlovers, Funsho was visiting Nigeria for a few days, which is why Mercy packed out of the house.
The reports seemed to be true as Adekaz stated it above that Funsho was in Nigeria recently for some family issues.
The moment she returned to the U.S where she lives, Mercy moved back into Kazim's house. The actress who stepped out in style for colleague, Ini Edo's birthday party, shared some glamorous photos of her in Kazim's house with his pictures hanging around.
Irritated at her audacity to flaunt a house she and Kazim built, Funsho took to her Instastory to warn the couple to pull down every photos of her house.
She warned the actress and her husband to stop pushing her. Funsho issued them a 12 hours ultimatum to take down the photos.