Nigerian Man Gets Mercilessly Beaten by Husband of a Female Friend He Visited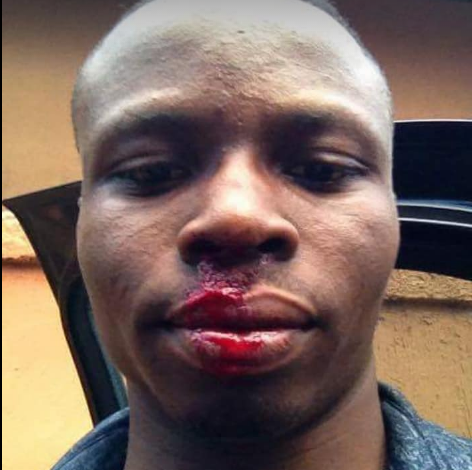 Emeka Ugwuonye, a Nigerian Human rights lawyer, shared the story of a man named, Chike, a member of The Due Process Advocates who was attacked and beaten by the husband of a woman who he paid a visit.
According to Emeka who shared a photo of the man on DPA's Facebook page, Chike was a just a friend of the woman who gives her advice on how to assist her hubby financially.
Read below…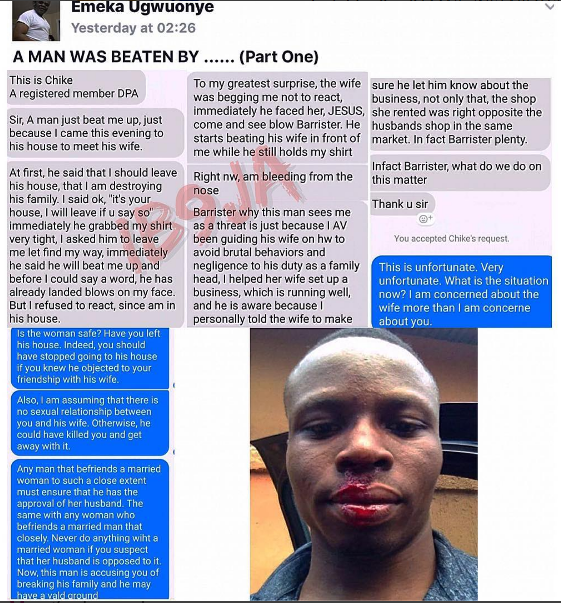 "A MAN WAS BEATEN BY …… (Part Two)

This is part two of Chike's story. He went to visit his female friend, who happens to be a married woman and the husband of the woman gave him a bloody nose.

In the first part of the story, I explained to him the dangers of befriending a married woman withiut her husband's approval. Despite our group rules against judging anybody, some members attacked the man. That caused us to remove those members.
In this part two, Chike tries to explain more his relationship with this married woman. Chike is grateful anyway for our advice to him.

NOTE: If you utter even one word of condemnation of this man, you will be removed from this forum. Please don't do it. NB: DPA is a compassionate group, committed to justice and fairness, with a sincere desire to help."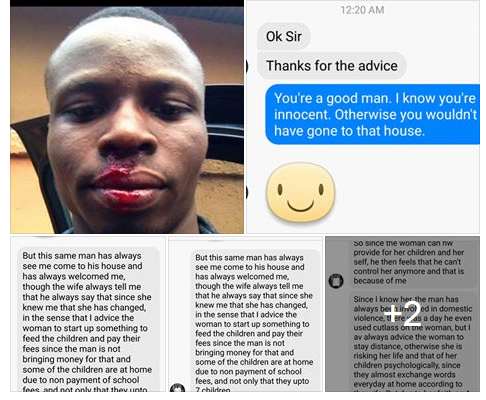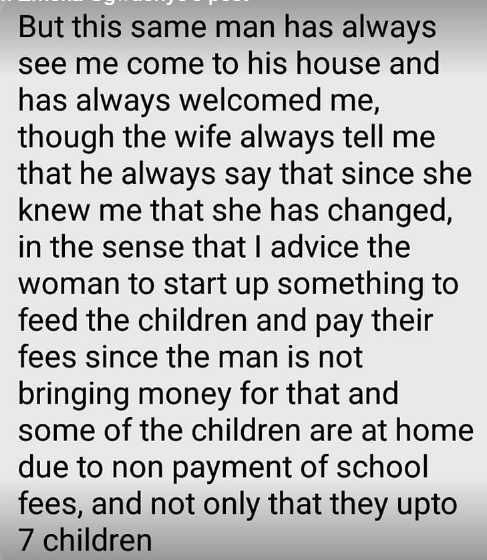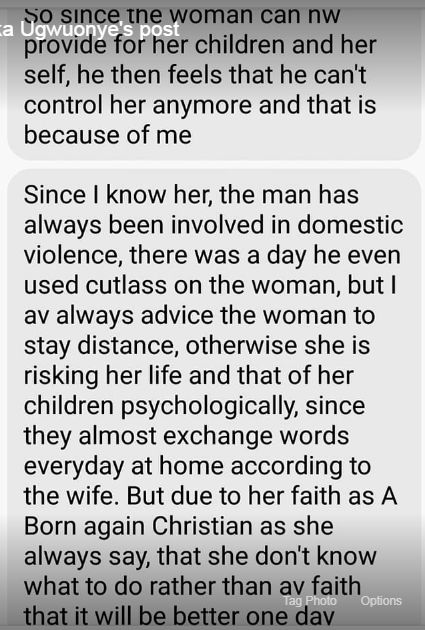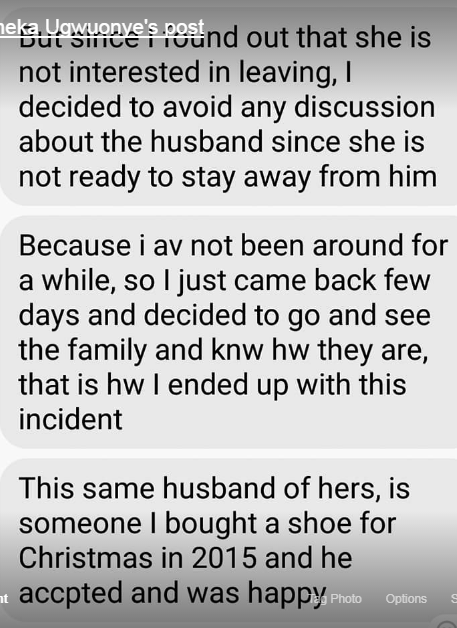 A MAN WAS BEATEN BY …. (Part Three)

This man was attacked by the husband of his friend. The story caused a lot of confusion in this group. He read the comments of some members in Part One and Part Two of his story. He decided to to respond to the comment with clarifications.
—————–
GENTLEMAN:


Good evening Barr. I saw ur post of been disappointed in the comment members dropped about the situation. At first I felt bad on their comments but on a second taught, as a certified psychologist to be (cos am a graduate of psychology). I decided to take advantage of the situation, atleast am happy to av observed their comments to my own benefit. Though I was disappointed that almost 98% of the comments are irrational, they ar all emotionally driven on this matter. There is One great thing I learnt about you, I av always observed ur decision stand in most of ur posts, u ar always rational in ur thoughts, and that's a very critical aspect of professionalism I like much about u, the truth is that I learnt to be less driven by emotions in decision from reading ur various posts.
Though as I saw in the comments, most people really interpreted "helping the woman start a business" as setting up a business for her. That's funny as I saw such comments, but I will say that the role I played there was that I helped her in making a better choice of business to do using the principle of vocational choice based on the knowledge of the General psychology I already had, and it was successful. And her first step was that I advised to start going to market with the husband and stay with him in the same shop while she gain experience on hw to deal on the business she wanted to do. This is because people around the husband in the market do sell/deal in the business she want to go in, the husband sell/deal on different thing entirely. So she was with the husband at the shop in the market before she finally got a little space of hers.

I just want to tell you what I meant by that helping her start up a business.

My Barr. I will stop here, I still appreciate ur candid advice. I av taking my corrections. Thank u."
Photo credit: Facebook