The Twins Are Here: Paul Okoye's Wife, Anita, Releases Short Video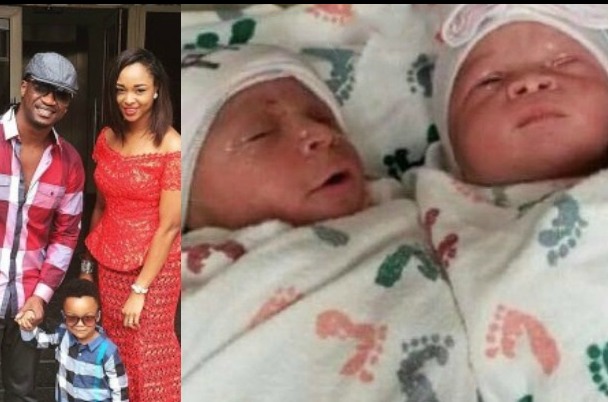 https://www.instagram.com/p/BWhvTYQD_K4/?taken-by=anita_okoye&hl=en
Anita Okoye, wife of popular Nigerian artist, Paul Okoye, of P'Square, welcomed a set of twins, a boy and a girl, in a hospital in Atlanta, US, last weekend.
Anita, mother of three took to her Instagram page this afternoon to recount her 2nd labour and childbirth experience in a heartfelt caption, thanking family and friends for all the messages, prayers and gifts she had received since the birth of the twins.
READ ALSO: PSquare's Paul Okoye And Family Cover Latest Issue Of Motherhood In-Style Magazine
"I am so thankful for all the warm messages, prayers and gifts I have received since the arrival of our babies. God bless everyone of you for celebrating with us. Thanks to God Almighty for blessing us far more than we deserve, for replacing and restoring all that we had lost… Thank you to my family and friends for the constant prayers and positivity throughout my pregnancy.

I am especially thankful to my Labour Squad without whom I have no idea what I would have done!
They made sure I didn't have any worries, the best they could… threw me an amazing baby shower and stayed with me throughout my Labour and delivery!!
READ ALSO: 'Quitting my job was a huge risk' Anita Okoye Spills on Recently Becoming an Entrepreneur
My Labour Squad made everything seem so blissful and positive… my Labour Squad consists of these outstanding individuals who dropped everything to be there for me during my pregnancy and at the birth of the twins: My mom, My Auntie Buchi, Chinonso @veras_baby01 , Ro @myroniee, Theresa @tmamah , my 16-year old lil sis Uche @uchay___ , Andre's nanny Ms.Helen, My Auntie Ephormaah , Cousin Chaz @chazgrey & Tasha @ms.bucks . I don't know how I can ever express the level of gratitude I feel… God bless you all so much!! Thank you!!!! To my MVP Chinonso, who left everything including her own 3 kids to be there for me…

I have no idea how I can ever repay you!!! She literally helped us in choosing the best doctor and hospital and held my leg and coached me during the natural birth process of the twins…God bless you and your family!!! Thanks to theresa for documenting the entire process and editing the videos, I cannot stop laughing and tearing up and appreciating God!
More videos to come!!! Thank you all so much again!

Love Anita!!!
Congratulations once again to the Okoyes!