Girls Below 14 Year Can Be Raped? Journalist Lara Wise Calls for the Arrest of Man over His Facebook Comments Regarding Rape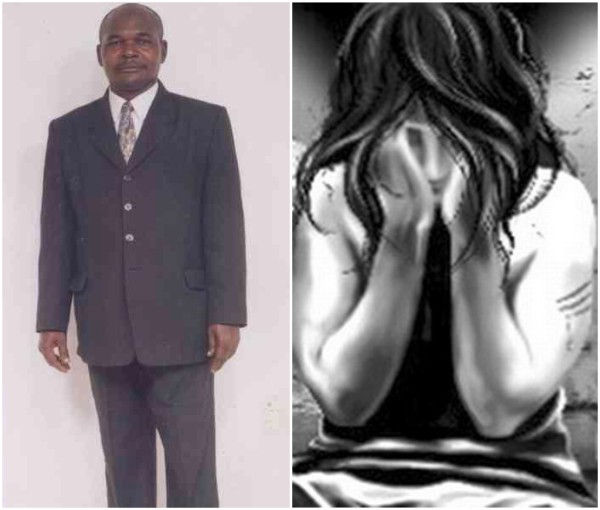 A Nigerian journalist, Lara Wise has raised an alarm via her Facebook page over a comment made by an elderly man on the issue of rape.
She shared the comments by the man identified as Emmanuel Emiaso, who publicly admitted to having tried to rape a woman after she refused his sexual advances. The man also went further to say girls below 14 years can be raped but 15 years and above cannot be raped by a single man.
READ ALSO: RAPE: How to Protect Yourself & Children (Part 1)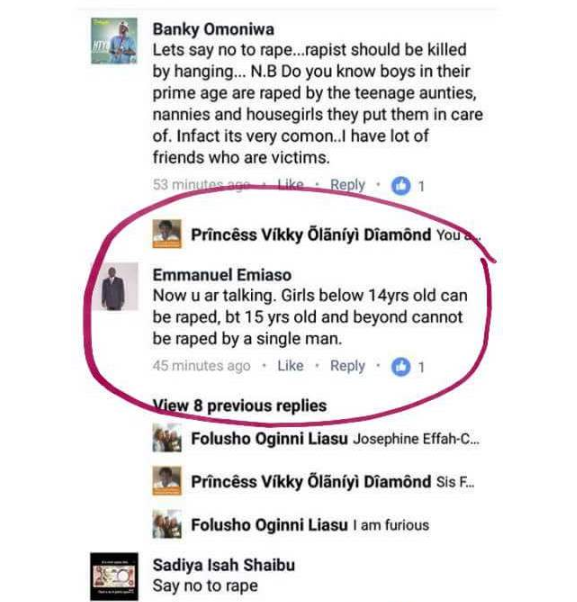 READ ALSO: 6-Months-Old Baby Raped in Kano: Aisha Buhari Calls for Justice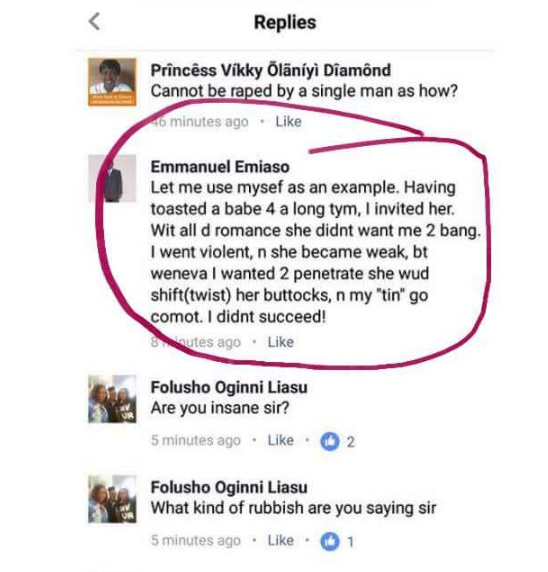 READ ALSO: See What a Couple Did to the Teenager who Raped their 4 Year Old Daughter
Reacting to the disturbing comments by the man, Lara wrote, calling for his arrest:
"Somebody should please help our daughters and sisters by protecting them against this animal with toxic hormones.

Emmanuel Emiaso is his name and here is what he thinks about rape. No kidding, I want to puke. Only God knows how many girls have fallen victim of his ravenous libido.

READ ALSO: Hon. Lola Akande Supports 'Protest Against Rape of Babies & Children' in Alausa Today
Only God knows how many of such girls are hurting presently, their femnity brutally crushed like rose petals in a stampede.
No kidding, I want to puke.


And the fact that he had the temerity gloat over his assault is what I can't get over.
Somebody please help!


Help!
This man is a rapist and he is onbyje loose, lurking nearby, perhaps, for his mecy victim.
Please help!!!!!
Aunty Laila St. Matthew-Daniel
Princess Olufemi-Kayode
Oluyinka Adebanjo- Shokunbi
Akinloye NG
Richard AkinnolaII
Declan Okpalaeke
Bunmi Awonaya"
Photo credit: Facebook