Ooni of Ife's Wife Queen Wuraola Finally Opens Up on Rumoured Infidelity & Marriage Crisis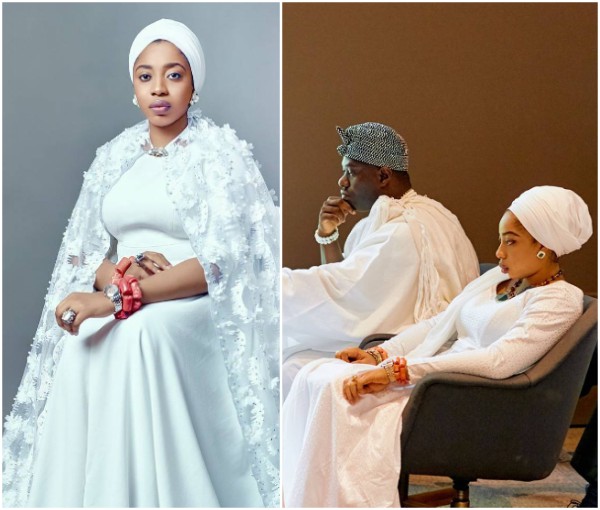 Two days ago, there were reports that the Ooni of Ife, Oba Adeyeye Enitan Ogunwusi's marriage to his wife Olori Wuraola had crashed after just 17 months (read here).
Reacting to the reports, the office of the Olori Wuraola Ogunwusi debunked the slanderous rumours saying there is absolutely no truth in it, just as her husband's aide claimed.
READ ALSO: Ooni of Ife Responds to Rumours of Marital Troubles
This was made known in a statement issued by Olori Wuraola's Press Secretary, Abraham Adedeji, yesterday, 15th of August.
The statement reads;
"It has come to the attention of our office – the slanderous rumors and sensationalist distortions about Her Majesty, Olori Wuraola Ogunwusi through unnamed and unseen sources.

The sources are also citing deplorable claims involving Her Majesty Wuraola and that of prominent businessmen in Nigeria, all of whom are good friends of the King and Queen & financial contributors to projects that have advanced our good work in the communities of Ife and Nigeria as a whole.
READ ALSO: REVEALED! What Led to the Crash of Ooni of Ife's 17-Month-Old Marriage to Olori Wuraola
We are deeply disturbed by these rumors and there is absolutely no truth to these absurd claims of infidelity and we vehemently deny them.

Due to the nature of the allegations and the attempt to defame the character of the Queen and embarrass well respected friends of our Palace, we have immediately employed legal counsel to investigate their origin to take necessary action against the perpetrators.
READ ALSO: Kemi Olunloyo Reacts to Ooni of Ife's Rumoured Marriage Crash
Please be advised, that in this digital age, digital footprints can lead to your identification. We stand firmly together, in our commitment to our peace and the truth."
Photo credit: Instagram