RMD Has the Sweetest Words for His Wife Jumobi Damijo | Shares Rare Photo of Them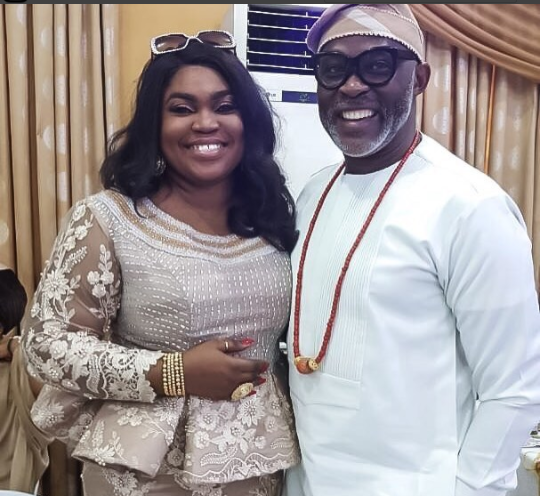 https://www.instagram.com/p/BX2mUWTFdPb/?taken-by=mofedamijo
Veteran Nollywood actor, Richard Mofe -Damijo, 56, is one hot papa and grandpa who is well known but not much is known about his wife of almost 17 years, Jumobi Adegbesan Damijo, because according to him, she likes to stay off social media.
But last week, he shared a video of her dancing during a family occasion and wrote;
"I have never done a WCW post so here we go. Here is wifey at a family function recently. She rarely allows her pictures to be taken and video recordings are a no-no but since she has a soft spot for her friend turned sister @brownsugar4bim who made the fabulous outfit she's wearing, she obliged with a stern warning that it must not be on social media.
READ ALSO: 'If I could turn back the hands of time, I would never hurt or make you cry" – RMD Pens Heartwarming Birthday Note to Wife Jumobi
She constantly warns me to keep her away from my social media but I am taking the liberty to post this any way, anything wen wan happen, make e happen because today the world must see not just my Woman Crush Wednesday but my Woman Crush Everyday as I tell you all that only very few things ring truer than "Happy wife, happy life". #RMDSaysSo#WCW#MyGirl#MyABK#MyBaby#JMD."
READ ALSO: "What Fatherhood Means to Me" Richard Mofe Damijo Pens Touching Note
And yesterday, he went further by posting this rare glam photo of both of them and he had the best caption ever.
"Leader of my squad• Partner in everything• My ride, die and ride again ????????Since I got away with the last post, I might as well push the envelope ????????."
READ ALSO: From Welfare Road, Warri, to the Silver Screen, RMD Shares Enlightening Life Experience as he Marks 56th Birthday
RMD's first wife was May Ellen-Ezekiel. She worked as a journalist and publisher in Nigeria. Soon after she passed away in 1996, the talented actor married the young and beautiful Jumobi Adegbesan.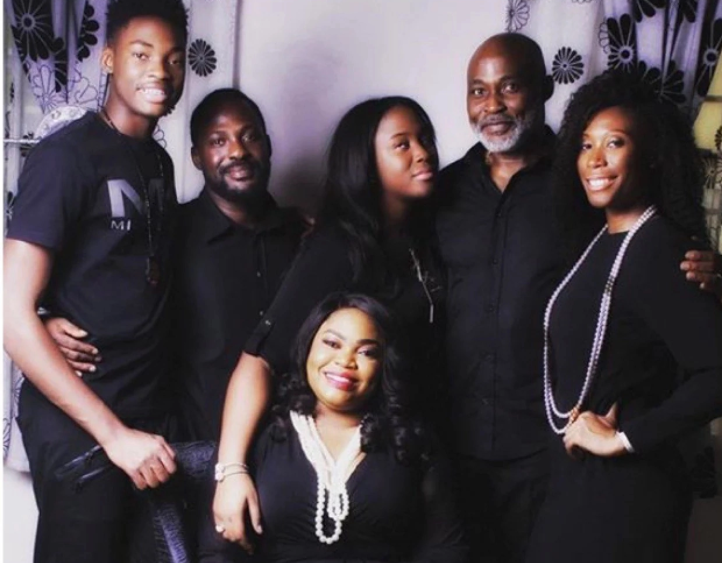 She was a very popular TV personality but later left TV to enter the commercial business world. RMD is now a happy father of 5 children. He has one child from his previous marriage and four more children with his current wife.
READ ALSO: Age Gaps Can Turn a Marriage Sour in Just Six Years as Partners Struggle to Agree – Reseachers
Jumobi is 13 years younger than RMD, but this fact did not stop the actor from marrying her. In fact, from time to time rumours kept popping up about the star's extra-marital affairs.
Despite the rumors and gossips, the actor seems to be happy in marriage. Thanks to his patient and loyal wife.
Watch the video below…
They both look amazing!
Photo credit: Instagram