'Sosoliso' Crash Survivor Kechi Okwuchi Reaches Semi-Finals of American TV Show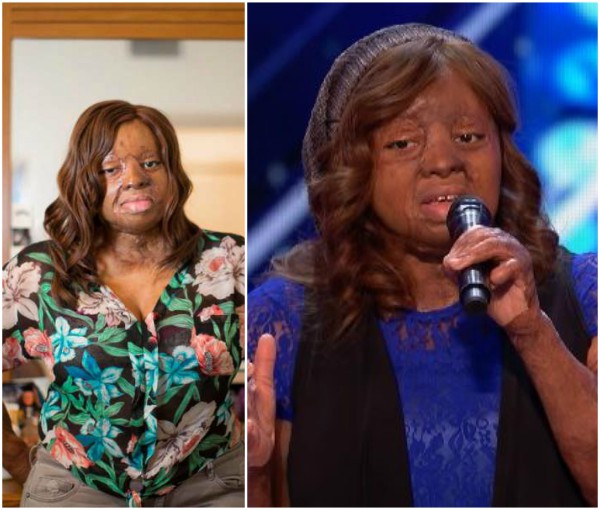 Following her impressive performance at the quarter-finals of the ongoing America's Got Talent, our dear Kechi Okwuchi has been granted passage into the semi-finals.
The 27-year-old Sosoliso plane crash survivor took to her social media pages to share her excitement about making it to the semifinals.
"I didn't dare to dream of quarter finals, now I'm gonna be in @AGT semis…when God moves, He moves BIG! Thank u all for believing in me," she tweeted.
READ ALSO: Kechi Okwuchi, One of the Only Two Survivors of the Ill-Fated 2005 Sosoliso Plane Crash, Gets a Standing Ovation on America Idols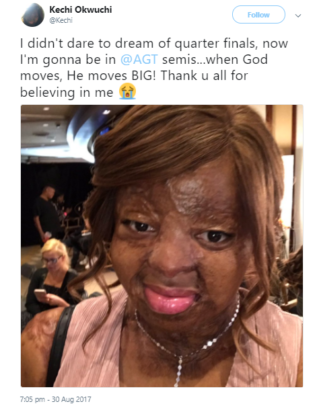 "Ok you guys know that I want nothing more than to earn my place on @agt . I have prayed incessantly that whatever happens, it's for the right reasons and most importantly, GOD's reasons.

Therefore i believe that all this is ordained, and I can't wait to share even more experiences with you guys, you amazing people who got me here.
READ ALSO: Sosoliso Plane Crash Survivor Kechi Okwuchi Makes it to 2nd Round of America's Got Talent
I love you guys and I thank you. And to my aMAZING sisters @womiye@aimi_felix@chidimsthank you so much for coming to watch me live!! TONIGHT WAS AMAZING!!! #stillshook#forevershook#agt❤️❤️????????????????????????????????‍♀️????????????????, she wrote on her Instagram page.
One of the judges, Howie Mandel, took to his Twitter account to congratulate her for her success so far.
He wrote: "I'm happy that you'll continue to inspire us at the Semifinals, @Kechi. Congratulations. #AGTResults"
Kechi was one of the only two survivors of the ill-fated 2005 Sosoliso Plane Crash.
We're super proud of you Kechi!