Actress Shan George Talks About Her Early Marriage, Divorce & More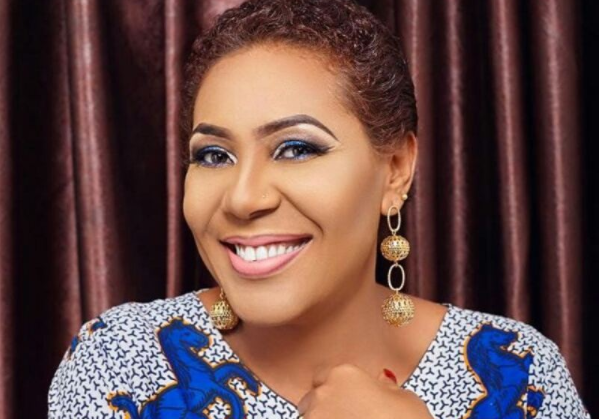 https://www.instagram.com/p/BabCFjXgzA6/?hl=en&taken-by=shangeorgefilms
Like some Nollywood actresses, Shan George has had her fair share of scandals. According to reports, the bi-racial actress has been married thrice and divorced.
She has two sons, Delnoi and Jaga, who are both graduates of University of East London.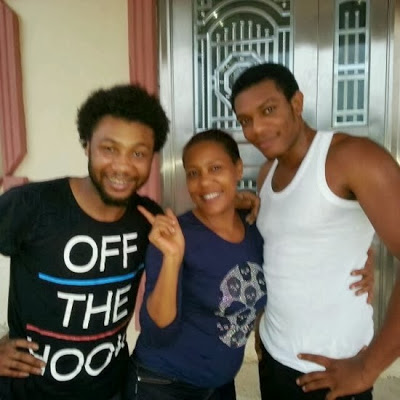 The Cross River State-born actress, 47, recently shared a throwback picture of herself not just for the fun behind it but to make others learn from her experience.
READ ALSO: Shan George Shares Throwback Photo from her 1st Pregnancy
She explained through the photo that she was just 16 years of age at the time and had just finished writing WAEC then when she made a strong decision with her life.
READ ALSO: "I got pregnant at 17…" Actress Ireti Doyle Shares on her Past to Help Young Girls Through Similar Situation
In addition, she revealed that at that tender age, she headed for the altar where she got married instead of going to the university.
"I was 16, just finished writing WAEC, and was supposed to be heading to the university. But headed for the isle instead. I been no dey take this my white rubber slippers play o! ????????????????????????????#tbt of life."
READ ALSO: WATCH: Actress Patience Ozokwor Opens Up about How her Parents Forced her into Marriage at Age 19
In an interview with Razzle Dazzle last year, the vibrant and talented movie producer spoke on her early marriage and how it was like being a young bride.
"It wasn't very interesting, neither was it funny at all but you know years later, I wouldn't say it was a bad thing because now I have grown up kids and I just look at them and you know it just makes up for all the odds and all the downsides of getting married so early when I didn't know anything.
READ ALSO: 'One Type of Marriage that's Likely to End in Divorce'- Relationship Scientist
It was just a norm in my place; my mum wanted me to marry on time so I don't get spoilt being an only child and daughter whose father had died a long time.

She was just trying to protect me. Years into the marriage, it didn't quite work out that was when I left and started making arrangements to get back to school."
When asked if she would remarry again, she said;
"Definitely! I'm ready to marry 20 times until I find a man that would take all my rubbish and not mind because he really does love me."
From what has been reported in the media, you have been married more than three times. Can you confirm that?
READ ALSO: Second Marriage: Another Chance to Get It Right or a Huge Mistake?
I've been married twice. My children's dad was my first marriage. The marriage didn't work out; then I married again and this was a period of 10 years between my first marriage and my second marriage because let's say by then I had grown.

I met this man in England when I went for Afro Hollywood award in 2002. We started dating and a couple of years later, we got married and it was the most turbulent time I could ever imagine.

Everybody had to just chill out for a while. So I left London and I came back to Nigeria to continue my work. With the distance, it was not too long before someone else was warming up my man.
READ ALSO: Study Says Couples Who Marry Between the Ages of 28 and 32 Face Lowest Issues Of Divorce | See Why
On her background and family;
"I am from Ediba in Abi LGA of Cross River State. I went to primary and secondary schools in my village, Ediba, and I read Mass Communication in the University of Lagos.

My mum was a nurse then and my dad worked with a company in Enugu. My dad died when I was five and so my mum practically brought me up all by herself which also led to her not being married again after that and not having other kids and left me as an only child."
READ ALSO: Actress, Shan George's Pens Emotional Piece as Her Bedridden Mother is Finally Discharged from Hospital after 6 Years
You were born a half-caste, did that affect you and were you treated differently?
My dad is white British and yes in the village, I think I got beaten a lot of times because of envy from the girls.

They did a lot of ganging up and my hair really suffered because people pulled my hair a lot. I had this long hair and anyone who looked for my trouble just came pulling my hair and they called me 'shine'

I mean my name is 'Shan', but because I am very light skinned and somehow different, they mistook my name for Shine. And I think I got some favours too because my headmaster protected me a lot because I was very fragile."
Photo credit: Instagram