Parents Bags 130 Years in Jail Each for 'Worst Case' of Child Abuse
A judge has sentenced an Oklahoma mother and father to 130 years in prison for what a police officer termed the "worst case of child abuse" he had ever seen.
The parents Aislyn Miller, 24, and Kevin Fowler, 25, whose twin baby girls were starved and left in filth was sentenced on Monday to 130 years in prison each.
The Tulsa World reports that the pair were both convicted of five counts of child neglect last month after their 9-month-old daughters were found weighing about eight pounds each during an urgent care visit last December, officials said.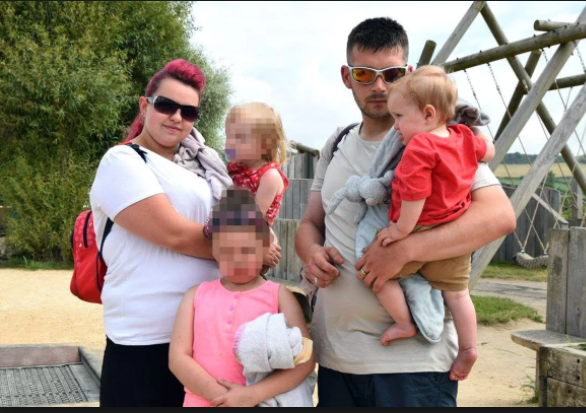 READ ALSO: Nigerian Couple Based in US Arraigned for Child Abuse and Neglect
The little girls were hospitalized and Miller and Fowler were arrested.
Investigators found heinous living conditions at the family's Collinsville home, where cat faeces was smeared on the walls and maggots were in the girls' playpen, an official with the Oklahoma Department of Human Services testified during a preliminary hearing.
A maggot was also found in a wound on one of the children, The Associated Press reported.
READ ALSO: Why A Father Grievously Harmed His Son | Graphic Photo
Both girls reportedly looked like skeletons, suffered from bed sores and severe diaper rash and one had an infected hand as a result of hair being wrapped around a finger and never removed.
The girls were immediately taken from their parents and have made excellent progress since they were placed in protective custody, a doctor reportedly testified.
Authorities said Miller and Fowler told them they felt overwhelmed as full-time working parents of small children without enough outside help and no government assistance.
READ ALSO: Toke Makinwa Wades in on Emotional Abuse in Homes: "It's a Cycle We Must Break"
Jurors in Tulsa County convicted the couple on Friday and recommended each serve 30 years on each of the first four counts and 10 years on the fifth count.
"It's my estimation that your kids were on death's door," Judge William Musseman said in Court on Monday.
Maternal grandparents Cathey and John Miller are also set to be tried next April on allegations they enabled child abuse and neglect, according to local TV station KJRH.
READ ALSO: Child Abuse: Mum Forces Foster Kids To Eat Their Vomit, Thrusts Sticks Down Their Throats
In addition, Rita Fowler, the children's paternal grandmother, faces multiple counts of child neglect related to the case.
The grandparents have all pleaded not guilty. Aislyn allegedly said the couple did not have health insurance and thus allowed the children's health problems to persist.
Photo credit: AP/Tulsa World