Alleged Husband Killer Maryam Sanda in Tears | Remanded In Prison (See Details)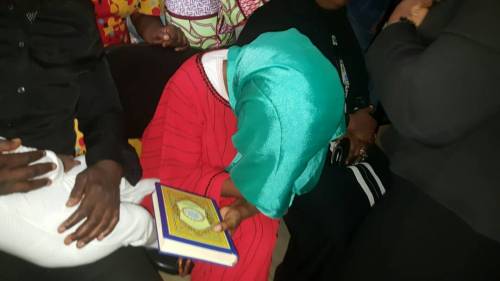 Maryam Sanda has been arraigned for allegedly killing her husband, Bilyaminu Bello, before an FCT High Court in Abuja, just as the court ordered her to be remanded in Suleja Prison custody.
According to Sahara Reporters, Mrs Sanda was arraigned for offense bordering on culpable homicide. She could not control her emotion as she burst into tears upon her arrival at the court, holding her eight-month-old baby girl.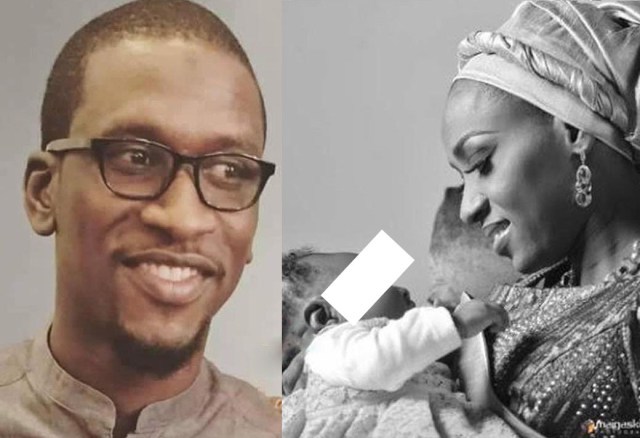 READ ALSO: Graphic Photos: Alleged Husband Killer Maryam Sanda Charged With Culpable Homicide + Police Says They Can't Remand Her
Maryam covered her face a with green scarf to prevent being photographed by the media. Before the commencement of the court proceedings, she read from the Quran.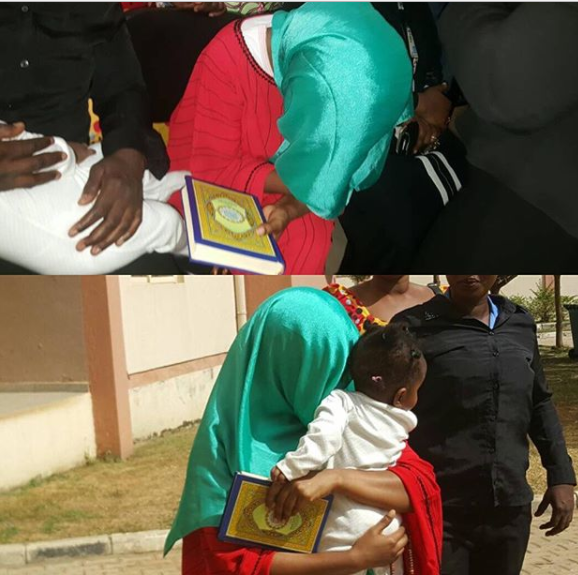 She later entered the dock to take her plea and pleaded not guilty to the two-count charge of homicide.
READ ALSO: More Shocking Secrets of the Marital Life & Tragic Death of Bilyaminu Bello
The defense counsel, Hussein Musa, asked the court to let the defendant be in the police custody arguing that she is still a nursing mother and would be improper to be remanded in prison custody.
The presiding judge, Yusuf Halilu, ruled that suspect be remanded in Suleja prison and the matter has been adjourned to December 7th for further hearing.
READ ALSO: PDP Ex-Chairman's Son, Bilyamin Bello Allegedly Stabbed to Death by Wife | See Details
Bilyamin Muhammed Bello, the alleged son of a former Peoples Democratic Party Chairman, Haliru Bello, was on Saturday allegedly stabbed to death in Abuja, by his wife (read here).
In the tragic case of domestic violence, it was gathered that Maryam, the daughter of embattled former Aso Savings boss, Hajia Maimuna Aliyu, stabbed her hubby three times in the back and severally on his private parts in the early hours of Sunday, at their residence in Pension Estate, Pakali Close, Wuse 2, Abuja.
READ ALSO: "This Is the Only Solution to Domestic Violence" – Nollywood Actor Yemi Blaq
She then drove the deceased to Maitama hospital where he was confirmed dead. Prior to this, Maryam had inflicted injury on her hubby. He was advised to leave the house but he chose not to.
According to reports, the attack which happened in the night stemmed from an allegation of infidelity after she saw a text message on his phone.

The couple got married in 2015 and has a daughter.
Photo credit: SaharaReporters