Italy-Based Nigerian Man Gets His Parents Locked Up In Police Cell | See Reason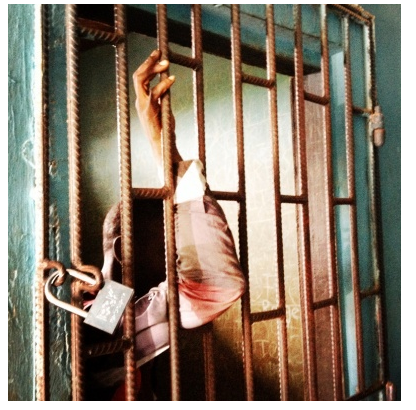 An Italy-based Nigerian man has gotten his parents locked up in police cell after coming back home to realize that they had been deceiving him.
According to the man, he had lived in Italy for six years and had been sending money to his parents for a housing project. Only to realize that his 65-year-old father and 56-year-old mother did not build the house but squandered the money. They had been sending him fake photos of his house.
The angry man got his parents arrested to pay for their evil deeds.
READ ALSO: Seyi Law Has A Message for Parents 'Living in the Past'
Facebook user, Nnamdi Victor who shared the story online wrote;
"One of us just locked his parents up in police cell. His 65 year old father and 56 year old mother slept in police cell last night with an instruction that anyone who comes close to bail them should be locked up too.

I know what the parents did are wrong but I have been pleading with him since last week not to toe this path. There are many ways to solve issues like this.
READ ALSO: "I can't wait for my parents to die"- See Why South African Guy Made This Scary Revelation
If your parents do same to you, would you have done exactly what he did or you would have handled it differently? Hear him :

Ben, I'm sorry I have to do what I did. You won't understand how painful it is to be hustling here only to find out that my stupid and greedy parents were just wasting all my efforts on frivolities.

Like you already know, I have been in Italy doing all kinds of menial jobs just to put food on my table and make some savings. I have been here for six good years but I have never visited Nigeria.
READ ALSO: Parents Bags 130 Years in Jail Each for 'Worst Case' of Child Abuse
I have been sending some cash to my parents to help me buy two plots of land and start building on it for all of us because we have suffered enough as a family, paying rent always.

Ben do you know that my foolish parents only bought one plot of land and nothing has been going on there apart from the initial foundation? In fact they started the foundation recently when they knew I will be visiting Nigeria. They have been sending me fake pictures of my house.
READ ALSO: Foxy P Defines True Love Through His Parents | Photos
Bro I'm mad. I don't know what they used all the money for. They don't know how I managed to make these savings. Omg I just wasted six years in Italy without anything to show for it. If I can't trust my own parents, who then can I trust?

I will spend the remaining money I have with me on police to make sure they remained there until I go back to start a new hustle. Please Ben if you have a trusted lady in her late thirties who can build with me, kindly hook me up to her. I can't trust these foolish parents of mine again."
READ ALSO: Do Some Nigerian Parents Encourage Their Underaged Daughters to Travel Abroad for Prostitution? | Find Out Here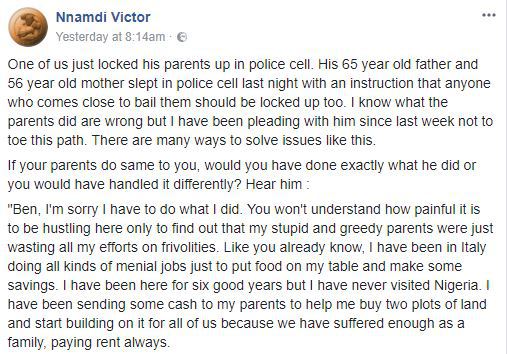 What would you do if you were in his shoes?