Banky W Gives Update on His Skin Cancer Surgery and Marriage to Adesua In New Interview
One of the most vocal R & B singers in Nigeria as well as Africa, Banky W, was Live on the NET NG's Instagram Page where he answered some questions on the rare strain of skin cancer tumors found in his shoulder and surgery removal he had last year.
According to the singer, he's still in a little bit of pain, however, recent test result shows he is in the clear and better.
Recall that November last year, in a lengthy post on Instagram, Bankole Wellington showed pictures of his surgery scars, thanking God for his mercies and successful operations.
In the post, he revealed that he treated a rare strain of skin cancer which resurfaced after it first appeared 10 years ago.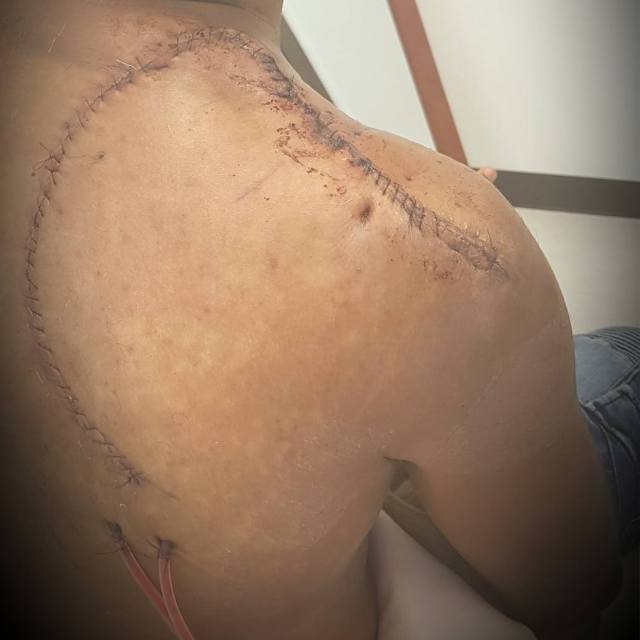 READ ALSO: Pastor Tony Rapu Pens Letter to Banky W on How to Treat His Wife Adesua Etomi
"A wise man once said this: "Scars. A sign that you had been hurt. A sign that you had been healed." Scroll through the pictures to see mine.

I'm sharing these because they're proof of what God has brought me through. And because somewhere out there, I know there's someone who needs to hear this.

For those who've been wondering why I've been away so long..I had my 3rd surgery on a rare strain of skin cancer tumours in my shoulder last month. The first 2 times were over 10 yrs ago, then it recently resurfaced. But this isn't a sad story as much as it is a reminder, and a testimony."
The Mr Capable also talked about his marriage and how it has changed his lifestyle. He even confirmed that his marriage to Adesua Etomi has had a huge influence on his music, though it has not changed much about him, only for the fact the he goes home to a beautiful face every day.
READ ALSO: Banky Wellington Says He Is a Married Man Now . . . So Ladies Back Off! [VIDEO]
"If you listen to my last album, 80percent of my songs were influenced by my wife, so yes marriage has had a huge influence on my music."
He also talked about spending the first valentine's day as a married man.
Remember that their wedding was tagged a the most talked about celebrity wedding of 2017 #BAAD hashtag even trended on social media timelines for days as the wedding celebrations were graced by celebrities and important dignitaries across the country.
READ ALSO: "I'm blessed. It Ain't Luck"- Adesua Etomi Addresses Troll Who Suggested She is After Banky W's Money
The traditional wedding was held in Nigeria on November 19, 2017  and was attended  by close friends, like-minded people, relatives and top celebrities such as M.I Abaga, Bovi, Lynxx, Linda Ejiofor, Basket Mouth, Tunde Demuren, Toolz, Tolu, Oniru, Chigul, Juliet Ibrahim, Dotun Kayode, Kemi Adetiba, Sola Sobowale.
The couple later flew to South Africa to hold their white wedding.
Watch the video:
https://www.instagram.com/p/BfNsKbAlWSv/?hl=en&taken-by=thenetng
Photo credit: Instagram