Daddy Freeze & Fianceé, Benedicta Elechi, Tell Their Unique Love Story as They Grace The Cover of MediaRoomHub Magazine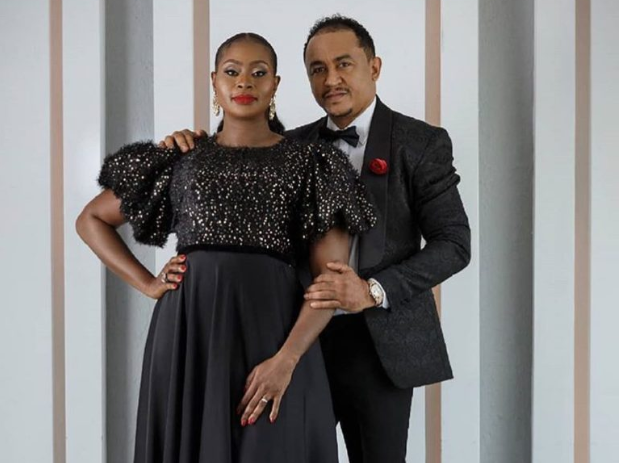 It is no longer news that media personality, Ifedayo Olarinde aka Daddy Freeze and his estranged wife, Opeyemi Olarinde had a messy split in 2014 after 15 years of marriage and two kids. The Cool FM OAP has since moved on with his chef fiancé, Benedicta Elechi who already has a son with Freeze. As it seems, the father of three is enamored by her love.
Previously married to one Paul Odekina, the executive manager of Human Resource at Total E&P Nigeria Limited, Benedicta, in an explosive interview reveals why she ended her 10-years marriage with her ex.
Benedicta stated that during their marriage, they only made love just eleven times in 10 years, until she caught him red-handed in gay sex with a man in their living room.
With two people who are both coming from tough first marriages, Freeze and Benedicta's decision to not give up on love is read worthy.
They are both features as the cover of the February 2018 issue of MediaRoomHub Magazine with a focus on their love story for the Valentine's Issue.
They talk about how they met, how they helped each other heal from their first marriages and so much more.
They are both currently "very happy and very peaceful", according to Benedicta.
READ ALSO: Daddy Freeze Says he Will Never Cheat on his Fiancee…Find Out Why 
The unique love story between the pair is such a sweet one. Read below…
From Freeze: On deciding to move on from his first marriage:
That marriage was doomed from the start. We are not friends. We were not partners. We were weary of each other. Like my current wife now, Tastebud, now I can tell her give me your phone, my finger print opens it and her finger print opens mine.

There is nothing I need to hide. But in that other marriage, we were all watching each other, it was just wrong. Marriage is bigger than let me open my phone or let's close my phone. It is very important but it's not the only pillar upon which marriage is built. It's like you can't lean on a house with one pillar.

Marriage needs some support and some of these things is openness, love, communication, friendship, spending quality time together, are some of the pillars with which you can lean a marriage.

And none of that was in my former marriage (I am not saying this to put her down, rather I'm putting both of us down because it was not working). But the society kept us together (I'm speaking for myself now).
READ ALSO: Freeze's Ex-wife, Opeyemi Olarinde Reacts to Allegations of Infidelity Made by Anonymous Social Media User – AUDIO
I was in the marriage because of the society, I didn't want to be divorced despite the fact that I knew it wasn't working. When she left, I was broken for about two weeks. I was like oh my God, my life is over.

You know I used to stay at the official quarters and when she left it was like a big void. Everybody saw me and was like my life is finished. I was almost suicidal. But after the first two weeks, I was like wow, I like this feeling.

I had gotten over the whole shame part, and now I wake up in my room, I can arrange things the way I want. I felt relieved and I was like this should have happened a long time ago.
READ ALSO: See Text Messages Daddy Freeze Allegedly Sent his Now Fiancee in 2013 While Still Married to Opeyemi
On how he met his fiancé:
I have known her since late 2012. I think it was at House on the Rock. I can't really remember but it was a church setting. I was doing something for them and we met. I used to help her but we never clicked like that. Our paths crossed on business basis.

She had yoghurt factory in Port Harcourt then and she needed publicity and I was like no problem. I remember calling her once or twice and I got pissed off because her ringtone was one Daddy GO's preaching.

So I never called again until much later. As we got talking eventually, around middle of 2013, she told me she filed for divorce and I was like 'What?!! No, you have to fix it.

Marriage must be fixed' and all that. Then she told me why she filed for divorce which I can't say here. Eventually we became friends and the friendship started growing.

I was also in a bad relationship at the time, were not not friends, we were just fooling ourselves. When my ex moved out, that was around June 2014, I had the luxury of being alone and the void needed to be filled and somehow, it was filled.
READ ALSO: Who Agrees with OAP Freeze's Thoughts on Separation and Divorce?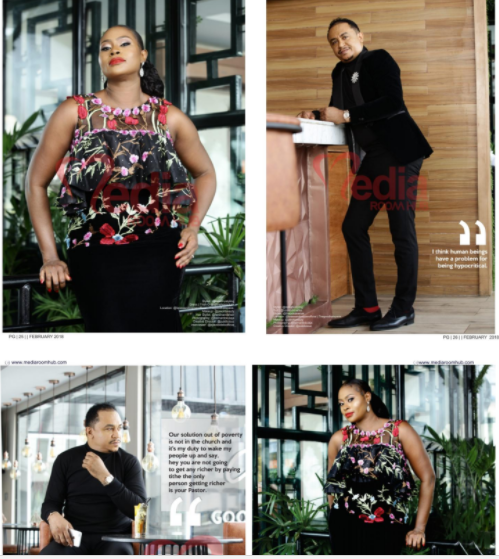 On his love for her growing over time:
Yeah. It came in from my blind side. It was purely business initially. Friendship didn't come until much later.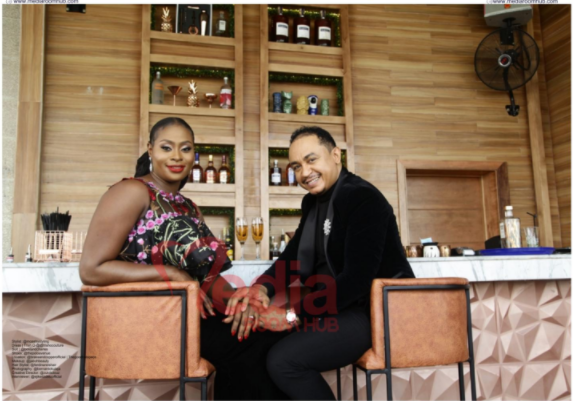 From Benedicta: On him helping her heal from her previous marriage:
Freeze has been fundamental in my healing process because being with someone you love and someone that loves you so much like he loves me, makes me realize that we should have hope in life generally, we should not give up on love when we fail the first time because there is always a possibility that there is someone out there that is meant for you.

There is someone that would love you just the way you want to be loved. Because I think the problem we have as individuals is, we fail to realize that we all want to be loved in a certain way, so if you find that person that loves you just the way you want to be loved, you are going to have a beautiful relationship.

And I have found that with Freeze. I'm very happy and it has really helped me in my healing process.
READ ALSO: Why Daddy Freeze May not Be Remarrying Soon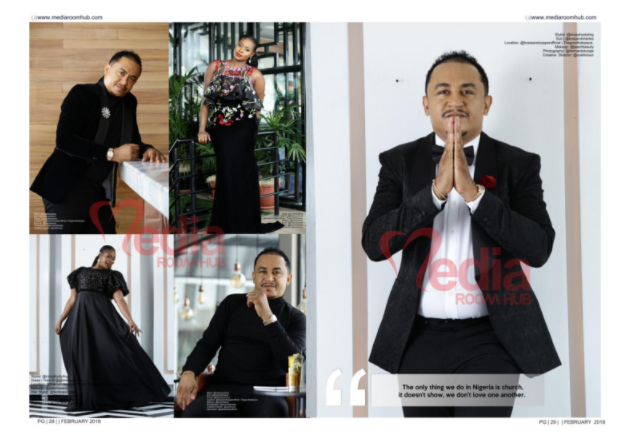 On how his #FreeTheSheepleMovement has helped their relationship
It has helped our relationship and our relationship has also helped the movement because I can tell you this has not been an easy journey for him so when he is down and feels like this thing he is doing is too heavy for him, I am always there to tell him 'hey, you have to do this, someone has to do this and the message has to be sent.'
On being Freeze's partner:
For me, it's been wonderful. I have been happy. It's not like we don't have our differences every now and then but it's so insignificant because we are like best friends.

We spend a lot of time together and it's been a wonderful journey. We are very happy and very peaceful.
Photo Credit: MediaRoomHub.com