"I have been battling fibroid for 7 years and it's been one hell of a ride" Toke Makinwa Reveals
Toke Makinwa shares a very personal story of battling with fibroids for 7 years because she didn't want to have surgery. The OAP said she attended churches, had many prayer and fasting sessions, took a lot of communion but none took the fibroids away.
The stunning media personality made this revelation in her latest vlog where she dropped the bombshell.
Toke said:
"I have been battling fibroid for 6 going on 7 years and it's been one hell of a ride.

I think I was diagnosed 7 years ago. I finally decided to do something about the situation this year because it was getting to the point where it was beginning to affect me.

I was in a lot of pains I couldn't sit up properly it was beginning to push against certain organs inside of me. it was just nasty and a total disaster.

I started wearing undergarment body magic just to make so, i don't look bloated and pregnant cos I didn't want to have surgery.

Trust me I have been to Mountian of Fire, been through ever church service, taken all the communions and done all the fasting and prayer. It just didn't get better.

If you are like me and scared of going under the knife it can be a terrible experience, it was successful and I'm alive, I'm here." she concluded.
READ ALSO: Toke Makinwa Goes Motivational | Cites Events From Her Failed Marriage
Now we know what she was talking about when she shared a story about a week ago about going through depression and having a successful surgery.
The beautiful multi-talented radio show host and author of "On Becoming" took to her Instagram page on Wednesday, April 11, 2018, where she got to share her inspiring story with a video of a popular American pastor, Steven Furtick, where she said she got the inspiration from.
See Also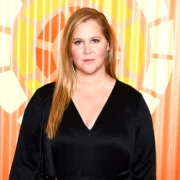 "The devil started planting words of uncertainty in my heart and I started to drift. I started to feel unworthy and it was a strange feeling I had a very important procedure and I didn't tell anyone simply because a part of me wanted out from it.

(Can you believe the cheek), last week I went into surgery and as the doctors did their thing, Jesus did his. He was there to lift all the unnecessary burden and give me a new heart and as I woke up I felt different.

I felt chosen, I felt like I went thru a re-birth and I share this because someone out there is struggling too," she wrote.
READ ALSO: Actress Halima Abukabar Undergoes Successful Fibroid Surgery in India… Shares Details to Encourage Other Women
Press play to watch the video below: