Ex-Presidential Aide And Pastor, Reno Omokri, Advises On Best Fond Name For Your Spouse
New day, new standards. Nobody makes these laws, and social media in the end is a melting pot for different ideas, informed or otherwise. This time around, pastor Reno Omokri, has come up with a fond name that serves multiple purpose, which couples can call each other.
READ ALSO: Controversial OpinioniReno Omokri Has An Advice For Married Men Doing This
The 45-year-old author, social-critic, and pastor made the assertion that couples should always call their significant other "Honey" because of its three-in-one significance.
The dad-of-two gave the advice on his Twitter page, as part of his regular nuggets on various subjects that he habitually shares. He further highlighted that by calling your partner 'honey', you are not only being romantic, you are being spiritual, and prophetic at the same time.
READ ALSO: Omowunmi Akinnifesi Shares Candid Opinion About Men And Relationships. Do You Agree With Her?
In his words:
"Always call your husband or wife honey. It is not just romantic, but it is spiritual and prophetic.

The reason you should call them honey is because you love them.

Honey is the ONLY food on earth that NEVER decays.

You are prophesying that your love will NEVER decay.

The things that you say with regularity will manifest as your reality. So always speak well of your spouse, your marriage and your home #RenosNuggets"
See screenshot below: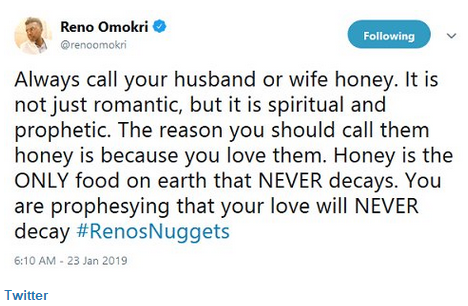 What do you say?