"Married Women Are House Girls, Married Men Are Weak": See What Journalist, Kemi Olunloyo Had To Say About The Revered Institution Of Marriage
Controversial blogger and retired journalist, Kemi Olunloyo took to her Twitter handle yesterday to do what she does best- stir a controversy! In a series of posts, the mum-of-three who has never been married broached the subject of marriage on her own terms saying marriage is a scam Nigerian women use to bait men, and that literally speaking married women are house girls and maids. Their male counterparts on the other hand lack any sense of independence and are unable to hold it together without their glorified maids.
READ ALSO: Kemi Olunloyo And Laura Ikeji Trade Words Over Linda Ikeji's 'Silicone Baby Bump' Allegation
Kemi is known to start unpopular conversations with deep convictions, some have argued that the 54-year-old mum is simply crazy but she sees her shrewd dispositions quite differently, believing that she says what everyone knows but are afraid to challenge.
In a number of tweets, the eloquent blogger said she will never marry and married men are weak, needing a wife majorly for reason that they want to be served meals, cleaned after, and have the woman rear kids.
Her tweet read;
"Married people are NOT independent and the first instance of independence they collapse. I've never been married & never will. A man who gets married is weak and needs a woman to cook, clean and rear kids when mom's gone. Married Women are literally housegirls & maids #KemiTalks"
Predictably, many people kicked against her philosophy but the Ibadan-based journalist is not new to taking on whoever attacks her views and that is exactly what she did this time also. No doubt she has people who often agree in large numbers with her complicated truths aside her regular fans who admire her.
READ ALSO: Kemi Olunloyo Replies Linda Ikeji: Insists She is Wearing a Moon Bump | Shares More Details
In a series of other tweets, she shared more unconventional stance on the subject of marriage.
See below:
"Dear Nigerians: Marriage has nothing to do with having kids. This core illiteracy has to stop. The minute I tell ppl I'm not married, they ask me how come I have kids? These illiterates have never heard of ppl who have children and live together cohabitating

Because someone tells you facts about marriage doesn't necessarily mean theirs failed. I'm a journalist, you're a core illiterate. I've never been married. Research things. My research revealed a lot of problems in marriage. Journalists journal things. #SBNI

After long years of research, Most young men in Nigeria 18-25 are liars, cheats and frauds. They are bred to be scammers. They are caught, paraded by law enforcement agencies for drugs, financial fraud even vodoo charms and laptops used are seized and displayed #Kemitalks"
See Screenshots below: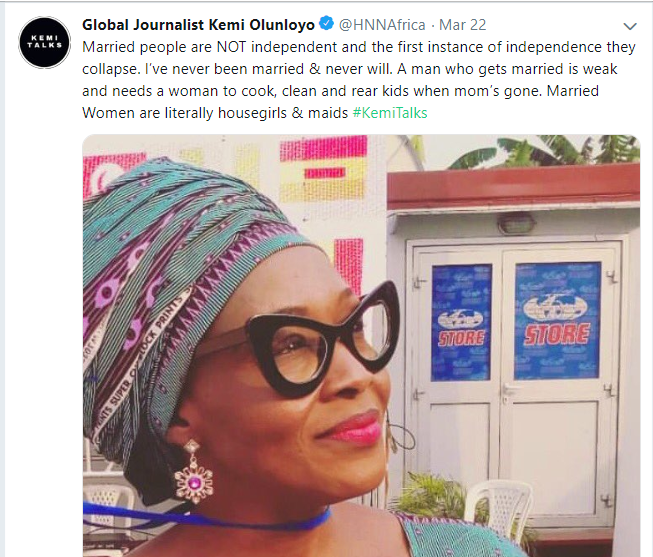 By the way the SBNI hashtag in her tweet is her self-coined missile for attacking or addressing people who she considers obtuse. She translates the #SBNI to mean "Smart But Not Intelligent."
What do you make of her assertions; is there some truth in it, or it is just plain balderdash?