COZA: Woman Alleges TB Joshua Raped And Trapped Her At His Synagogue Church For 14 Years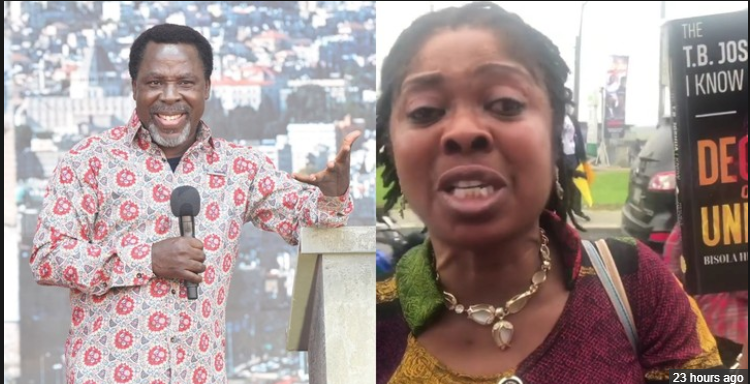 Another popular man of God has been accused of sexual abuse. The accuser, Bisola Johnson indicated that charismatic pastor, T.B Joshua raped and trapped her at his Synagogue Church Of All Nations (SCOAN) for 14 years under the guise of delivering her from spiritual afflictions.  Ms. Johnson made her claims while embarking on the protest against COZA's Pastor Biodun Fatoyinbo following rape accusations by Busola Dakolo, wife of singer Timi Dakolo.
The woman while embarking on a protest in support of Busola, made claims that Pastor T.B Joshua molested her. She said she was trapped in the church for 14 years before the Lord set her free.
READ ALSO: ALLEGED RAPE: Nigerians Storm COZA Church To Protest Against Pastor Biodun Fatoyinbo (Photos)
In a video making the rounds online, the aggrieved woman could be heard saying:
"This is not the time for make up, this is the time to address.

I am also talking on behalf of other young girls that are still in the captivity of TB Joshua.

8-years-old, 14-years-old and 11-years-old are still there."
Much is not known about her, but she showed off a book where she claims to have documented her ordeal at the hands of the pastor.
Watch the video below:
https://www.instagram.com/p/BzVK4o8A54R/