Idris Elba Talks Meeting His Wife, Sabrina Dhowre, Career & Family: "It was love at first sight"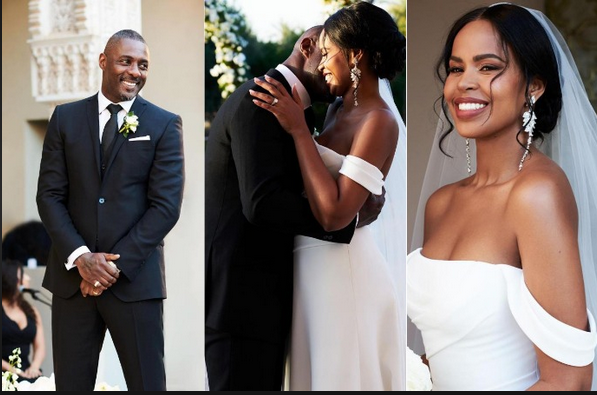 Idris Elba is over the moon after marrying model, Sabrina Dhowre. While on Tuesday's segment of The View the Hobbs & Shaw actor, 46, shared some details about the night he first met his now-wife, Sabrina Dhowre Elba – and apparently, there were fireworks from the start.
The twice divorced dad-of-two went on to reveal that it was "love at first sight" when he met Dhowre at a party venue in Vancouver. He was filming his 2017 movie "Mountain Between Us" with co-star Kate Winslet at the time.
The lovebirds got engaged in February 2018. Elba said during the interview:
"It was love at first sight. I went out on my only day off, true story, it was a Sunday night, I went to this party and there she was. The rest is history."
During the sit down interview, co-host Sunny Hostin joked that "so many people were in mourning" when it was announced Elba had tied the knot. "I myself wore a veil," Hostin joked.
Elba noted that while he has publicly said in the past that he wouldn't get married again, meeting Dhowre Elba "opened" him up. He added:
"I'm actually the happiest I've been in a long time."
READ ALSO: After Two Failed Marriages, Is Idris Elba Willing to Try Again?
As for what makes Dhowre "the one," Elba told PEOPLE in November they have "good chemistry." He said:
"She makes me laugh, and we share common goals. She makes me happy. She makes me celebrate my successes and when I'm not too sure about stuff, she makes me think."
https://www.instagram.com/p/ByS5SG1BkgI/?utm_source=ig_embed
READ ALSO: Idris Elba Reflects on How His Father's Death Affected Him
Elba and Dhowre wed in a stunning ceremony in Marrakesh, Morocco, in April. The actor told British Vogue the morning of their wedding that he and Dhowre Elba, a former Miss Vancouver, were "inseparable" after they met.
The actor also spoke about his daughter, Isan, 17, who served as the Golden Globe Ambassador in January. (He also has a son, Winston, 5, from a separate relationship.). Elba gushed:
"She did really good. She was very nice. She's not shy, but she'd never done anything like that. I was very proud of her."
As for what she wants to do in life, the cool dad said before jokingly waving an elbow to the side:
"She wants to be an actress. I want her to do whatever she wants. I think she's going to be a producer. She's all about the money and how much box office, the perks. I think she'll be a producer."
WATCH: