'Mbong Is Not Conscious. She Will Never Allow Her Mom Take Her Child' -Filmmaker, Jeta Amata Spills As He Continues Asking For His Ex-wife's Whereabouts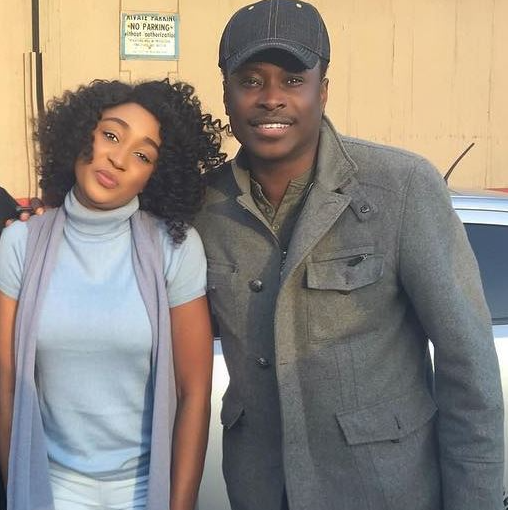 Filmmaker, Jeta Amata has continued asking for the whereabout of his ex-wife, actress Mbong Amata.
Jeta who shared screenshots of his last conversation with the mother of his 12-year-old daughter, Veno, alleged that his ex-wife's mother has been trying to 'kidnap' their daughter, her grandchild for a while now.
The filmmaker went on to allege that Mbong is not conscious, claiming that if she were, she would never allow her mother take their daughter to her uncle and her stepdad.
Below is his latest post;
"I wonder when you all would realize how serious this is. See my last conversation with Mbong. She has not been seen. I suspected late late year and insisted on hearing her voice. That's when she went dark. We weren't quarreling before.

I invited her mother to Abuja to see Veno and she lied and came with policemen. Veno opened the door. She's been trying to kidnap her since. When her other daughter was pregnant as a teenager, her husband drove them out. They came to me. Then he and the uncle called me asking me to send them packing.
READ ALSO: Filmmaker, Jeta Amata Raises Alarm Over His Ex-wife's Whereabouts: 'Veno Wants To See Her Mum'
They both warned me. I didn't listen. Today the boy is beautiful and the mother is a doctor. Yet, those are the two people working with the mother to kidnap my daughter. Her husband asked me to listen to her. They don't realize the world is watching.

When Veno gets pregnant at 14-16, which she will, who would you run to? My daughter just made straight A's this semester, and you want to take her and raise her like you've raised your own. Beat her everyday like you did yours. Then have old men around her.

None of you have bought Veno any gifts in about 6 years. No calls, no happy birthday, no merry Christmas. I'm the one always looking. I have a hearing in court on June 28, thank God the courts know what's going on.

There is no how Mbong would be conscious and allow her mother take her child to her uncle and her stepdad. Mbong is not conscious, she would never allow this, and I'm appearing before an LA judge on Monday.
SEE ALSO: 'Mum If You Watch This, I …' – Jeta Amata's Daughter Makes Emotional Appeal To Her Mom, Mbong Amata In New Video
So please watch what you say or post, it will be used against you, like trying to kidnap my daughter after you never called her on birthdays or sent her a message. Yet, you say you want to carry her to Ogoja. Bassey is a doctor. I just pray they haven't made her do anything unethical, because a child is involved.

They will find out, none of you have ever been in this situation, yet you're using Nigerian style. You came with police to my door and Veno opened the door. Just like she did when Mbong and Splash came with the police to my apartment in Los Angeles.

Two times Veno has opened the door to the police, one her mother, the other her grandmother. We need to change, a child must come first."
Mbong and Jeta Amata met in 2001 at an audition in Calabar. Two years later when she was 18 they began dating. They married in 2008 and their daughter Veno was born later that year. In 2013 they separated and in 2014 they divorced.
Mbong cited being married too young as the reason for their divorce. She said
"I had dreams and aspirations as a young girl and I had my career ahead of me though I got into marriage at a very young age. At some point one had to give way for the other."
Jeta corroborated this, adding that their 11-year age gap and his experience in the industry made him controlling. He said,
"Mbong got tired because I didn't give her as much room as I should have. She is an actress, I'm a director and I insisted on the kind of job she should take."
SEE ALSO: Friend Of Mbong Responds To Jeta Amata's Claim That His Ex-wife Is Missing + Explains Ongoing Drama Between The Duo
Below are screenshots: