Linda Ikeji Reacts To Caroline Danjuma's Claim Of Crashing My Marriage, Dares The Actress…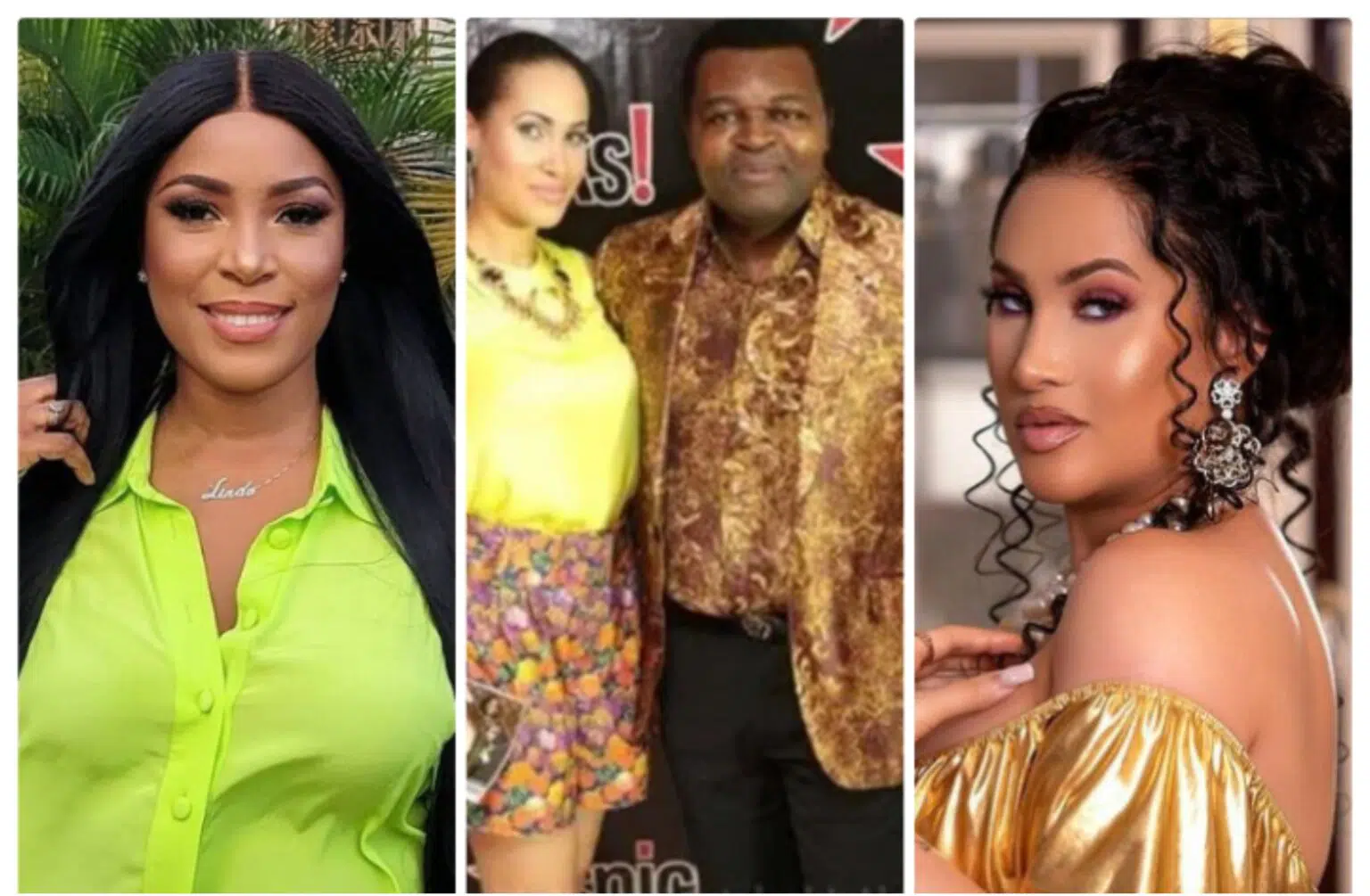 Linda Ikeji has reacted to actress, Caroline 'Danjuma' Hutchings' outburst on her.
On Friday, April 22, Caroline Hutchins had blamed the blogger for partially wrecking her 10-years marriage with her malicious blog posts.
Caroline Hutchins who was married to billionaire businessman, Musa Danjuma, the father of her kids in October, 2007, parted ways with him in 2016 after series of controversies and allegations from both parties.
Addressing her marital issues on the Real Housewives of Lagos (RHOL) reality show, Caroline spilled on how Linda Ikeji had a role in her divorce.
According to the single mother of three, Linda Ikeji was fond of writing dirts about her and no matter the countless number of times she reached out to her, she always paid a deaf ear to her pleas.
Caroline claimed that Linda lied about her having her daughter for another man and also lied to her readers about her age. She made it known that she didn't snatch her husband from Linda Ikeji, who seemed to have been dating the billionaire.
The whole drama began when Laura Ikeji, the younger sister of Linda attacked Caroline for hating on her sister without any reason.
To defend herself, Caroline made her know all the nasty things Linda Ikeji did to make sure she wrecked the actress's life.
She said,
"Part of the reason why my marriage broke was because of Linda. I reached out to her she didn't care. I handed her court papers, she didn't care. Linda lied about my age, I reached out to her, Linda wrote that my daughter was for another man, I reached out to her, she didn't care and you sit there to defend your family.

I have family too, I have children that look up to me, I have people that fight for me. Don't sit down there and tell me u want to slap me when your sister wrote about daughter. My daughter has 2 fucking holes in her hearts, did you know how I coped with that? Do you think I am happy to be divorced.

From the moment I got married, Linda was in my butt, I didn't snatch my husband from your sister. I love your sister so much and I respect her so much. I don't know why she hates me.

If you say you want to slap me for my sister, I will kill you. I got married for love and not money and I loved my husband and even till today."
SEE ALSO: Celebrity Mum, Caroline Hutchings Blows Hot, Reveals How Blogger, Linda Ikeji Contributed To The Crash Of Her Marriage
Firing back, Linda Ikeji shared screenshots of her blog posts over the years saying there was nowhere on the blog she claimed Caroline had child for another man.
Linda admitted that she wrote about the actress' age controversy, but apart from that, there has never been any negative reports on her.
Setting the record straight, Linda pointed out how Caroline Hutchins always blames people for the crash of her marriage.
Linda revealed that still on this reality show, a cast member said she lied when she said Linda Ikeji blog contributed to the end of her marriage and even mentioned another cast member who Caroline has for years blamed for the end of her marriage.
Linda noted how Caroline Hutchins admitted on Instagram this year that she blamed herself for the end of her marriage.
Linda also added that she bears no grudge against Caroline as she doesn't know her.
ALSO SEE: 'I Was Also A Victim Of Linda Ikeji's Damaging Blogging' -Celebrity Mum, Toyin Lawani Shares Her Own Story 
She wrote,
"In it's 16 years of blogging, Linda Ikeji Blog NEVER EVER wrote that Caroline Danjuma's daughter is not for her husband. Not only didn't Linda Ikeji Blog wrote this, no other blog in Nigeria or beyond wrote this.

If this was a story written by Linda Ikeji Blog, a lot of other blogs would have carried it. There is no such story online on the thousands of blogs that exist in Nigeria. This is a story that was NEVER written about Caroline Danjuma. It doesn't exist. PERIOD. Fell free to Google.

This story was completely made up by Caroline Danjuma. Or she could have seen it as a comment made by anonymous commenters on LIB or any other blog. But this story was NEVER written about her. Other than calling her daughter adorable, we never wrote anything else about her.

Yes, we did wrote about Caroline's age controversy when she came out some years ago to claim she was 27. Many people didn't believe her and that was the angle of our story. It wasn't written with malice.

Two things that we want to make clear. Everyone who known Caroline Danjuma knows she blamed everyone else for the demise of her marriage. It's never her fault or the fault of her ex. Even in this so called reality show, another cast member said she lied when she said Linda Ikeji Blog contributed to the end of her marriage and mentioned another cast member who Caroline has for years blamed for the end of her marriage.

We hope the show airs that episode. It was only recently, in a post on Instagram in 2022, that Caroline finally blamed herself for the end of her marriage.

Secondly, Caroline has told everyone that cares to listen that she adores and respects Linda Ikeji and doesn't understand why Linda doesn't like her. Linda has absolutely nothing against Caroline Danjuma. She just doesn't know her.

Finally we ask Caroline to please screen grab the page where Linda Ikeji Blog or any other blog in Nigeria ever wrote that her daughter isn't for her husband. It's news to everyone today because it was NEVER WRITTEN."