Twitter User Celebrates Wife's Curves and Some Don't Like It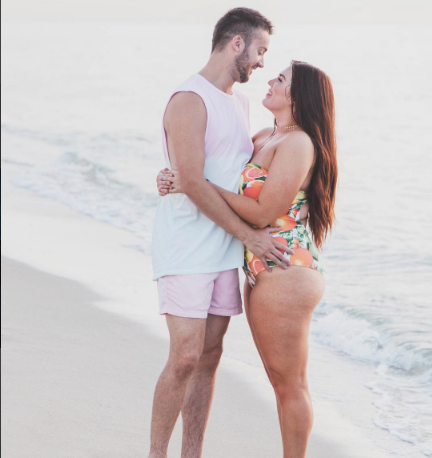 A husband posted what he believed was an innocent message praising his curvy wife and declaring love for her and her body, little did he know that he would get the backlash that followed from social media users who felt his post was inappropriate.
Robbie Tripp, the author of HuffPost TEDx, who referred to himself as a husband to a curvy goddess, posted an image of he and his wife on Instagram, along with the controversial message which generated widespread criticism.
In the message, the American entrepreneur explained that he has always loved curvy women since he was a teenager and as he grew older and came to understand feminism he learned curvy women could be sexy.
After he shared the photo and message, an argument started on social media, some people thought the message was inappropriate while others thought it was a sweet message. Read his message that stirred controversies below:
"I love this woman and her curvy body. As a teenager, I was often teased by my friends for my attraction to girls on the thicker side, ones who were shorter and curvier, girls that the average (basic) bro might refer to as chubby" or even fat.

Then, as I became a man and started to educate myself on issues such as feminism and how the media marginalizes women by portraying a very narrow and very specific standard of beauty (thin, tall, lean) I realized how many men have bought into that lie.
READ ALSO: Mariah Carey: Overweight and Risking Heart Disease, Doctor Warns.
For me, there is nothing sexier than this woman right here: thick thighs, big booty, cute little side roll, etc. Her shape and size won't be the one featured on the cover of Cosmopolitan but it's the one featured in my life and in my heart.

There's nothing sexier to me than a woman who is both curvy and confident; this gorgeous girl I married fills out every inch of her jeans and is still the most beautiful one in the room. Guys, rethink what society has told you that you should desire.
READ ALSO: I was obese for 25 years. Lepacious Bose Speaks on Massive Weight Loss Journey
A real woman is not a porn star or a bikini mannequin or a movie character. She's real. She has beautiful stretch marks on her hips and cute little dimples on her booty.

Girls, don't ever fool yourself by thinking you have to fit a certain mold to be loved and appreciated. There is a guy out there who is going to celebrate you for exactly who you are, someone who will love you like I love my Sarah. photo cred: @kaileehjudd."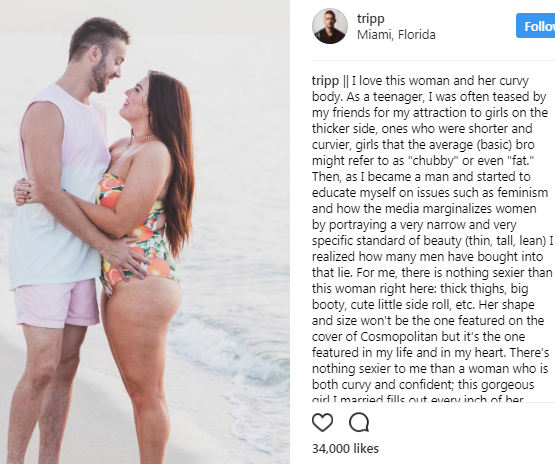 A sex and relationships editor of Cosmopolitan magazine, Julia Pugachevsky tweeted in response to the eulogy saying; strong contender for least fave type of male feminist is 'man who thinks liking a curvy woman is revolutionary.
READ ALSO: Sponsored Post: 3 Types of Weight Loss Surgery Available in Nigeria
In her opinion, People should date who they want, but mentioning a person's otherness (be it weight, race, gender) makes it seem like you want a medal. She also said finding non-size-zero women attractive does not make a man a good person. It just makes him not an idiot.
A social media users lashed at the writer, Mr Tripp for suggesting his wife is not a normal size, and for objectifying women's bodies. This user did not seem to find his eulogy an interesting. One outraged Twitter user said:
"Um she isn't what I'd call big… My legs look like hers and I wear a size 10. I'd like to dub that as 'average' and 'normal'."
READ ALSO: Nanny To The Rescue: Would Preparing My Baby's Meals With Low-fat Ingredients Help Control His Alarming Weight Gain?
YouTube blogger Kat Blaque weighed in on the argument. In a post that has been retweeted more than 20,000 times, she wrote her own piece suggesting she would dump a guy who would do such on social media. She wrote:
"I would dump a guy so quickly for patting himself on the back for having the audacity to date me."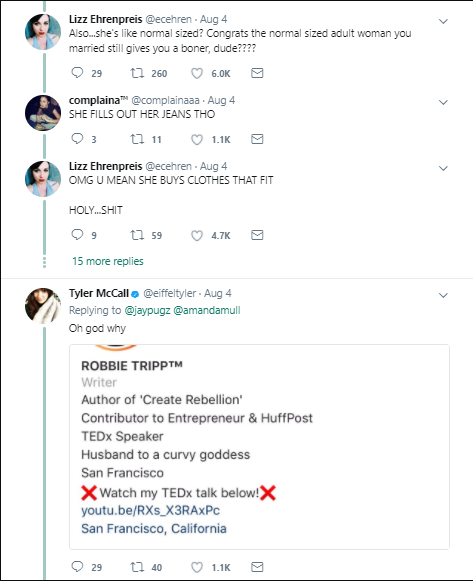 Others defended Mr Tripp, someone responded saying:
"I love this so much. I'm tired of people getting offended by everything and anything. This is a beautiful post and we need more men like you in the world."
Another twitter user responded with so much appreciation and wrote:
"That's so awesome. If you change one man or woman's way of looking at others or themselves you have done an amazing thing."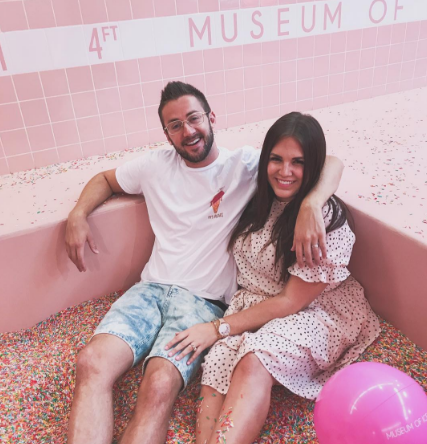 Robbie Tripp does not seem to be bothered about aall of this though as he took to his Instagram to thank all for their comments on his eulogy and shared more images of his wife appreciating her and requested that readers anticipate more.
However we would like to know your thought on this. What do you think?
Photo credit: Instagram