First Time Dad, George Clooney Reveals Why He's up Every 3 Hours | Explains Why He Gave His Kids Normal Names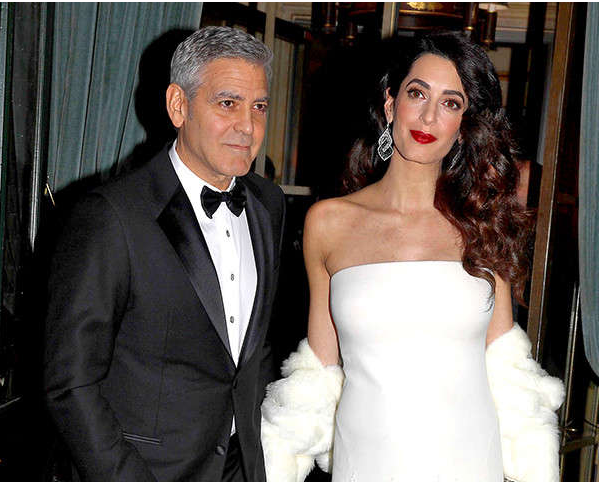 Since they welcomed two new babies in their lives, nobody in the Clooney household has been getting much sleep.
And that includes Hollywood A-list actor, George Clooney who has revealed that he gets up every three hours to help his wife Amal as she breastfeeds their twin babies Ella and Alexander.
Speaking to Entertainment Tonight at the Toronto International Film Festival on Saturday, the 56-year-old first time father explained why.
READ ALSO: "Being a father at 56 will change a lot of things" – George Clooney
He said;
"I do every three hours [and] if I don't get up, I feel guilty, you know? My wife is up nursing every 3 hours so it's a lot of work but it's fun man!"
READ ALSO: "It's Terrifying": George Clooney Opens up About Fatherhood at 56
Well, George managed to get a good night's sleep on Saturday after the premiere as his wife and their children remained behind in Los Angeles.
"They're in L.A. and I Facetimed with them a few minutes ago," he told ET.
READ ALSO: George Clooney Gushes About Wife, Amal, At the Golden Globes Awards
He also revealed why he and his wife chose classic names for their children, rather than eccentric Hollywood ones.
"We didn't want to have dumb names" for them, he told Paris Match,'

We didn't want to give them one of those ridiculous Hollywood names that don't mean anything."
READ ALSO: See Innovative Way This Mum Feeds Her Twins | Would You Try This?
George and Amal tied the knot in a private ceremony in September 2014. They welcomed their bundles of joy, Ella, a girl and Alexander, a boy 0n June 6, 2017 (here).
Photo credit: AFP/Getty Images