Ten Tips On How To Recover After Having a Cesarean Section Surgery (Part Two)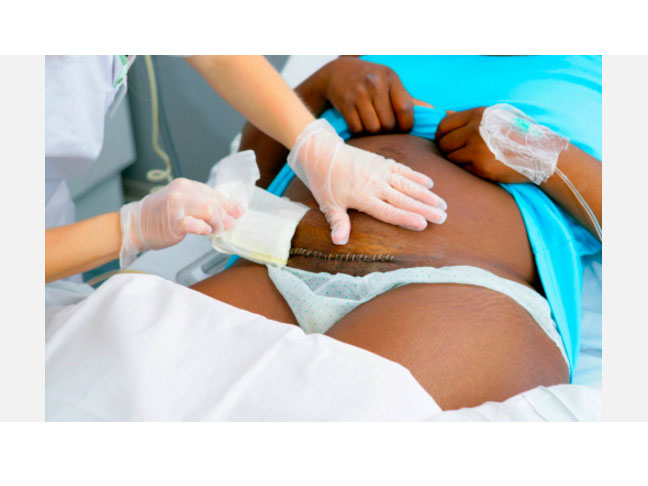 Mark Wealth
Having a Cesarean section surgery comes with its own set of complexities, slightly different from vaginal delivery. One thing is clear though, to recover fully and properly, you must be equipped with the right knowledge.
Sometimes you don't plan for a C-section but circumstances make it so that you have no choice. Whether you plan for it or not, let's take a look at what you have to go through to recover from delivering your baby through a C-section.
SEE ALSO:10 Medical Reasons a Pregnant Woman May Be Scheduled to Have a C-Section
6. Breastfeeding Issues
Most women still want to breastfeed their baby and will do so except the doctor thinks it's unwise. You'll have to learn the most appropriate breastfeeding position because of your incision/stitches. That would be the "football hold" style. *See our article on breastfeeding positions.
If you're finding it difficult to help baby latch on properly, get the resident expert at the hospital to help/teach you how to guide baby to latch on. If you don't get this right, your nipples will get sore and hurt like ouch!
7. Stomach Matters
This is not about eating now; we've dealt with that. The painkillers you were given to make the procedure less painful for you will also have an after effect on your digestive system. They won't be working as efficiently as they're supposed to. The result is that you'll be having a build up of gas in your body and this could be painful. The narcotics will also make your stool hard and dry like we mentioned earlier.
Not to worry, the doctors already anticipate this so they'll prescribe the necessary medications that will take care of the gas problem and constipation. It will help to drink a lot of water and walk around too.
SEE ALSO:10 Self Health Checks Every Woman Should Do (Part Two)
8. Exercises
Light exercises are needed to help the healing and recovery process along. From the day of the surgery, start with soft stretches and loosening your leg muscles. Flex your ankles and knees, wrists and elbows. When you take walks, make sure you let the nurse know so that they can assist you at least for the first day or two. Then you can do it on your own.
If you had general anaesthesia for the procedure, your doctor will probably recommend some deep breathing exercises to help rid the lungs of certain fluids that might have mysteriously found their way in there. Leaving that unattended could put you at the risk of getting pneumonia.
9. The Ocean of Emotions
It's expected with both vaginal and cesarean routes. The release and depletion of hormones will send you on emotional roller coaster rides. One moment you'll be feeling elated about your baby and the next, you'll be feeling that you're less of a woman because you couldn't give birth vaginally. It's normal. It's a good ol' case of postpartum depression. Make sure you always communicate with your partner or friends about your feelings and stay away from toxic people. Talk to your doctor about it because it could get to a stage of self neglect and this will not be good for yourself and the baby.
10. Finally…
Call your doctor if the incision site starts getting red, puffy, warm and oozes. If you start feeling increasing pain in your legs, they get swollen and tender, it may be a case of blood clots. This will require medical attention. Also, if you get a fever of up to 104 degrees Fahrenheit or you feel pain/burning sensation when urinating, urine is dark or bloody; or maybe you get the frequent urge to urinate but your urine is scanty, see the doctor urgently. These may be signs of a dangerous infection or condition.
SEE ALSO:8 Benefits of Having a Cesarean Section
Stay calm, get your rest and you'll be okay in a couple of weeks.