'Domestic Violence IS NOT A RESULT OF PROVOCATION'- Mercy Makinde Tells Her Story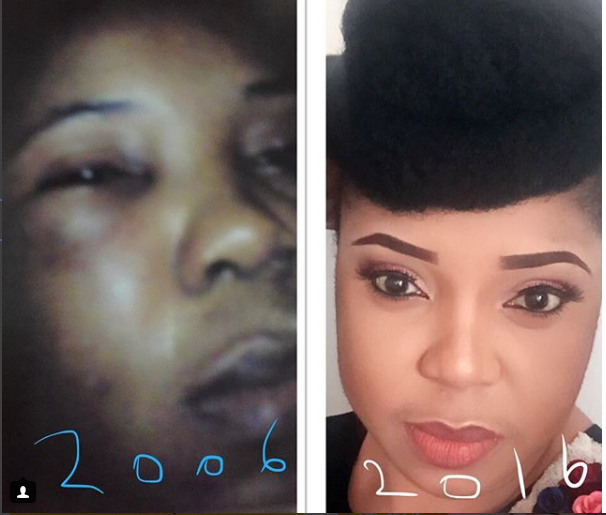 Remember writer and speaker, Mercy Makinde who made her sweet husband, Larry tear up after pulling a surprise 50th birthday party for him? She is here again sharing her domestic violence story and yes, it is a must read.
According to the mother of two, domestic violence is not a result of provocation but a tool used to enforce control and fear in a relationship or marriage.
"I was physically, verbally, emotional and sexually abused early in life when I was married off at age 18 to a man older than my father. I had no help or succour; no one to talk to, no one to run to. I had to suffer this for 11 years till I grew old enough to take my destiny in my own hands."
READ ALSO: Man Bursts Into Tears as Wife Throws Him Surprise 50th Birthday Party | Photos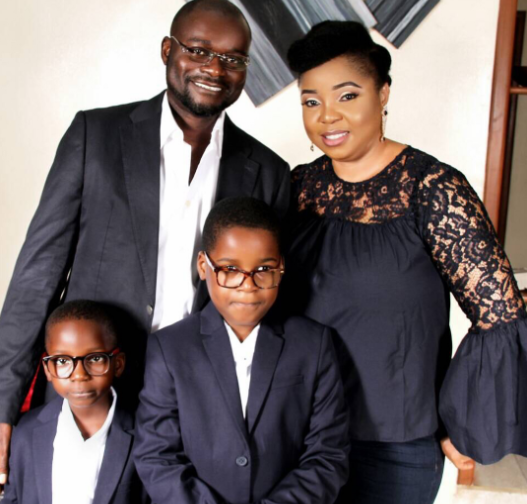 READ ALSO: 5 Things Not To Say To Victims Of Domestic Violence
Read her story below…
"Years ago I was a Victim today I AM A VICTOR! It took 10 years for me to heal…10 years to find myself!
Yes, the damage of Violence is long term and grave and can leave you permanently scarred. The trauma could last a life time!

I am just one out of the lot! Yes, many women still suffer Domestic violence because it remains widespread and is often considered "socially acceptable" in Nigeria.

This is the reason family, friends and even some religious bodies do not see domestic violence as such a big deal.
READ ALSO: "Domestic Violence is Spirit Destroying" Joke Silva Tackles Abuse and Seperation in Marriages
They would even say it is the fault of the woman. She would be advised to keep her tongue in check, as that is often the factor that ignites the provocation of an abuser from the standpoint of an average Nigerian.

The truth is, Domestic violence is an organic behavior; there is no direct cause. Victims often blamed themselves, as they are often times made to believe they are the cause.

So they always have to walk on eggshells, as inconsequential infractions would often lead to unwarranted agitation and eventual pummeling.
READ ALSO: "If you don't know my story . . ." Mercy Makinde Celebrates Her Life's Journey on Wedding Anniversary
But Domestic Violence IS NOT A RESULT OF PROVOCATION. I'm writing this in capital letters and I hope it sinks in! Violence and Abuse is a tool used to enforce control and fear in a relationship or marriage and not a momentary expression of anger.

So it is not about what the women did it is more about the way abusers are…just like you don't have to do anything to be raped by a rapist!

READ ALSO: 'My Girlfriend Called off Our Wedding Because of a 'Small Slap' – Nigerian Man Laments

These are men who have lost control of their senses and are overwhelmed at the slightest provocation.

So stop judging victims by saying they were battered because of an imagined, perceived or rumored wrong or asking them annoying questions like "what did you do that made him beat you".

Questions like these are unintelligent and insensitive.
READ ALSO: Actress Uche Ogbodo Disagrees with Monalisa Chinda's Views on Domestic Violence: "It can never be a woman's fault" 
There is NO EXCUSE for Violence Against Women. And yes, no excuse for violence against men either.
Don't justify it….don't judge them!

I am a Victim turned Victor ready to help other victims. Join in, let's make a difference!.

#notoviolenceagainstwomen#leavenoonebehind#16daysofactivism2017#vawg#vawglobal2017#orangeourworld#16daysofactivismagainstgenderbasedviolence#16daysofactivism."
READ ALSO: PDP Ex-Chairman's Son, Bilyamin Bello Allegedly Stabbed to Death by Wife | See Details
Makinde is the founder of IASPIRE RADIO, which is Nigeria's first motivational radio station. Mrs Makinde is also the founder of Amazing Amazon, an NGO created to cater  for women on all levels.
Amazing Amazon was borne out of Mercy's personal experience in marriage. She realised that there are women who have gone through and some still going through what she went through in marriage with no one to support them.
https://www.instagram.com/p/Bb8wuAfjY7v/?hl=en&taken-by=mercyiaspire
Photo credit: Instagram