"Everything I do as a parent is what I swore I would never do" – Pink Talks Parenting Her Two Kids
https://www.instagram.com/p/Bht7YbRl2Xf/?taken-by=pink
American singer, Pink has been appointed to the cover of 'The Beautiful Issue 2018' by People Magazine. The 38-year-old star mom graces the magazine cover with her two kiddos, daughter Willow Sage, 6, and son Jameson Moon, 15-months old.
The mother of two is pictured on the cover with a huge smile on her face as she holds on to her two precious children.
In the issue, the 'What about us' singer gives an exclusive interview talking motherhood and the singer admits parenthood has 'humbled' her.
She also spoke on how she and husband Carey Hart are raising their two children with an attachment parenting style.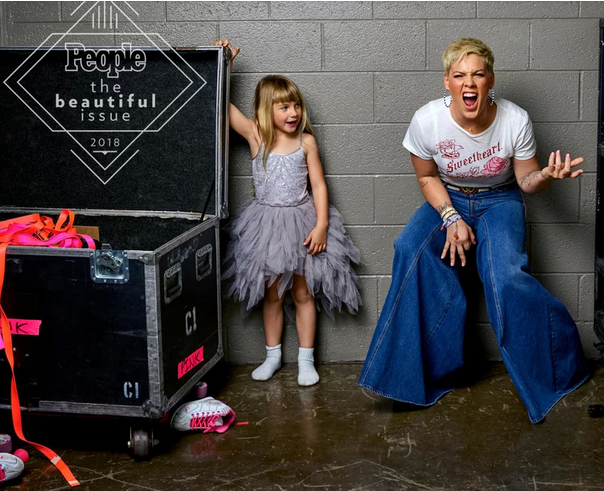 READ ALSO: Pink Recalls the Day Her Daughter Called Herself Ugly | Watch Video
In the article, the pop star admits that when it comes to raising kids, "The thing about parenting is you never know if anything you're doing is working."
"Everything I do as a parent is what I swore I would never do," she tells PEOPLE. "I'm way more serious and I'm bad cop. I never thought I'd be bad cop.

My husband promised me I wouldn't be bad cop, and he has failed me in that way. He's fun guy, Mr. Fun! And then I come in with the rules.

With his daughter, Hart is "very gentle … but he wants her to be tough," she adds. "And I want Jameson to be allowed to be sensitive. So I think between the two of us, we'll try not to create two monsters."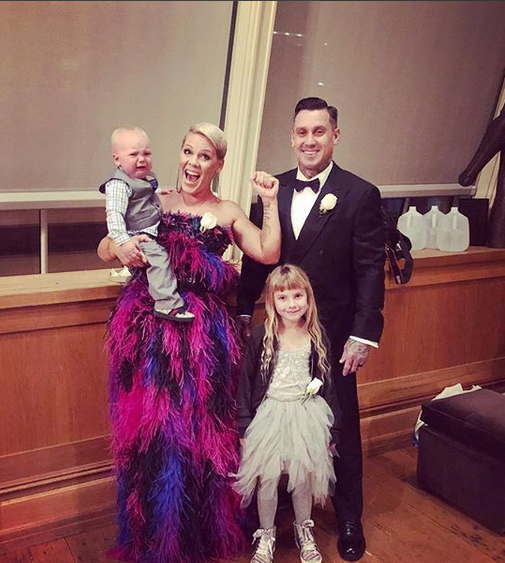 READ ALSO: Pink Causes Outrage After Posting a Photo Considered 'Dangerous' By Her Fans
Pink also opens up about motherhood.
"The thing about parenting is you never know if anything you're doing is working. That's been the most humbling thing for me.

In my head, I sound amazing and then I turn around and her eyes are completely glazed over. I have no idea. We'll see," Pink, who believes in showing her kids "affection" on a regular basis says.

I believe in needs being met and faith being implemented, and I believe in letting your kids know they can count on you, and that you'll be there," she adds.

"My parents obviously did not believe in that and I worked out OK. I always tell Willow, 'I'm going to teach you the rules so that you'll know how and when to break them.'"
Currently on her Beautiful Trauma tour, Pink has most enjoyed watching her kids interact more and grow to love one another … slowly but surely.
"They've sort of found their rhythm with each other," she says. "It took Willow a while to warm up to [Jameson]. I think she thought that babies come out fun and laughing. And babies don't do anything except take Mama away. So it took her a while."

Initially, "there were a lot of tears," the singer adds. "That was probably the most heartbreaking part of the whole thing for me, but we got through it."
READ ALSO: "Marriage is the hardest thing to do"- Jada Pinkett Smith Chats about Motherhood, Marriage and Career
Pink says she strives to create a gender-neutral environment for her two children.
"Absolutely. [But] I feel like gender-neutral is in itself a label and I'm label-less. I don't like labels at all so I believe that a woman and a girl can do anything,'" the pop star says, adding, "And I believe that a boy can do anything.

So I have boys that flip dirt bags and I have boy friends that wear dresses. It's all OK to me. It's whatever floats your boat. So that's the kind of house that we live in."
Pink and Carey met in 2001 and the two married five years later. As parents of two children, the duo believes in "having their needs met and faith implemented."
"I believe in letting your kids know they can count on you, and that you'll be there," she continues to explain.
Pinks parenting beliefs are very different from how the singer was raised by her parents. Her childhood as she describes as 'rode bicycles and played in the woods all day."
READ ALSO: Tope Delano on When Parents Do Spiritual Background Check on their Children's Potential Spouses
The mama also tries to keep her home as 'label-free' as possible in an effort to teach her kids about 'fairness and justice.'
Self-love is something Pink constantly instills in her children and spoke about the importance of it when she accepted an award at last year's MTV VMA's.
During her acceptance speech, the singer revealed her daughter had told her recently "I'm the ugliest girl I know," and then admitted to her mom that she thought she looked "like a boy with long hair."
The singer told the audience that she responded to herdaughter's heart wretching opinion of herself by saying, "you're beautiful," and looked to Willow who was seated in the crowd and reinforced her words by stating, "And you my darling girl are beautiful and I love you."
Keep up the great work Pink!
Photo credit: PEOPLE/Instagram