Comedian AY Appreciates Wife, Mabel As He Lists The Sacrifices She Made To Birth Their Daughter 13 Years After Welcoming Their First Child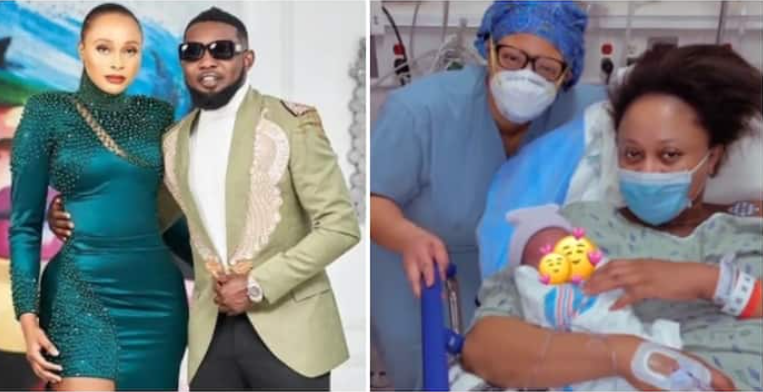 Still reeling in the excitement of being a father for the second time, Nigerian Stand-up comedian, Ayo Makun who is better known by his stage name, AY, has taken to social media to appreciate his wife, Mabel.
The famous comedian and actor, in a lengthy Instagram post, talked about all the things women go through in the course of their pregnancies, adding that 'the word sacrifice should be a common theme when people think of motherhood.
He went on to appreciate his wife for all the sacrifices she had to make in preparation for the birth of their baby girl, Ayomide.
He went on to list the sacrifices she made to welcome their daughter 13 years after the birth of their first child. The comic actor also thanked her for ignoring the "naysayers" and for sacrificing all her endorsements and influencing jobs to birth their child.
READ ALSO: 'Our Prayers In The Last 13 Years Has Been Answered' -Comedian AY Makun Announces With A Beautiful Video | Click To See Their Testimony
His post reads:
"The word "sacrifice" should be a common theme when we think of motherhood. First our women/mothers sacrifice their bodies for nine months by putting on weight that feels unflattering and uncomfortable, losing their appetite for food they once enjoyed, not being able to have a glass of their favourite wine at will, and of course all the excruciating aches and pains that comes long before labour begins.

@realmabelmakun, no one knows our story in the last 13 years like we do. But I especially want to thank you for everything. Thank you for ignoring all the naysayers. Thank you for taking time off your numerous interior jobs at home and abroad to prepare for Ayomide, thank you for sacrificing all your endorsements/influencing opportunities in the last 1 year.

Thank you for the sacrifice of your precious time, your energy, your sanity, your sense of identity and everything else that makes you the true queen that you are. More importantly, we thank God for the joy and beauty of motherhood that overwhelms all our challenges."
READ ALSO: Comedian AY's Wife, Mabel Makun Calls Out DSS For Ignoring A Petition From Her Family About "Life-threatening Issue"
AY gives update on daddy duties
Following the joyous announcement, the actor has taken to his page with a video as proof that he does everything in the house.
AY who had just served his wife breakfast in bed cleared up the plates and revealed that he has been the one doing the cooking, changing diapers, as well as holding the baby while his wife sleeps.
He continued by saying that if they were in Nigeria he would get people to do the work and some volunteers would even come forward.
Screenshot below…