"I never dated him before saying, I do" Nigerian Woman Shares Bitter Experience of Online Dating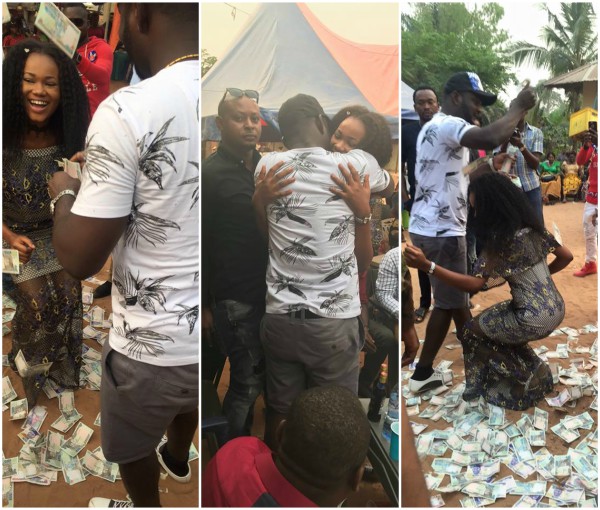 A Nigerian woman, Okibe Olivia, who seems to have learnt a life lesson the hard way after her marriage to her Malayasia-based husband crashed, has taken to her Facebook to advise ladies to first date men before choosing them as their life partners and to share her bitter experience.
Olivia who shared photos from her grand introduction ceremony (which took place on the 7th January, 2017), with a man named Augustine Emeka A.K.A Emoney, without dating him, and called off the wedding after she realised her mistake, wrote:
"Who doesn't know us?

I flaunted him up and down, I loved him with my heart and was ready to be the best wife ever to my man, only to find out ten thousand reasons why I should decamp. No matter the money thrown on me.
READ ALSO: "People may appear cool on the outside but combustible on the inside" – Ali Baba Shares Valuable Advice on Relationships
See, yes I fell for him and started loving him though with some doubts in me, but the power of money is something else, chai God punish poverty I swear.

I want to apologize to thousands of my close friends that wrote me privately, publicly and through calls so that I can pull my post down and die the story. But I said noooooooooo

And when I say noooo, I mean real noooooo. My mind is made up, to share the story from the beginning to the end with nothing but sincerity of heart.
READ ALSO: Ubi Franklin Shares His Gripping Experience With Depression & Suicidal Thoughts
I rather die sharing the whole story than die as a coward with the story untold.

Before I took this bold step, I've analyzed it very well and I know I can do or handle whatever that comes out of it because am equal to task and I got a lot of backups.

Now listen, I'm not sharing my story to Pain anybody; neither am I revenging him, nooooooo. Never; revenge is of God and not mine.
READ ALSO: "One-Sided Love Just Isn't It…" – Relationship Hard Truths by Laurie Idahosa
Even if I had decided to revenge physically, my retaliation won't be half of the damage he caused me in life except I killed him and payed with his life but because I didn't create him, I have no right to take his life.

So I left revenge for God that delivered me from the Lion's Den.

I suffered depression for 3 months plus half a month (from February to May 2017) but am free now, completely free. If not, I wouldn't be proud saying my story .

My reason of writing out my ugly experience with the Malaysian based guy hustler is because of other girls, a lot of girls are falling victim on daily basis.

Hear/ read my story, learn your lessons and be wise.
READ ALSO: Dear MIMsters: I Got Myself Into a Fix. Please Don't Throw Stones at Me, Just Help Me Out.
After you are done with my story and you didn't receive sense then I bet you, Holyghost fire needs to fall on you .

Meanwhile, am not pained oooooh; neither do I want him back , Never

So, please don't get it twisted. Don't forget I was the one that walked away …… I want to save some girls from some shits .

To be continued…"
Then she further wrote;
"And this was my Introduction on the 7th of January 2017. Yes you read right, it was only my Introduction (knocking on my head and fixing date) and nothing more .
It was a blast, fun but guess what? I was still a bitter woman down my heart, with all those smiles you saw me wearing on the face, I was still very weary and bitter because I knew I entered the wrong hand but I found out a bit late. But to God be the glory, it ended in praise.
READ ALSO: Susan Peters Dishes Insightful Advice On Marriage, Love & Relationships
Experience is the best teacher. My advice to girls is to please date him at least for 2 days or three days, a week preferably before you say yes to his marriage proposal.

I never dated him oooooo and I said yes !! Pity me but eventually, I learnt my bitter lesson. Case closed"
Here're photos from the introduction ceremony…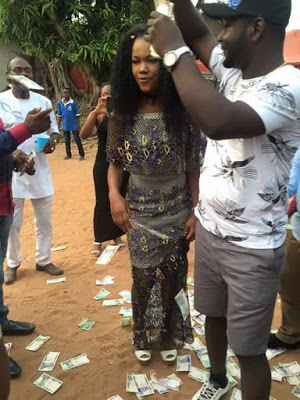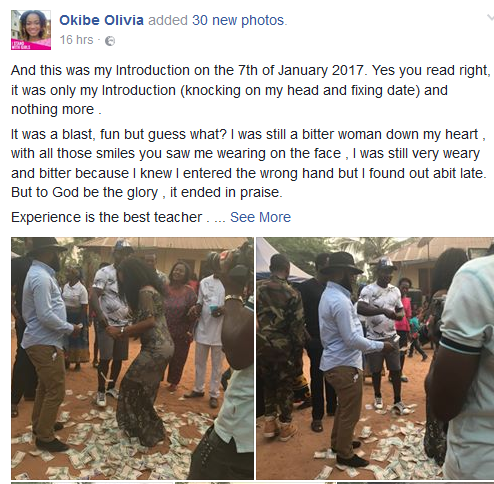 Photo credit: Facebook