"He was my best Friend" Grief-Stricken Eucharia Anunobi Recalls Memories of Late Son, Raymond Ekwu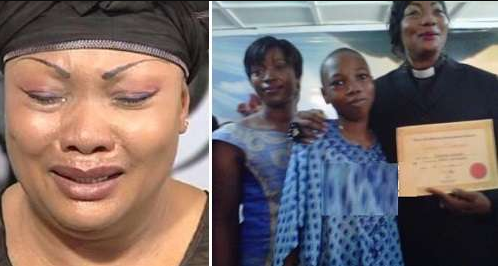 Actress and Evangelist Eucharia Anunobi, lost her only child, Raymond Ekwu, to sickle cell anaemia a few days ago, and she is currently mourning her son.
In a telephone chat with Saturday Beats on Wednesday, the grieving revealed what she will miss most about her son.
READ ALSO: SAD! Eucharia Anunobi Reportedly Loses Only Child
"Thank you very much for sympathising with me. I am going to miss everything about my son. Now, there would be no one that would call me to say 'Mummy where are you? You said you would be home by 7:30 and now it is 7:45.

You are 15 minutes late.' That was how close we were and he was my best friend. I cannot talk much now because I am in the hospital but once I am free, we would talk better," she said.
READ ALSO: Single Mom & Evangelist, Eucharia Anunobi Advices On Sex, Marriage and Having Kids
The actress is divorced from the father of Raymond, after 9 years of being married to him, and has single-handedly taken care or her late son.
Dealing with a loss of a loved one is very hard for anyone and we cannot imagine how hard it is for the actress to bear this loss. We wish her strength and comfort at time.
READ ALSO: 'How my wealthy father refused to sponsor my studies because I was a female child' – Eucharia Anunobi Reveals
May Raymond's soul rest in peace! Let us remember Eucharia Anunobi in our prayers.
Photo credit: Facebook