WATCH: Eucharia Anunobi's Touching Last Words to Late Son, Raymond
Life took a painful turn for Nollywood actress, Eucharia Anunobi when she lost her only child, 15-year old Raymond Chimaobi Ekwu, to Sickle Cell Anaemia.(read here).
He was buried on Tuesday morning at the Ikoyi cemetery, Lagos (read here).
In an exclusive interview with Broadway TV, grieving Eucharia said her last words to her late son, thanking him for making the world call her a mother.
"I know you've gone… I am totally broken but I rejoice because you love Jesus with all your soul, spirit and body…"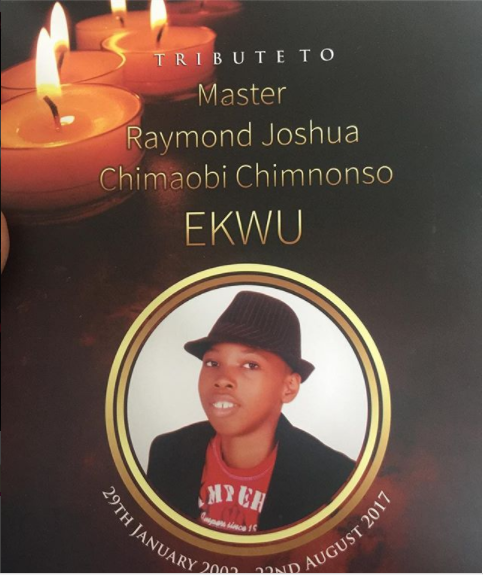 READ ALSO: "He was my best Friend" Grief-Stricken Eucharia Anunobi Recalls Memories of Late Son, Raymond Ekwu
At the burial ceremony, one of Eucharia's colleague, Stephanie Okereke Linus, while praying, declared that she will have another child.
It was during this passionate prayer that she began to speak in tongues. This came as a surprise to many fans especially since Stephanie is very private about her beliefs.
Eucharia, now an evangelist married Charles Ekwu in 2000 and the marriage lasted till 2006, before trouble set in. Raymond was the only product of the marriage, which ended in a messy divorce.
READ ALSO: Single Mom & Evangelist, Eucharia Anunobi Advices On Sex, Marriage and Having Kids
She had dragged her ex-husband to court and slammed him with a N100 million lawsuit in 2010. The monetary demand, according to Eucharia, was on the grounds of 'abandonment, irresponsibility and assault.'
READ ALSO: 'How my wealthy father refused to sponsor my studies because I was a female child' – Eucharia Anunobi Reveals
We say amen to Stephanie's prayers and we pray for comfort for Eucharia at this time. Losing a child is a painful experience. May his soul Rest in Perfect Peace.
Watch…
https://www.instagram.com/p/BYqQc6in3zT/?hl=en&taken-by=broadwaytv