Psquare Is No More! – See Termination Letter Peter Okoye Sent Their Lawyer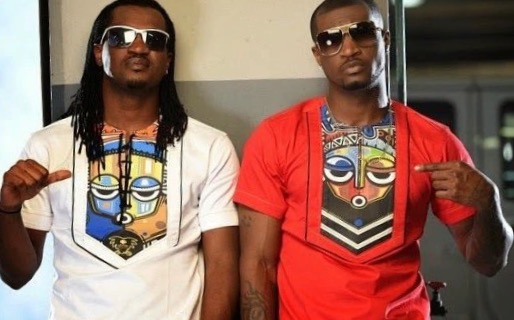 Nigerian music group, Psquare, who have dominated the Nigerian music scene for many years have finally split up. Following the cryptic post on social media, it was reported that the singing duo finally split after one of the brothers, Peter Okoye sent in a termination letter to their joint lawyer, Festus Keyamo (SAN) to terminate his affiliation with Psquare; claims threat to life.
READ ALSO: The Twins Are Here: Paul Okoye's Wife, Anita, Releases Short Video
In the letter, Peter defends his decision by making some serious allegations against his twin brother Paul and older brother, (their manager) Jude.
READ ALSO: Who Is Envious of Paul and Anita Okoye's Twin Babies? | His Cryptic Post Suggest So
According to Peter, Paul is no longer willing to co-operate with him, even going as far as cancelling their planned US tour this year without informing him, and he (Peter) has exhausted all options to make it work.
He also accused Paul of slandering his wife and children with lies on social media, and alleged that they've now been receiving threatening messages.
Peter further accused his older brother Jude of once threatening to kill him and shoot his wife Lola Omotayo. This allegedly happened in the presence of Paul and former first lady of Cross River state Mrs Imoke.
READ ALSO: Another PSquare Feud Brewing? Peter Okoye Calls Out His Brothers on IG Again | See Post
In addition, Peter alleged that Jude also threatened to bring a coffin for him if he ever comes near his house. Peter insists that he has had enough of the drama and wants out of the Psqaure group and contract.
The father of two who now refers to himself as Mr. P, stated that he loves his brothers and their families, and he wishes them the very best in their careers. However he cannot betray his wife and kids as they are very important to him.
READ ALSO: Lola Omotayo Shares Some Words of Advice amid the Psquare Feud | See Details
Below is the copy of the letter;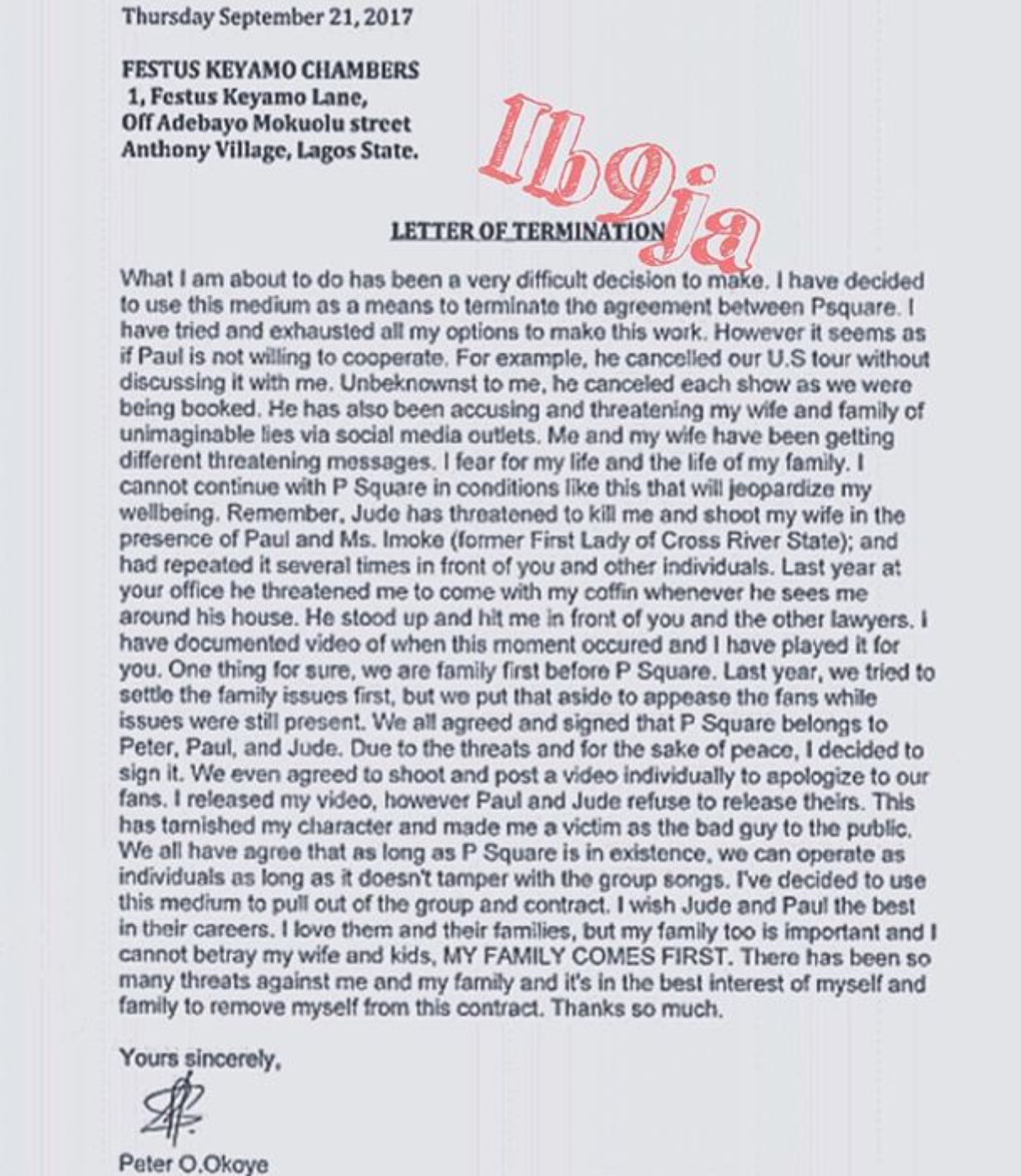 READ ALSO: 'Jude was only a scape goat and a victim' – Paul Okoye Vents About Psquare Split
Peter confirmed the development, saying;
"Psquare is no more. I have nothing against my brothers. I saw Paul's post on Instagram about blood being thicker than water.

'Who is water and who is blood,'
Peter asked, adding that his nuclear family (wife and kids) are very important to him and he has decided to move on with his personal brand – Mr P."
READ ALSO: 'PSquare Is Back'! Peter Okoye Apologizes To Fans. Restores Jude As Manager
We hope this won't last! Last year, the three brothers also took their drama to social media to announce their dissolution.
Weeks later, they came back to announce they were back.
Photo credit: Instagram