"He made a bet to impregnate & dump me"- Mom of Twins Shares Harrowing Tale of Betrayal
Just like the saying that the heart of a man is desperately wicked, this story from an Instagram user brings to light the extent some people go to carry out their nefarious plans even when it involves an ordinary bet.
What more can one say about a man who got his girlfriend pregnant, only to dump her after she gave birth to a set of twins, saying he had a bet with his friends to do so.
He even went ahead with their introduction ceremony where the two families picked a date for their traditional wedding.
Read the shocking story below:
"I met this guy in 2013, he slid into my DM but I refused him. He was still on till 2015 June, I accepted. Then I just completed my NYSC so I was free. He asked we go together to visit him home at Accra, I did agree and we went there.
READ ALSO: "If you don't know my story . . ." Mercy Makinde Celebrates Her Life's Journey on Wedding Anniversary
It was quite nice with him but I noticed he was hot tempered but just believed he will change because I loved him. Then 6 months into the relationship he hit me twice so I gave up and wanted to leave cos I was in Accra for his birthday and it didn't go well at all.

Just three days to when my flight was booked, I discovered I was pregnant and I told him. He seemed happy and said he is sorry and ready to settle down so three months later the introduction ceremony took place and was agreed by my family to come pay my bride price by last immediately I deliver but along the line when I was 6 months gone he was doing stuffs like I am a pest.
READ ALSO: "I never dated him before saying, I do" Nigerian Woman Shares Bitter Experience of Online Dating
I was so frustrated and sad that I had constant high blood pressure. Then he started dating one Ghanaian girl. A girl I knew and she used to do my pedicure and nails and stuff…I confronted him but he lied about it. Then I knew my life was doomed.

I delivered my twin kids July last year and two weeks about my delivery, he sat me down and said he can't marry me that he is a in a relationship with the Ghana girl and I should just try to forget about him…

I told my family, he denied in front of them and instead he said I don't like his family members, that's why he told me that. Three months later he moved me and the kids to Benin where he rented a comfortable apartment for just 3 days.
READ ALSO: Single Mum Reveals the Challenges She Faced and How She Scaled Through During Daughter's Birth
After that his phone started ringing in the morning, and I woke him up. To my surprise he slapped me and started shouting that it was a lie he had a bet on me with his friends in Ghana that I was forming innocent girl and didn't want to f**k any guy in the area so he never loved me.

I fainted immediately and was rushed to the hospital by the driver. I woke up my whole life was turned upside down. He traveled without even seeing me.

Later got a text from him that he sent 200k into my account to use for kids it's over. When I need anything for the kids he will send.
READ ALSO: Single Mum and Actress Uche Ogbodo Gives Marital Advice Based on Her Failed Marriage Experience
That was how I stayed in the house with the kids till the rent expired and he said he can't pay anymore and I should get a smaller one, so I did he paid and here I am alone with my kids trying to stay strong.

Lest I forget, he slept with my maid and sister living with me lol. Well, God will give me my own husband some day I know."
READ ALSO: Who says single mothers are rejected goods? This Nigerian Single Mum of Two's Story will Inspire You
Here are screenshots of the story;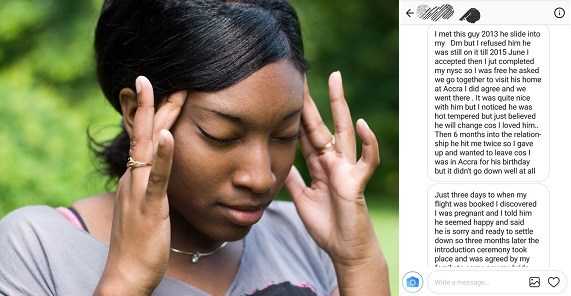 Source: Deedeesblog