'Emotional abuse is deadlier than physical abuse'- Who Agrees with Tope Delano?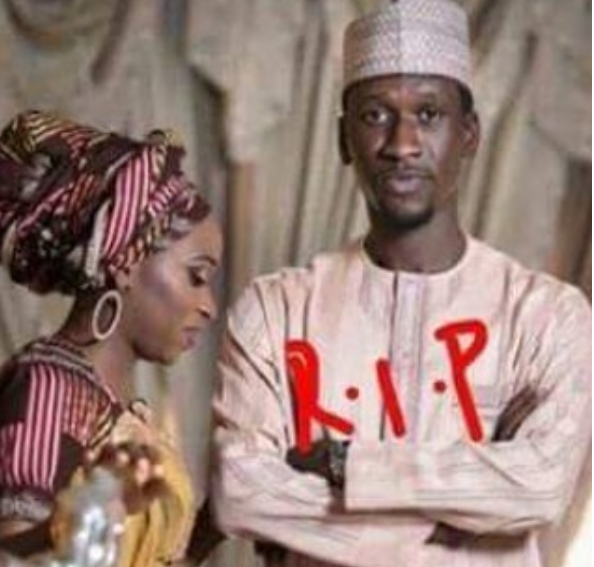 Music critic and writer Tope Delano, has weighed in on the trending case of Bilyamin Muhammed Bello, the alleged son of a former Peoples Democratic Party Chairman, Haliru Bello, who was allegedly stabbed to death by his wife Maryam Sanda  (read here).
According to Tope, people only judge by the little probably incorrect information they may have gotten, which shouldn't be.
Read her post on Instagram below;
"I didn't want to talk about this, but with the so many reactions, comments from people who have never found themselves abused emotionally, psychologically, verbally, and physically, I thought hey….it won't hurt.

I am not taking sides…does no one any good. So 'they say' this man was stabbed to death by his wife after she found suggestive messages on his phone, yeah? Let's start here.
READ ALSO: More Shocking Secrets of the Marital Life & Tragic Death of Bilyaminu Bello
How are we sure this is true? Who is that one that lives with them that knows this is the root of their problem? Okay, let's assume, this is actually true, why did he have em on there in the first place?

According to reports, this has actually been an issue in their marriage for a while…so she's been complaining and allegedly even got physical once, yet you kept on doing same thing and still stayed even after she bit part of your ear off.

Why did he stay, why was he allegedly cheating in the first place? He is a Muslim, he is allowed to marry as many as 4, why tiptoe around then?
READ ALSO: "He was a cheating piece of filth…"- Woman Defends Alleged Husband Killer Maryam Sanda
Is anyone seeing a case of needing to please or live by approval here? No one knows, he is dead now so…. To the lady….absolutely, I repeat there is absolutely no excuse for hurting another.

From the above alleged reasons, I want to believe there was emotional, psychological, verbal abuse before physical reared its head.

Yes, I want to believe, I didn't say that's the issue….this probably a woman who has issues dealing with anger coupled with the emotional, psychological and verbal and maybe physical abuse she may have over-the years suffered from him, this is not an excuse for her action because really see where it got her.
READ ALSO: Graphic Photos: Alleged Husband Killer Maryam Sanda Charged With Culpable Homicide + Police Says They Can't Remand Her
Emotional, verbal, psychological abuse is real and even deadlier than physical….trust me if it's physical, your scars can heal and will…but when it becomes every other abuse asides physical, it's just down get terrible. Let's not forget both people may have grown up in homes that itself had it's share of all many of abuse.

Emotional abuse is real and is deadly…I don't know what happened in their home, none of us lived with them, we can only react from the different tales relayed, but if u r a victim of abuse, get help before things get out of hand."
READ ALSO: Toke Makinwa Wades in on Emotional Abuse in Homes: "It's a Cycle We Must Break"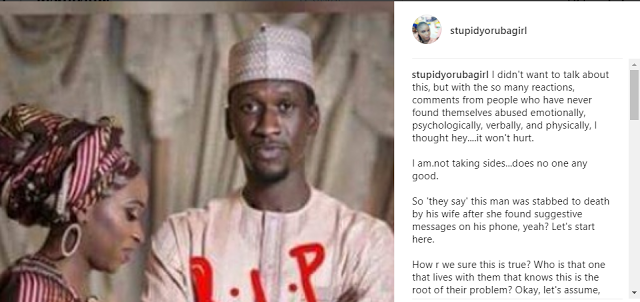 In the tragic case of domestic violence, it was gathered that Maryam, the daughter of embattled former Aso Savings boss, Hajia Maimuna Aliyu, stabbed her hubby three times in the back and severally on his private parts in the early hours of Sunday, at their residence in Pension Estate, Pakali Close, Wuse 2, Abuja.
READ ALSO: Parent Abuse Is Real! Delinquent Teen Punches His Mom In Front of Friends (Watch Video)
According to reports, the attack which happened in the night stemmed from an allegation of infidelity after she saw a text message on his phone.

Photo credit: Instagram